Nick Kyrgios has been making some fine progress in Wimbledon 2022 – having made it to the last 8 for the first time since his debut appearance at this Grand Slam back in 2014. But there are other things around him.
The 3rd round clash between Greek star Stefanos Tsitsipas and Nick Kyrgios didn't make for a smooth and pleasurable event for the players involved. The Australian started off his Wimbledon 2022 campaign by being fined in the opening round for spitting toward a fan. Always known as someone who is very animated with his actions, Nick was then warned for swearing in his fixture against Tsitsipas.
This has certainly called for major criticisms from all quarters for the 28-year-old player. "Kyrgios has brought tennis back to the lowest level in cheating, manipulation, abuse, aggressive behavior towards referees and line judges," – said 57-year-old Pat Cash – who has been a former champion at this tournament- his only Grand Slam victory. The Australian had achieved his career highest ranking of World No. 4 in May 1988 and stuck his head out on this disciplinary issue.
"Is it entertaining? Yeah, possibly. It's gone to the absolute limit now. [It's] the gamesmanship, the abuse he was giving. Tsitsipas got sucked right into it, so it was entertaining and fascinating but for me, it's gone too far now," Cash added.
Also Read: WATCH: "Like father like son" Novak Djokovic fulfills dad duties, trains with son Stefan ahead of the Wimbledon quarterfinals
Is Nick Kyrgios being targeted too much?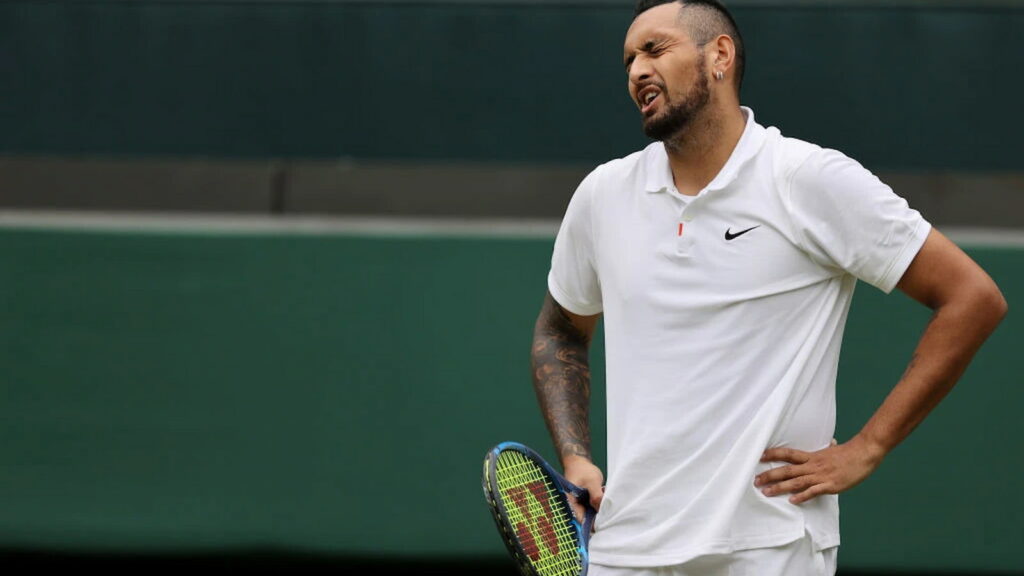 A glance at Tsitsipas in the second half of his 3rd round match against Kyrgios wouldn't require the most advanced face readers to understand that he clearly wasn't enjoying his time out there. During his post-match conference, Tsitsipas claimed Kyrgios to be a bully and didn't mince his words to express his displeasure.
If we are to take a neutral stance with everything that was laid bare for the public eye to witness – it's just the character and persona that Nick Kyrgios is. In all kinds of sports, we see players with different personalities, approaching their game in separate ways. Some of them won't be too expressive while you also get people like Nick Kyrgios. You won't put it past him to execute misdemeanors that aren't acceptable. There is a line that they shouldn't cross, no matter what. So these criticisms are well placed.
However, Nick was quick enough to speak about the respect he shared with Tsitsipas in his on-court interview after defeating him. The truth is known only to them who have heard all the facts from both sides.
Also Read: Wimbledon 2022: Tatjana Maria vs Jule Niemeier Live Stream, Match Timings, Prediction, and Preview
Also Read: Wimbledon 2022: Novak Djokovic vs Jannik Sinner Live Stream, Match Timings, Prediction, and Preview