In the world of tennis, it takes a lot to leave John McEnroe, one of the sport's greatest players, speechless. But that's precisely what Carlos Alcaraz did during a recent match at Miami open. In a video posted by @tennistv, we see the young Spanish player hitting some remarkable shots, leaving McEnroe looking stunned.
It's not hard to see why Alcaraz has been causing such a stir in the tennis world lately. Despite being only 19 years old, he's already making a name for himself as one of the most promising players of his generation.
Alcaraz has won eight ATP Tour-level singles titles, including the 2022 US Open and three Masters 1000 titles. With the US Open win, Alcaraz became the youngest man to top the singles rankings at 19 years.
John McEnroe was in awe of Carlos Alcaraz's performance during the Miami Open quarterfinals in 2023. McEnroe was observed responding to a significant Alcaraz victory over Taylor Fritz. Alcaraz defeated Fritz in straight sets to progress to the ATP 1000 semifinals in Florida. The young Spanish player prevailed 6-4, 6-2.
During the game, Alcaraz produced some amazing tennis, winning points despite intense pressure from Fritz. The moment Alcaraz impressed McEnroe with his ability and composure on the court was captured on tape and was shared by tennistv in a tweet. Alcaraz's style of play is exciting to watch, with a mix of power, precision, and finesse that belies his age.
It's still early days in Alcaraz's career, but it's clear that he has all the ingredients to become a top player in the years to come. His natural talent, combined with his work ethic and mental strength, make him a formidable opponent on the court.
As for John McEnroe, it's not often that we see him lost for words. But in Carlos Alcaraz, he seems to have found a player who is capable of leaving even the most seasoned of veterans speechless.
Related: "I had more breathing room against those guys," Taylor Fritz puts Carlos Alcaraz ahead of the Big-3 in terms of difficulty level
Carlos Alcaraz's tennis skills go viral, fans and experts are in awe of his talent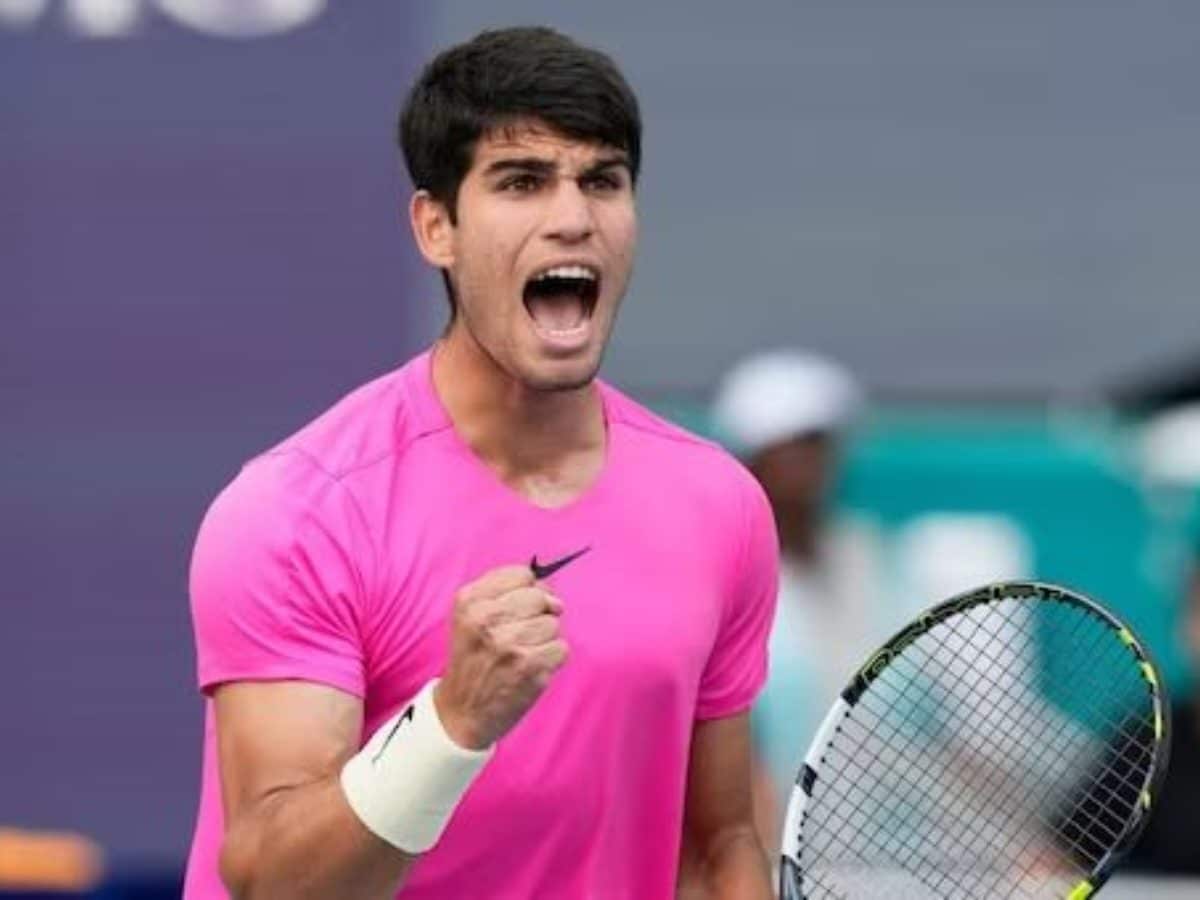 When @tennistv posted a video of Carlos Alcaraz's impressive skills on Twitter, it quickly went viral. Fans, tennis enthusiasts, and sports commentators alike were amazed by the young player's talent and composure on the court.
Many people commented on the tweet, expressing their admiration for Alcaraz's game. Some called him a future Grand Slam champion, while others noted his maturity and composure under pressure. Many fans were thrilled to see a young player with such potential, and the video quickly became a hot topic of discussion in the tennis community.
Carlos Alcaraz is a player to watch in the years to come. His talent, work ethic, and composure have already earned him fans and admirers in the tennis world, and he's sure to continue making headlines as he competes at the highest levels of the sport.
In case you missed it :
Jessica Pegula 'uses' Frances Tiafoe to announce her new deal with Stella Artois
"Lot of rubbish," Ivan Ljubicic tries to salvage himself from media scrutiny after his statements on the GOAT debate were misinterpreted