Iga Swiatek had a heart-breaking loss against Elena Rybakina in the semi-final round of the Indian Wells Open. This defeat dashed her hopes of defending her title. The current World No.1 was completely blown apart by the Kazakh tennis professional in this match. She lost in straight sets 2-6, 2-6.
However, the reasons which the Polish player gave for her dismal performance was the injury which grappled her. In the post-match interview, she talked about the discomfort she is feeling in her ribs. She is also considering about talking to her medical team on this issue.
Meanwhile, being a thousand of miles away from home is also a big challenge for the players. As the Indian Wells Open comes to an end, Iga Swiatek is going to begin her preparation for the upcoming challenges of the Miami Open. But the challenge of travelling when being ill is something that she has to tackle alone. When this question about what steps she will take to cope with this challenge was asked from her, the World No.1 had an answer ready.
"Oh, that's a nicer question (smiling). Like most of the time I read. Actually, I didn't have to like come up with many ideas on this tournament, because, like, the tournament made it really special for me. We really stayed in a nice place. They even bought ukulele for us (smiling). It was really fun. I did like two sets of Legos. I wanted to really keep my mind busy and not think about tennis," she said.
"Yeah, so it's different stuff. But for sure I feel like on the road sometimes it's easier to rest than when you're at home, because also, you know, when I'm at home, like most of my free time I'm spending sometimes, you know, working on the other part of my career, you know, like business-wise. Actually, this time, like before the tournaments, it's like a chill time with some quality practices. I really like it," she continued.
Keep Exploring: Arsenal's manager Mikel Arteta hopes Rafael Nadal to visit the Emirates instead of rivals Tottenham
Iga Swiatek will look to redeem herself in the Miami Open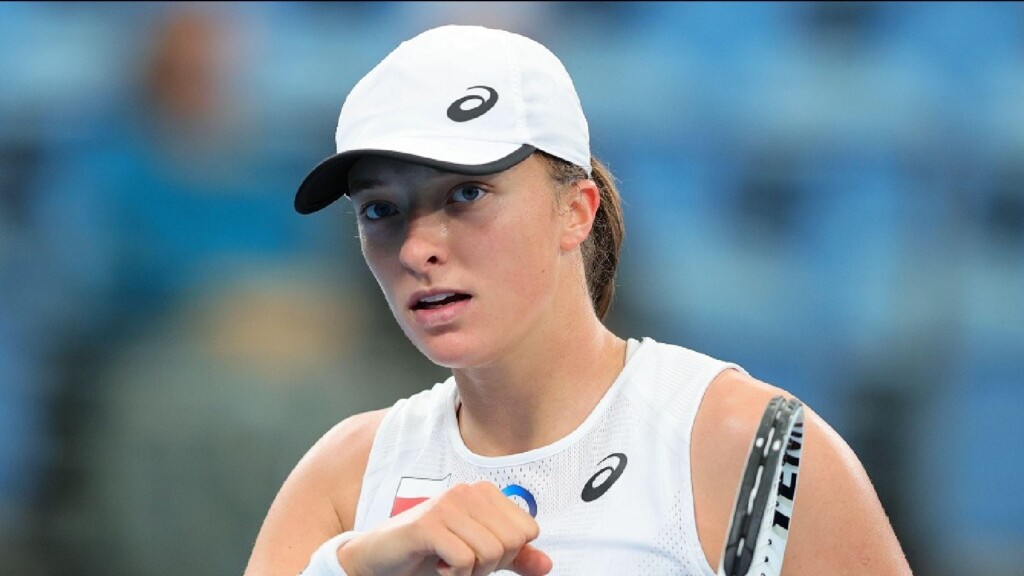 The World No.1 came to the USA to participate in the sunshine doubles-Indian Wells Open and the Miami Open. However, her injury has put her prospects to play in the Miami Open in jeopardy. She will have to be both physically and mentally fit to participate in this tournament.
But if she does decide to enter into this competition, she will definitely be one of the favorites to win the tournament. She is also the defending champion of the Miami Open. She had defeated Naomi Osaka in the final last year. However, it will be big challenge for her to bounce back again like she did in the WTA Qatar Open following a disappointing performance at the Australian Open.
Iga Swiatek will try to win this tournament again as it will put her in great shape both physically and mentally but also give her immense confidence for the upcoming clay swing of the season. Hence, the Miami Open would be an important event for the Polish player this season.
In case you missed it:
WATCH: Jannik Sinner hits insane winners clocking around 100mph against Taylor Fritz at Indian Wells Open
Who is Nina Simone? Why Venus Williams is trying to save her house?