A winning curved and looping forehand pass after a rapid dash to the right, d despite being only a few days over 19, Carlos Alcaraz has performed this stroke numerous times on the ATP Tour. On Friday, he made history by becoming the first teenager to defeat Rafael Nadal on clay court, reaching the Madrid Masters semi-finals. It was also Alcaraz's first victory over his idol and compatriot, and he celebrated by writing 'what just happened' on the camera. He also stopped Nadal's winning streak against Spaniards, which had spanned 25 matches.
In a match that lasted two hours and 29 minutes, the World No. 9 won 6-2, 1-6, 6-3. Even a twisted ankle early in the second set couldn't stop the youngster who has been racing up the rankings ladder, picking up accolades along the way.
Also Read: "I will text him," Carlos Alcaraz seeks to draw advice from David Nalbandian ahead of his clash with Novak Djokovic
"I was able to do my best"- Carlos Alcaraz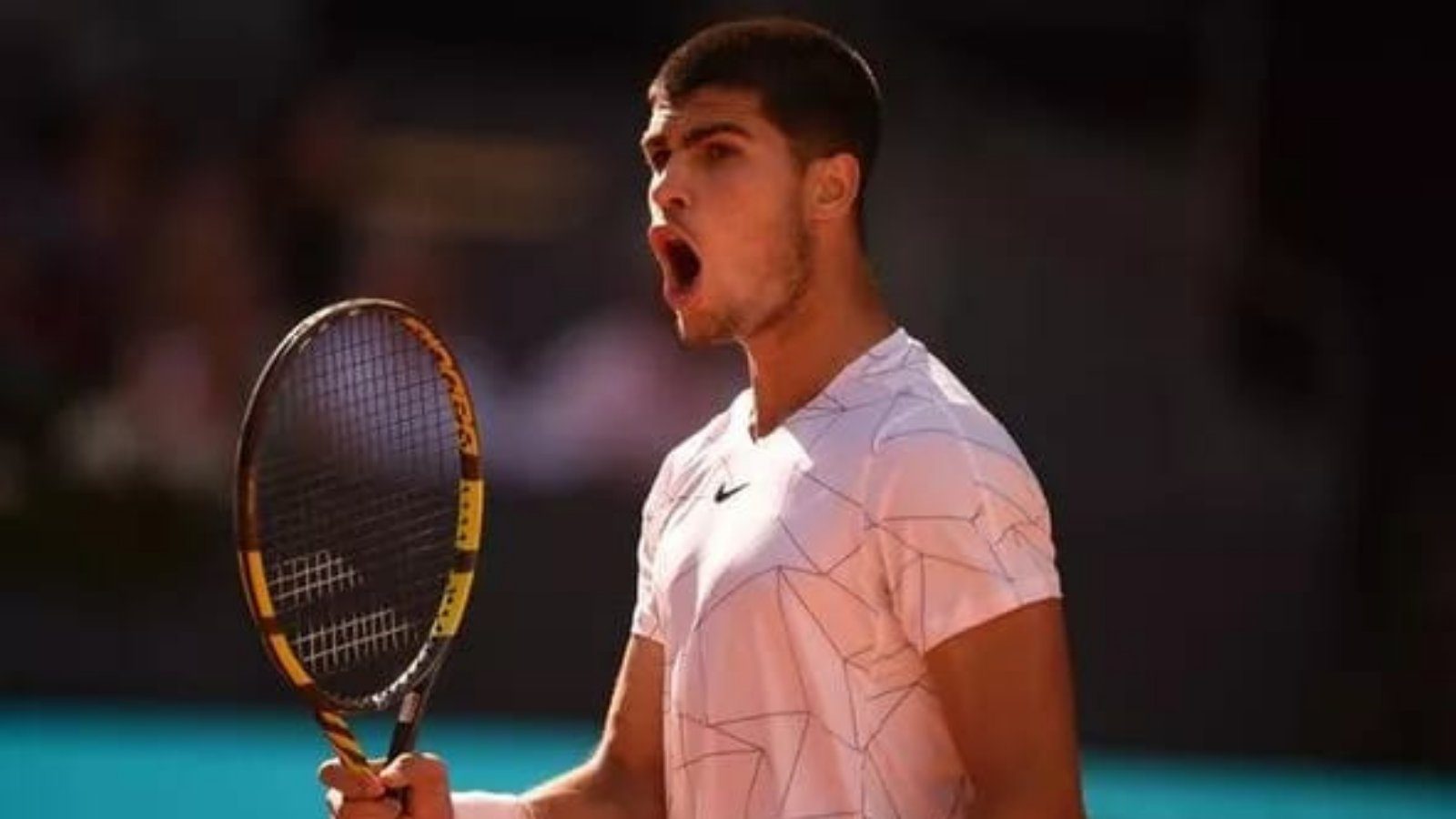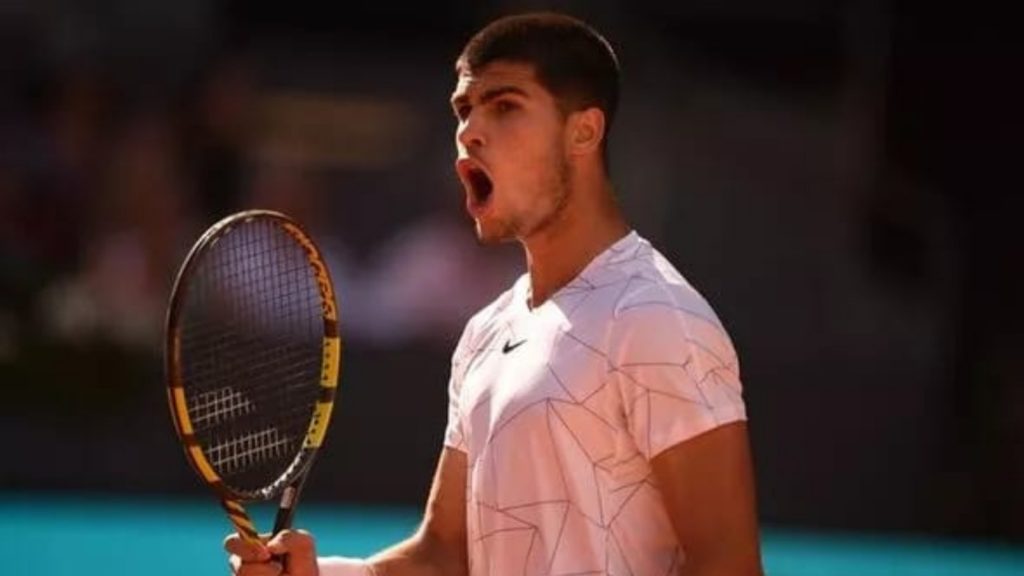 The first set was a one-sided event, with Alcaraz not allowing the 21-time Grand Slam winner much of a chance to take command. In the second set, though, Rafael Nadal displayed steely nerves and made a stunning comeback.
Just as Carlos Alcaraz appeared to be losing his cool under pressure, he regained control of the situation. The third set was primarily about Nadal catching up. Alcaraz seized a 5-2 lead, putting Nadal on the defensive. But Nadal kept his serve intact to stay in the game. Alcaraz finally put the final nail in the coffin by holding his serve. Alcaraz broke Nadal four out of five times during the match, which proved to be the game's deciding factor. On the other side, Nadal only converted three of nine breakpoints.
Alcaraz, who was born in El Palmar, beat Nadal with four aces, and despite three double faults, he didn't lose anything. On Saturday, May 7, the rising star will face Serbia's Novak Djokovic in the tournament's semi-final. Djokovic is coming off a 6-3, 6-4 victory against Hubert Hurkacz of Poland. As far as Nadal is concerned, he made his comeback in the Madrid Open after recovering from the rib injury that he sustained back in March. Later this month, the veteran is also expected to take part in the French Open, a championship he has won 13 times.
"It means a lot to me, all the hard work that I put in every day paid off today to beat Rafa, beat the best player in history on clay, it means a lot to me," said Alcaraz, who is the first teenager to defeat Nadal on a clay court. "It affected me a lot the fall in the second set but when I lost the second, I went to the bathroom and I believed I was able to get back, I was able to do my best, try everything on court, fight until the last ball and I think it was the key."
Also, after defeating Nadal, Alcaraz quipped that he would text former Argentine star David Nalbandian for advice on how to beat Djokovic. Nalbandian is the only player in history to defeat the Big Three – Rafael Nadal, Novak Djokovic, and Roger Federer – in the same tournament. That happened to be at the 2007 Madrid Open (the tournament was played on indoor hard courts at the time). "Of course, I'm focusing on tomorrow. I will text (David) Nalbandian to see how he did it. I will fight and let's see what happens tomorrow," joked Alcaraz, referring to Miomir Kecmanovic's coach.
Also Read: WATCH: Rafael Nadal's heartful gesture towards Carlos Alcaraz after the 19-year-old collapses on the court
Also Read: 'What just happened?' Carlos Alcaraz can't keep calm and writes an exciting message on camera after his dream victory over Rafael Nadal