John McEnroe-led Team World clinched their maiden title at the Laver Cup defeating Team Europe 13-8 during the course of three days. The third day started with Team World trailing 4-8 and needed to win three out of the four games of the day. Team World proved to be the underdogs of the tournament for beating the star-studded Team Europe.
During the on-court interview, McEnroe was very excited and even praised the efforts of his team. He added "This is amazing! It's obviously great for us, and it's great for me, but it's also great for the event. Thank God World won, right? Even the press can agree with that! This is something that's discussed among all of us.
McEnroe praised the boys for being aware of their individual responsibilities and living up to the expectations. He added "It beats losing, that's for sure. The difference was that we kept battling. There was a great team spirit. We knew we had a shot at it, but it was an uphill battle. These guys know the ins and outs of what's going to work best. Félix was ready for it, he had debuted last year, and now he was ready to step up to the big time."
Also Read: John McEnroe breaks silence on losing a 'Battle of Sexes' style match against Serena Williams, says "Don't like that part"
"The guys knew what was going to work" John McEnroe on Team World maiden title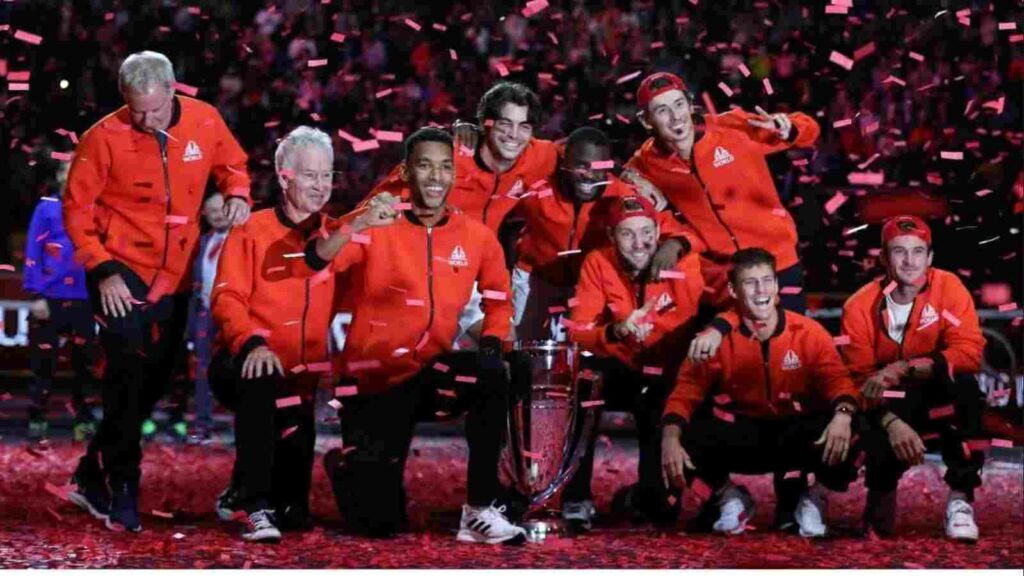 John McEnroe danced on the court with his whole team as Frances Tiafoe defeated Stefanos Tsitsipas in the third match of the final day to seal their victory. He praised the young boys of Team World and boasted about them being the stars of the upcoming generation.
He said that "These guys are going to step up big time in the future, not just here. It's going to be incredible in the next five years. Not just for Team World but for these individuals as well. I'm just so proud that I was part of that." Team World had been waiting for their win for five years as Team Europe had defeated in the previous outings.
This year's Laver Cup bid adieu to one of the living legends Roger Federer who bid adieu to the tennis world and witnessed one of the most emotional goodbyes where everyone present in the stadium and his teammates got emotional and shed tears which showed what the sport is going to miss and the legacy that is being left behind.
Also Read: Nick Kyrgios replies to nemesis Stefanos Tsitsipas over the revenge match challenge put forth by the Greek
Also Read: "I'm gonna own that Greek yogurt," Frances Tiafoe's racist remarks towards Stefanos Tsitsipas at the Laver Cup leaves fans fuming