Grand Slams always attract attention. Not only do they seem attractive for the tennis that is played, but also for a few whacky moments. A few moments really get the fans confused, as they fail to understand the logic behind them.
Players getting defaulted, ball kids making errors, code violations and arguments all make headlines during Grand Slams. A few are logical, but a few don't make any sense altogether. A similar moment took place in a thrilling first-round encounter between Andrea Vavassori and Miomir Kecmanovic at the 2023 Roland Garros.
As the players were involved in an intense battle, an unusual thing took place. Both players were competing on Court 8, which is close to Court 6. A ball flew from Court 6 and came into their court. The crowd was stunned. Kecmanovic reacted calmly as he sent that ball back to court 6, courtesy of his racket. However, the umpire didn't seem to be very happy with this gesture.
As expected, the entire crowd was shocked to see the umpire's reaction to the whole incident. Kecmanovic was given a code violation. He himself didn't understand what he had done. He simply returned a ball that came to his court. Returning the ball was far from something like that.
In a game with such fine margins, these violations can be crucial. Understandably Kecmanovic wasn't impressed with the umpire and called for the supervisor. It didn't look very pretty. The French Open 2023 would hope to have better umpiring done and would love to avoid the entry of any supervisor onto the court.
Related: Sloane Stephens raises concern on escalating racist abuse towards athletes, FBI also involved
Miomir Kecmanovic loses a five-set thriller in his first-round match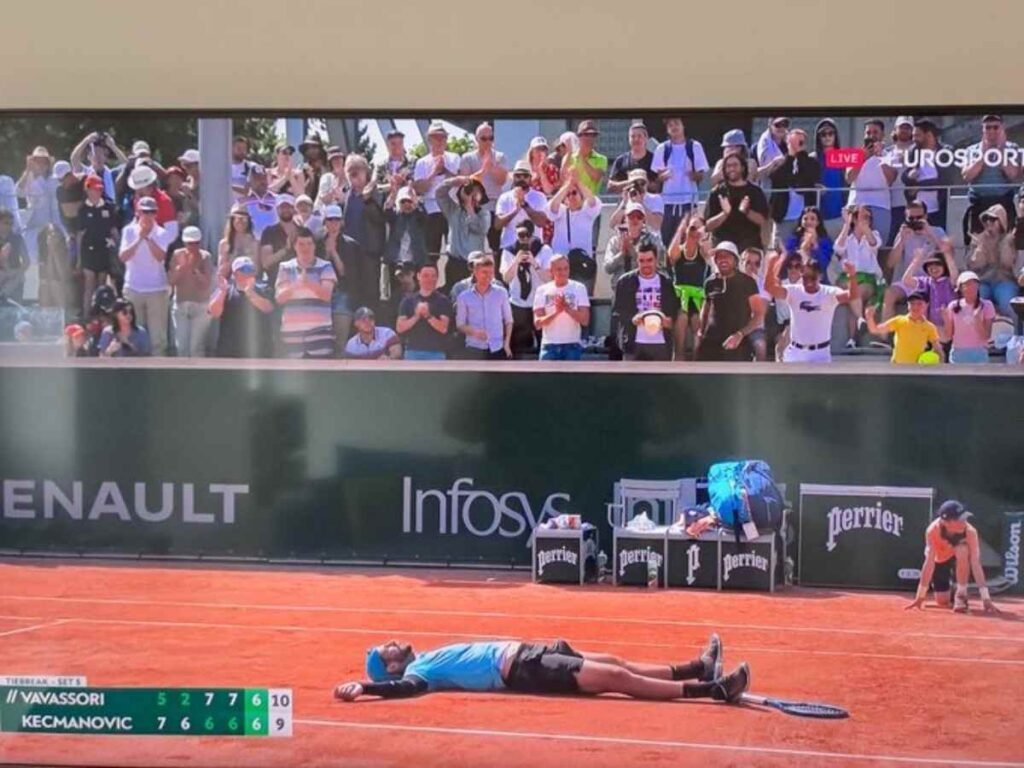 As the 31st seed of the event, he was the favorite to win in his first-round clash versus Andrea Vavassori. However, sports in general aren't that straight. The match started as expected, with Kecmanovic easily cruising through the first two sets. His Italian opponent kept his belief alive. He still felt he had a chance to turn things around. He struggled his way to a third-set win in the tiebreaker.
The fourth followed along the same lines. Soon the match was in two sets, with both men losing their energy levels. Now, none of them wanted to lose this one. Kecmanovic didn't want to ruin it from two sets up. On the other hand, Vavassori didn't want to mess up the hard work he put in in the third and fourth sets. This desire to win saw the match go into a fifth-set tiebreaker.
It became extremely intense by then. However, the Italian kept his cool as he clinched the impossible win. Winning three back-to-back tiebreaks isn't easy. However, Vavassori did it to advance to the second round.
In case you missed it: