Novak Djokovic won the semifinal match against Carlos Alcaraz in his evergreen manner. Both players fought for four sets, but Carlos Alcaraz was unable to play his natural game as he got a cramp injury in the third set. From then on, the young Spaniard was unable to complete in his usual manner and lost the third and fourth set. Novak Djokovic very humbly applauded Carlos Alcaraz's sportsmanship as the World No. 1 completed the match despite his injury. 
In the post-match interview, Djokovic was sympathetic toward his opponent. Djokovic said "First and foremost I have to say tough luck for Carlos. At this level, the last thing you want is cramps and physical problems in the late stages of a Grand Slam. I hope he can recover and come back very soon." No one understands better than the Serbian the importance of fitness at these stages of a Grand Slam.
Having won 22 Grand slams titles and participating in manifold, Djokovic can comprehend what emotions Alcaraz would be experiencing after this loss. This was one of the most important matches of the young Spaniard's profession.
However, Novak encouraged Carlos Alcaraz and reminded the World No. 1 that he had aged by his side. "I told him at the net, he knows how young he is and he has plenty of time ahead of him and he is going to win this tournament many times, I am sure," said Djokovic. He then complimented the Spaniard for his great game remembering the first 2 sets. "He's an unbelievable player, incredible competitor, and very nice guy. He deserves all the applause and support," added the World No. 3.
Keep Exploring: Novak Djokovic humbles Carlos Alcaraz in battle of athleticism at French Open as he chases record 23rd Grand Slam ahead of Rafael Nadal
Novak Djokovic applauded Carlos Alcaraz for carrying on with his injury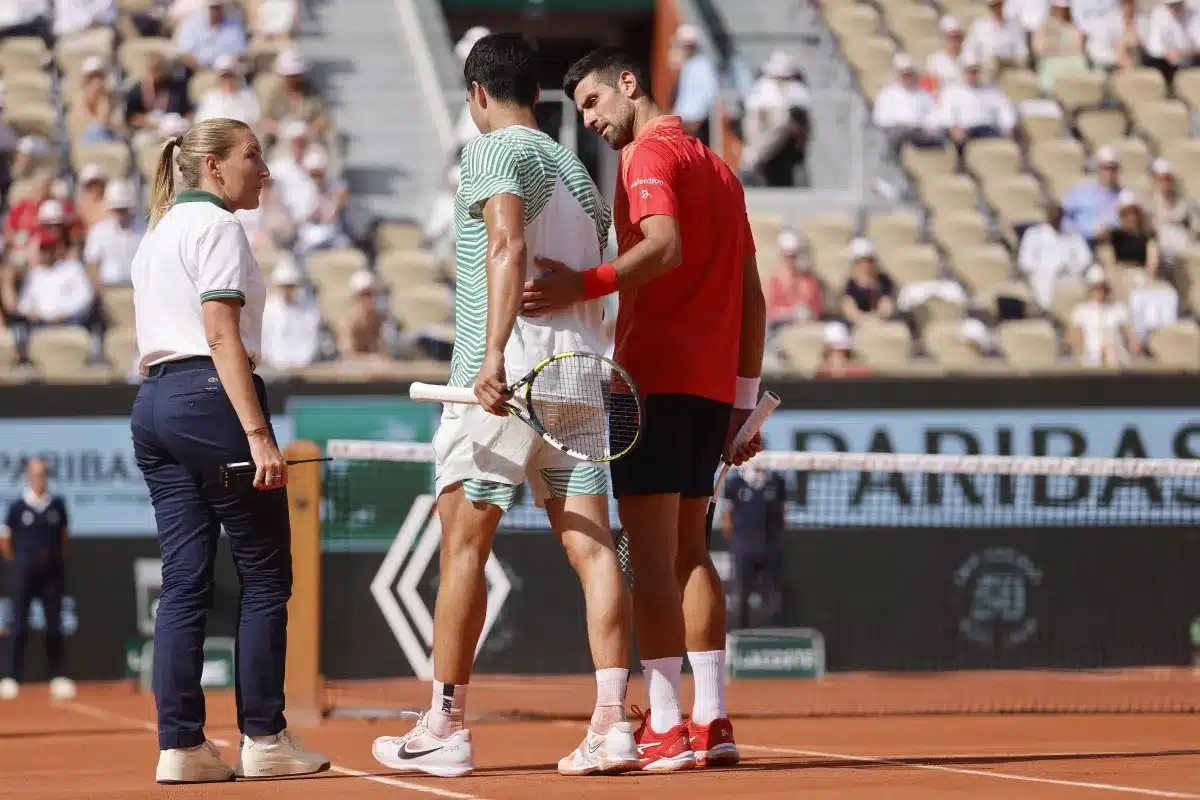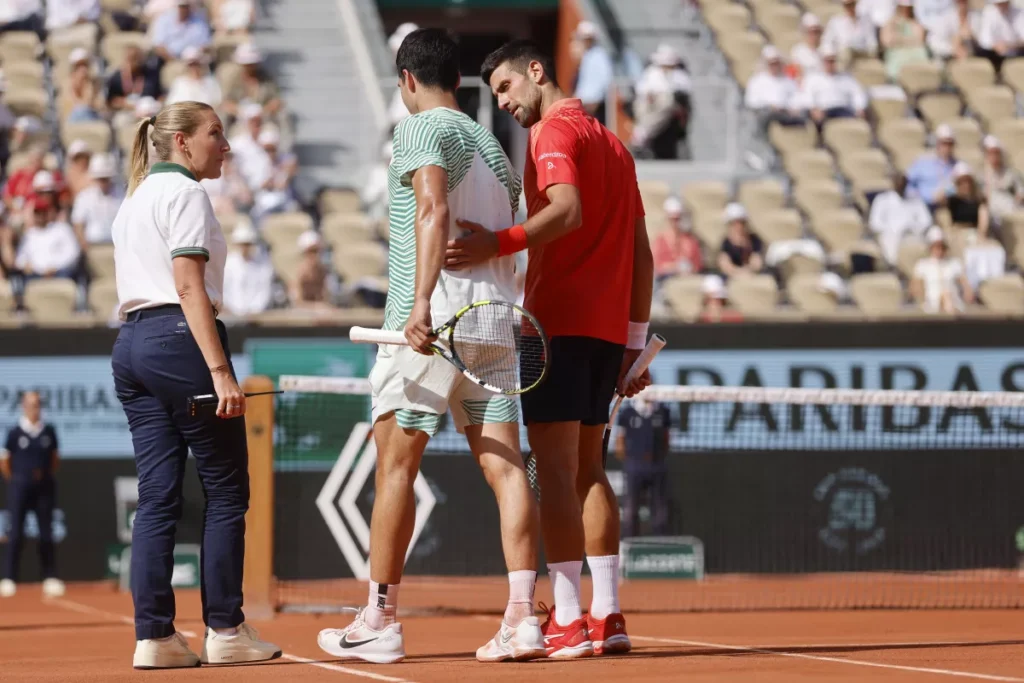 The Serbian was impressed with Carlos Alcaraz's sportsmanship. He felt it was admirable how the 20-year-old continued with the match despite his discomfort. "It's tough for him to know to retire or finish the match. Congratulations for fighting and hanging in. Great respect," said Novak Djokovic.
He revealed that the second set was a physical competition and even Djokovic was feeling that fit after the second set. "I think we were both at the physical limit at the second set. I wasn't feeling good at all. We were going toe-to-toe. This thing happened with his cramps and from that moment onwards it was a different match," added the veteran of tennis.
Djokovic also admitted that despite what happened he tried to concentrate on winning. In sports, such opponents get injured usually and the best thing for the winner was to not think too much about Alcaraz's injury. He said, "I tried to stay focused and present but I didn't want to think too much about what was going on at the other side of the net. Respect for him and I hope he comes back very quickly." Djokovic will take on the winner of Casper Ruud vs Zverev semifinal in the final match on Sunday.
In case you missed it: