The French coach Patrick Mouratoglou makes a shocking prediction about the French Open winner this year. He chooses his former player, the Danish World No. 6 Holger Rune, over the top contenders like the Spanish World No. 1 Carlos Alcaraz and the Serbian World No. 3 Novak Djokovic in the absence of none other than tennis great Rafael Nadal.
According to Mouratoglou, "Every year I say that the point to know who is going to beat Rafael Nadal in final. Roland-Garros without Rafael Nadal is like a judo world championship without Teddy Riner. This year, this statement doesn't apply so I have to have give all the credit to my player, otherwise I would be a bad coach so my prediction is that Holger Rune will win his first Grand Slam tournament."
Rune has reached the third round of the French Open after getting a walkover in the much-anticipated clash with French veteran Gael Monfils in the second round. Rune can only face Djokovic or Alcaraz in the finals according to the projected draw, so a first final here is not so distant for the Danish wunderkind considering his form and the draw he got. (source: Tennis Majors)
Also Read: "More coaches than national express" – Emma Raducanu gets mocked on social media for fifth coaching change as she splits with Sebastian Sachs
Patrick Mouratoglou has been in a long relationship with Holger Rune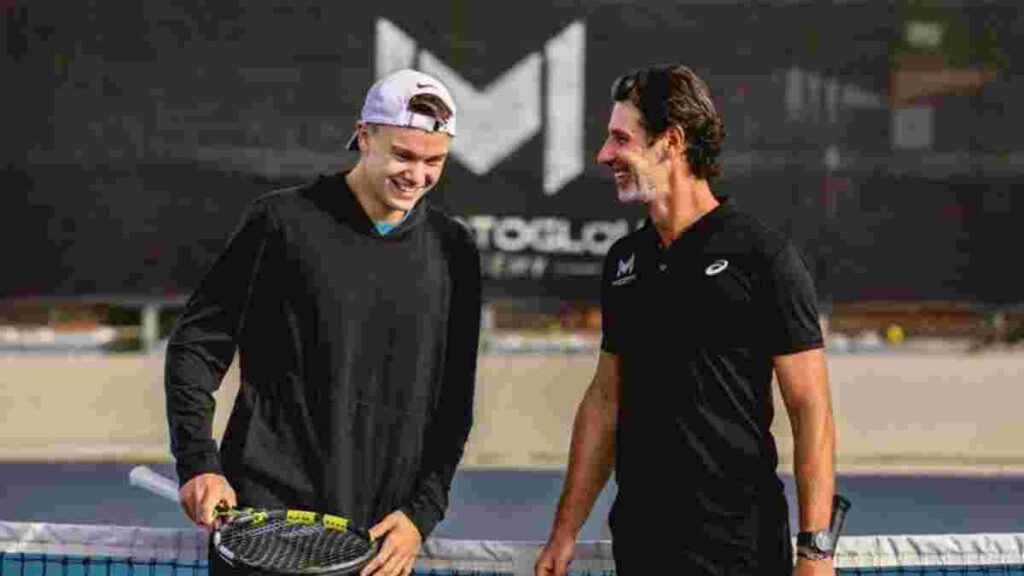 The French tennis coach Patrick Mouratoglou stepped away from being the full-time coach of Holger Rune last May. He had a short stint being the full-time coach but has had a long relationship with the Danish World No.6.
The stint under Mouratoglou was really good in terms of results for the Danish player. His first triumph in an ATP-1000 tournament also happened under Mouratoglou's guidance. It was during the Paris Masters 2022 that he overcame Novak Djokovic in a three-set thriller. Following that title, Rune has not really lived up to the expectations
The Danish wunderkind described the short stint of six months with Mouratoglou as instructive and funny. Rune also said that there were no issues in particular, and he has been in touch with Frenchmen ever since his childhood.
As Rune wrote in the press release about their separation, "We had the opportunity to have Patrick with us for a limited period and we had six informative and fun months. We will take advantage of this learning to tackle the season on clay, where three Masters 1000 and a Grand Slam await us. The Mouratoglou Academy and Patrick are part of our organization, as they have been since I was 13."
In case you missed it!