Tennis fans around the world were recently reminded of a heartwarming moment in the sport's history thanks to a tweet put out by Luigi Gatto, a tennis writer and journalist. Gatto shared a video of a match between Rafael Nadal and Carlos Moya, which took place in Hamburg in May 2003. Nadal, just 16 years then, went on to win the match. What happened at the net afterwards made the moment truly special.
In the video, Nadal and Moya approach the net to shake hands after the match. Nadal is clearly emotional after the victory. He leans forward to speak to Moya. Though one cannot hear what he says, Gatto's tweet makes it clear Nadal apologized to his opponent for beating him. Moya, for his part, looks touched by the gesture, and the two share a brief hug before stepping off court.
This moment is also significant because it highlights the unique and special relationship between Nadal and Moya. Despite being rivals, at the start, both have always maintained a respectful friendship. In fact, Moya has been Nadal's coach for several years after this match. Nadal has often spoken about the importance of having a mentor and role model like Moya in his life. This moment in Hamburg defines it.
https://twitter.com/gigicat7_/status/1652980045978140674?t=5DizwODuPh-clxu59P5faA&s=08
The match in Hamburg was indeed the first time that Rafael Nadal and Carlos Moya had faced each other on the court. Nadal was just 16 years old at the time and looked up to Moya as a mentor and inspiration. Despite their age difference, Nadal played fearlessly and managed to defeat his idol 6-3, 6-4. This was a significant moment in Nadal's career as it marked the start of his rise to tennis stardom. It also marked the beginning of a friendly rivalry between the two Spanish players, with Nadal eventually winning six of their eight meetings.
Related: "Every match is tricky," Iga Swiatek HUMBLES the interviewer down for terming her victory against Bernarda Pera in Madrid as 'easy'
The importance of sportsmanship and mentorship in tennis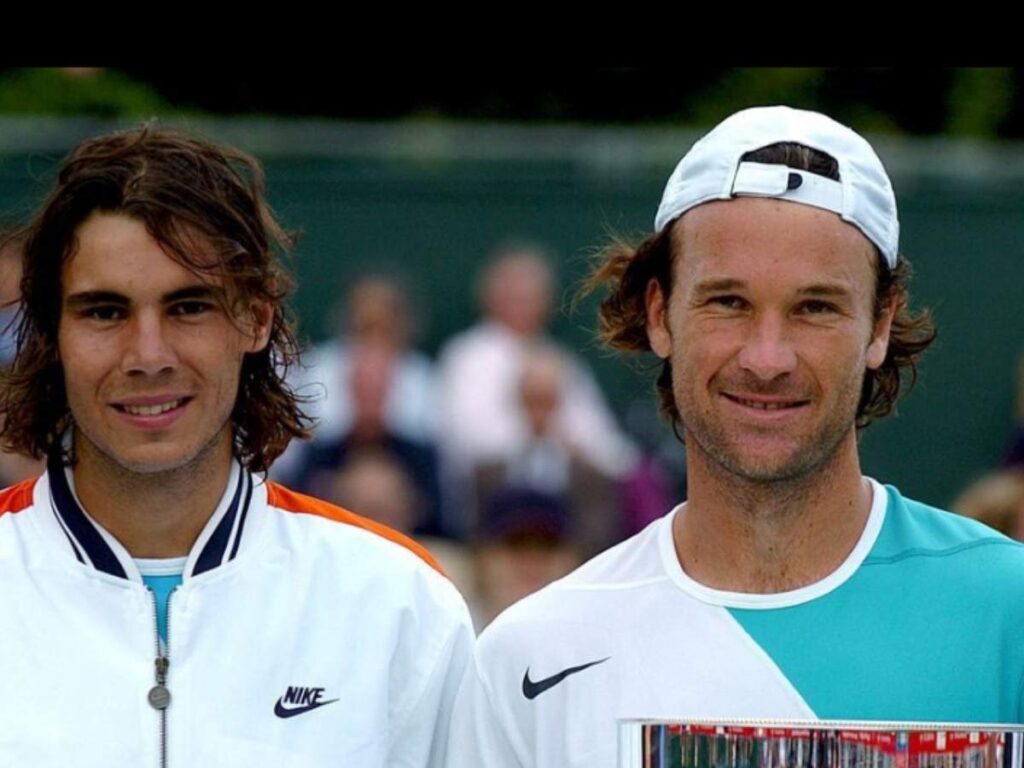 In the years since this match took place, Nadal has gone on to become one of the greatest tennis players. He has won 22 Grand Slam titles. As Nadal himself has said, "The most important thing in tennis is not the result, but the way you get it." This sentiment is echoed by many of the greatest players in the sport's history, who have emphasized the importance of sportsmanship, fair play, and respect for one's opponents.
In addition to highlighting the importance of sportsmanship, this moment also speaks of the role that mentorship can play in an athlete's career. As Nadal has often noted, Carlos Moya was instrumental in helping him develop into the player he is today. Moya provided guidance, support, and expertise when Nadal was just starting out in the sport. Their relationship has continued to evolve and deepen over the years.
In case you missed it: