Stan Wawrinka took notice of the meltdown of Alexander Bublik during his match in Montpellier. Against Gregoire Barrere, the Kazakhastan player slammed and broke three, not one, racquets in what seemed like an endless eruption of frustration. Now according to Wawrinka, Bublik will be sent an invoice from the racquet manufacturing company. 
Bublik took things too far with his racquet abuse earlier. Frustration is common with the competitors during the match, but Bublik's reaction was totally unsportsmanlike. Though Bublik was spared from any kind of action against him, ATP is expected to issue him a heavy fine due to the excessive nature of the abuse.
But the men's tennis body will not be the only one to take such a step. According to the Swiss tennis star Stan Wawrinka, Yonex, the equipment manufacturer, will also issue a fine to Bublik. Wawrinka, who has been using Yonex racquet for a while responded after taking notice of Bublik's hammering on social media.
"Yonex will send him a small invoice too" Wawrinka commented. Initially, it looked like a pun but later sports journalist Marcos Zugasti explained what Wawrinka meant. "This answer from Stan. Random fact: since 2017, Yonex began to put clauses in several of the contracts with its players to charge them a fee for each racket they break in matches. And the Japanese comply: you get the discount invoice," he clarified.
Related: Roger Federer and Lewis Hamilton co-invest in Chilean unicorn
Bublik smashed three racquets during his clash against Gregoire Barrere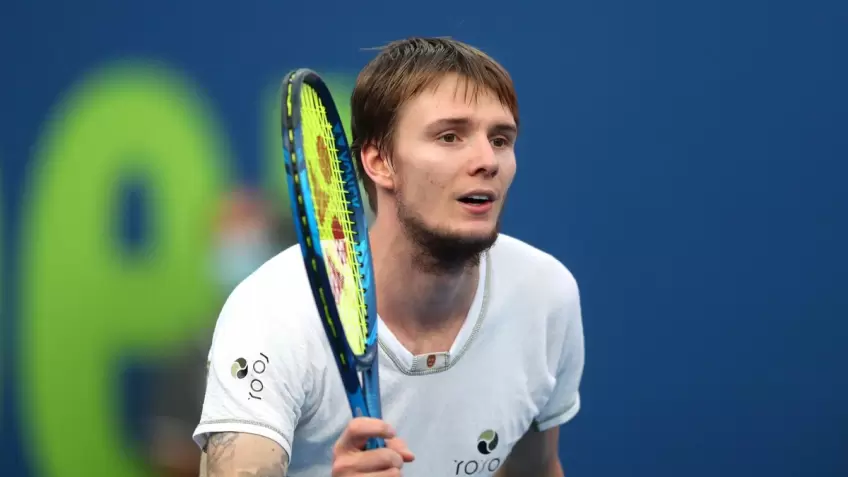 Racquet smashing is not an uncommon sight for the fans on the tennis court. Over the years many players have acquired a reputation for this kind of abuse to vent their anger. Aussie Nick Kyrgios is the most infamous player as he indulged in smashing his racquet multiple times in his career.
But what Bublik did was really uncommon. He smashed his piece of equipment not once but three times. In the third set when Bublik was behind his opponent, he slammed his racquet on the court five times and broke it. But Bublik did not stop as he proceeded to pick the second racquet from his reserve.
Even after disintegrating two racquets, Bublik was yet to calm his frustration. He repeated the same action with the third one before finally changing ends to the announcement of a warning for racquet abuse.
Continue Reading:
Nick Kyrgios expresses his disappointment over no invitation to the NBA All-star game
"Really needed this transition," Ana Ivanovic hopeful for new rivalries despite regretting the retirement of Roger Federer and Serena Williams