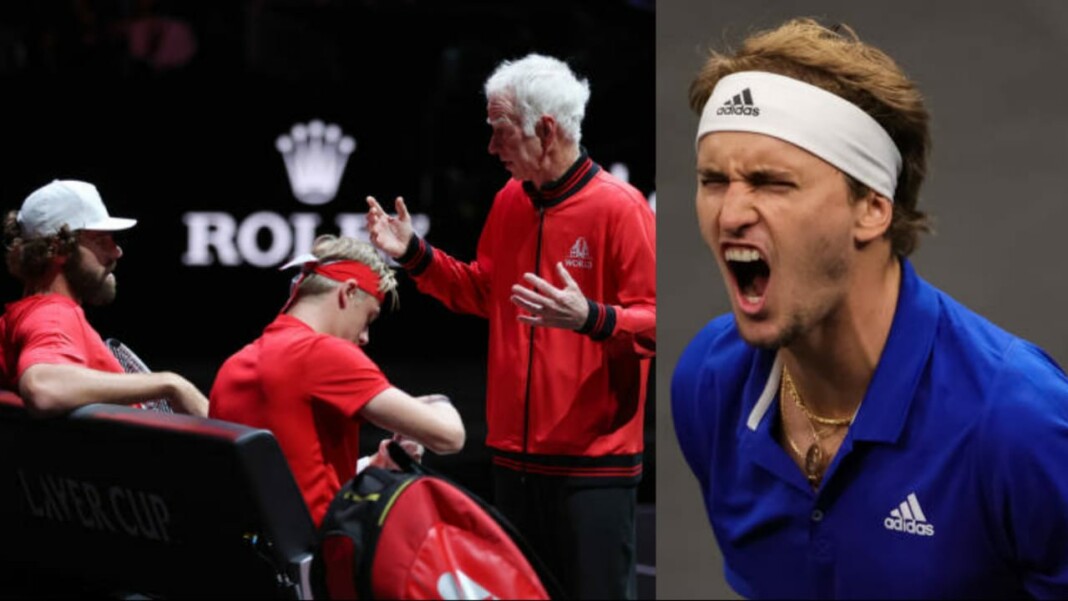 World No.4 Alexander Zverev once again proved that he is enjoying the best time of his life on the hard courts. The German was recently seen helping Team Europe win yet another battle against Team World in the 2021 Laver Cup in Boston.
Zverev who is one of the top players on the ATP tour was given the honour of representing Team Europe in both singles and doubles. While he lost a close tie with partner Matteo Berrettini, the German was successful in winning another doubles and singles match.
However during the early stages of the Laver Cup, emotions ran high, which also led to some tempers between the two sides. In the doubles rubber between Berrettini/Zverev and John Isner/Denis Shapovalov, Zverev did come up with unpleasant remarks, which understandably irked Team World.
After Team World beat Team Europe in the doubles tie, an irritated and angry Zverev pointing at Team World said, "That's the last point you're going to win." Not ones to back down, Team World responded to the German with their own harsh response.
McEnroe: "F**k this guy."
Isner: "He said that? F**k him…"
Schwartzman: "What did he say?"
McEnroe: "He said that's the last point we're gonna win."
Opelka: "He also said he's innocent."
McEnroe: "Yeah, good point."
Domestic accusations on Zverev hamper Laver Cup
Meanwhile ahead of the Laver Cup, plenty of tennis fans even started to post screenshots and articles on the Laver Cup Twitter account, about the domestic abuse accusations on 24-year-old Zverev.
Although the Laver Cup account did block several fans from posting stuff on their handle, the uproar and anger of fans was very much a part of the Laver Cup. Interestingly, tennis presenter Mary Carillo also resigned from her role of presenting the Laver Cup, citing discomfort in calling the event, despite strong allegations on Zverev.
The 2020 US Open finalist will now be seen at the upcoming ATP Masters 1000 in Indian Wells, next month.
Also read: 'The goal is now to win all the matches next year at the Laver Cup in London,' says Daniil Medvedev