Name
Bajrang Punia
Date of Birth
26 February 1994
Birth Place
Jhajjar, Haryana
Sport/Event(s)
Freestyle Wrestling (65kg)
World ranking
1st (As of 20th May, 2021)
Major achievements
2018 Asian Games Gold medal
Commonwealth Championship Gold medal (2016, 2017)
2018 Commonwealth Games Gold medal
2018 World Championships Silver medal
Asian Championship Gold medal (2017, 2019) and Silver medal (2014, 2020,2021)
Born in a Jat family in Jhajjar district of Haryana, Bajrang Punia embarked on the journey to the pinnacle of the wrestling world at the tender age of seven. With the sport running in his family, Punia started to train in the mud before moving to the mat and representing the country across the globe. Over the years, the freestyle wrestler has gone on to participate in various categories of the sport, ranging from 65 kg and 61 kg event to the 60 kg category during his international career which spans almost a decade.
Punia broke into the international scene in 2013 with bronze medals at the World Championships and Asian Championships in 65kg and 60 kg category respectively. The 27-year-old hasn't looked back ever since as he has gone on to clinch 13 more medals including 4 gold across competitions for India. While Punia has conquered every tournament he has featured in, he is now all set to shine at the Olympics in his maiden appearance in Tokyo.
For his excellence on the greatest stage, Punia has been bestowed with numerous awards by the Government of India. The freestyle wrestler won the Arjuna Award in 2015. He then went on to win the Padma Shri Award and the Rajiv Gandhi Khel Ratna Award in 2019. The latest award in Punia's closet is the FICCI India Sports Award which he was awarded in 2020. Bajrang Punia will be going to the Olympics as the number one wrestler in the world in the 65kg category.
Bajrang Punia all set for maiden Olympics appearance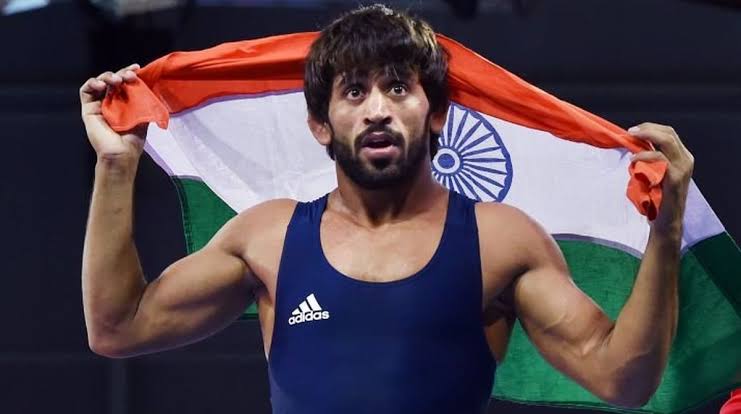 Following years of hard work, Bajrang Punia finally booked his maiden Olympics berth. Punia defeated North Korea's Jong Son in his 65 kg quarterfinal bout of the 2019 World Wrestling Championships to earn his maiden Olympics berth. Ever since his loss in the semi-final of the 2019 World Championships, Punia has determined to improve and it has shown in his performance.
The star grappler went on to win the gold medal in the final of the men's 65kg event at the Matteo Pellicone Ranking Series in Rome earlier this year. Bajrang defeated Mongolia's Tulga Tumur Ochir 2-2 by criteria in the final of the freestyle event to snatch a close-fought win. This was Bajrang's second consecutive gold medal at the ranking series.
The very next month, Bajrang Punia made his way to the final of the Asian Championships before an injury forced him to pull out. A recurring elbow injury saw him yield to his nemesis Takuto Otoguro of Japan. It was a wise move given the Olympics are at the doorstep. Had Punia gone on to fight Otoguro, it would have been a phenomenal test of his preparations ahead of Tokyo Olympics.
Also read: Sonepat camps called off; Indian Wrestling contingent for Tokyo Olympics 2021 set to fly for Poland
"I have more time to dedicate to my training and recovery now," Bajrang Punia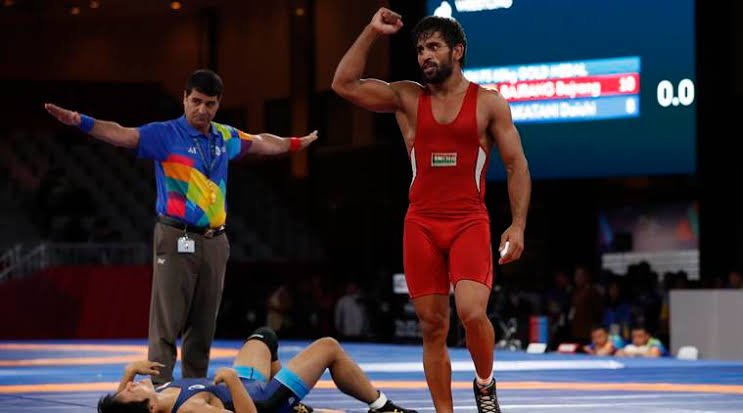 Bajrang Punia shares that the two events earlier this year were first following a long gap and gave him an insight as to where he stands in his preparations for the Games. "In the lockdown I prepared (myself). In these two events I tested myself. Yes, these events were the first events after a long break and it helped me gain some perspective about my training," Bajrang told Sportstar.
Punia has disabled all his social media accounts as he dives into the final stages of his preparations for the Tokyo Olympics. "It is a distraction. There is always something going on and I need my undivided attention right now. I have more time to dedicate to my training and recovery now. More (I do that) the better (for me)," he said.
Punia is one of India's brightest prospects for a medal. His current form ensures that he will end up on the podium and make a mark in his maiden Olympic appearance. The only doubt here is his fitness and it is something he will have to work hard on. With two months to go for the much awaited Tokyo Olympics, Punia has time in his side and the right attitude to make his country proud of him by performing on the grandest stage of the sport.
Also read: "Innocent of all wrongdoings" – Sushil Kumar says murder allegations are 'unfounded and baseless'