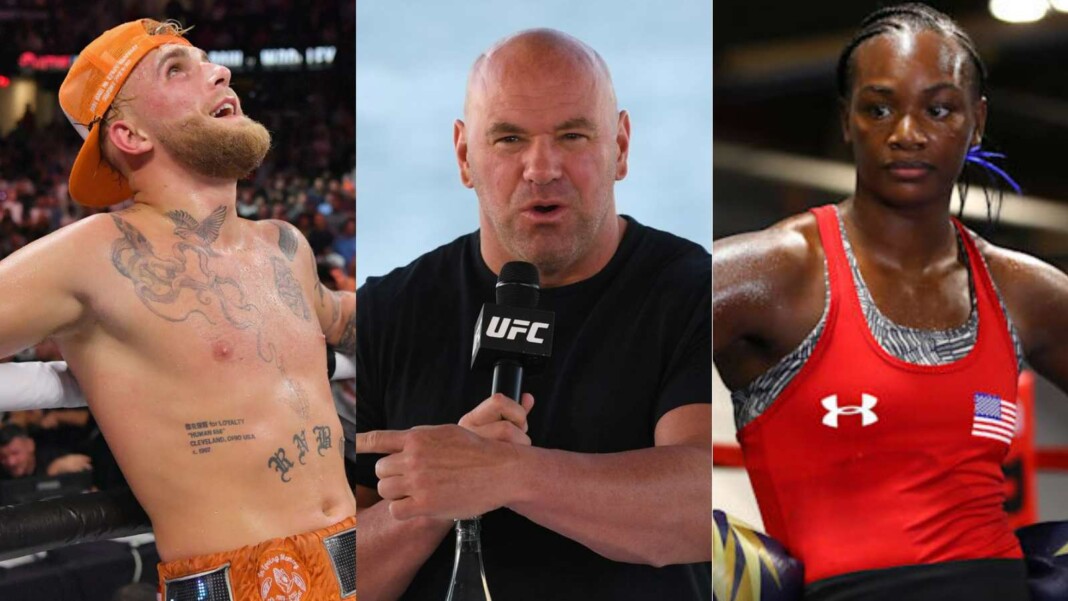 Nothing would make Dana White happier than watching Jake Paul get knocked out by Claressa Shields.
Jake Paul was more than happy when legendary, undefeated boxer Shields's first-ever combat sports loss. Paul even went to the extent of calling Shields a loser and said she doesn't deserve the GWOAT title. Dana White, the President of UFC was talking to MMA Fighting to promote the exciting UFC 267 event held in Abu Dhabi and went off on the YouTube boxer. The boss really hopes Shields could knock Paul out like she threatened to do if she ever saw the celebrity in public.
"Shields is nothing but a winner, who actually fought real people in her weight class, in her own age, in her own sport, and then goes over to MMA and tries to win a world title. When are you gonna start fighting somebody your own f*king age, your own weight, that actually fights in your own f*cking sport that you're claiming you're in? Shut the f**k up, you goofball," said White speaking to MMA Fighting about the Paul brother.
Jake Paul responds to Dana White's comments
Dana said Paul needs to be careful before Shields actually knocks him out in real life. "He better be careful, she might knock him out. Dude for you to call her a loser. I hope she knocks him out. I hope he runs into her somewhere and she knocks him the f*ck out," said the UFC President.
After this interview surfaced on the internet, Jake made a TikTok response to Dana's comments. The YouTube boxer has finally been matched up with another professional boxer and not an athlete who transitioned into boxing. Jake will be fighting Tommy Fury, the brother of Tyson Fury in a pay-per-view boxing match on December 18th. The fight is set to be held at Tampa Bay in Florida.
Also read: "You can't defend a takedown," Jon Jones goes on a salty rant after Israel Adesanya passes him in pound-for-pound ranking