Aljamain Sterling feels Henry Cejudo is nothing but a way out for the UFC from having him as a champion. The bantamweight detailed on the MMA Hour on how he feels the company is trying to prove a point about wrestlers being the end-all for every division. Sterling who was fresh off his victory at UFC 280 against TJ Dillashaw sat down to discuss his future in the division.
Sterling who had previously been open to the idea of welcoming back the former Olympian Cejudo to the UFC detailed on how he feels with every fight, the company wants to keep giving him tougher tests. "I like Dana, but some of the things he says is beyond me sometimes, like you go on record, you say whoever wins this fight is getting the number one shot, cause it makes sense, after the fight, everything completely changes and you throw Henry Cejudo into the mix", said the champion as he revealed he was discontent an inactive fighter was directly getting a title shot.
Sterling supported Cejudo's campaign to become a triple champion, calling him the only one with the merit to do so. However, he felt that the UFC wants him to constantly face wrestlers one after the other. "I almost feel like they're looking for a last hope, of someone who can take out Aljamain Sterling and they're hoping that they can make this wrestling thing, this narrative of the Olympic wrestling now, 'D1 wasn't good enough, now the Olympic wrestling might be good enough to take out the D3 wrestler' but I'll tell you one thing, this ass whipping is an equal opportunity employer," said Sterling.
Related: "You will never see me with a Mexican flag" – Fans EXPOSE Henry Cejudo for claiming he's not Mexican
Why did Aljamain Sterling and Henry Cejudo not fight each other?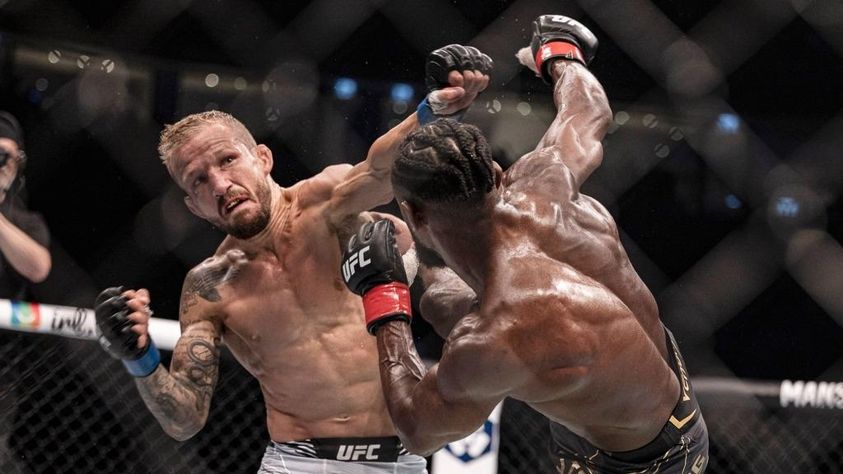 In the past both Cejudo and Sterling have been very receptive to the idea of facing each other for the title. In fact during international fight week the two had a face-off of their own trying to build up a fight, instead of facing TJ Dillashaw.
Also Read: "Let's do it anytime" – Marlon Vera is all set to take on the bantamweight champion Aljamain Sterling
Sterling refused to fight Dillashaw as he considered him a cheat, in light of his prior busts for EPO usage and subsequent 3-year suspension. Back then Cejudo was trying to book two fights at once.
While his primary aim was to regain his bantamweight title, he also had a secondary goal of trying to become the first triple-division champion in the UFC. For the same he called out Alexander Volkanovski multiple times
Also Read: "135 is not easy" – Aljamain Sterling makes his case for fighting in the featherweight division in future