There have been multiple claims that Dana White hasn't promoted the Islam Makhachev vs Alexander Volkanovski UFC284 fight as much as he could've done. One such allegation came from Makhachev himself.
Makhachev thinks that the fight could've been promoted much more than it has already been. He thinks the promotion for the fight is lacking, and that Dana could've put in more effort. "I only saw Volkanovski once, in Sydney. A tour could be organized around the world, a conference could be held in America", Islam said.
Dana certainly didn't like how the blame for this was being put on him. As far as promoting a fight is concerned, the fighters should also be involved in promoting the fight as much as the promoter. "He lives in Dagestan. What does he know about promoting the fight? It is going to be the top five fights of all time", Dana said.
Islam Makhachev isn't feeling the promotional hype around his champ-vs-champ fight.#UFC284 | More: https://t.co/BwFZEEaYmF pic.twitter.com/6wnAYH9k6v

— MMA Junkie (@MMAJunkie) February 2, 2023
Dana White responded to Islam Makhachev's recent comments about the marketing for #UFC284

📰 https://t.co/FHTd40rKh3 pic.twitter.com/OFrRQZNyUt

— MMAFighting.com (@MMAFighting) February 8, 2023
Even the fans in the community think that more could've been done for the promotion of this fight. But it is also a fact that the arena is sold out. With PPV number, can only be known once the event is held.
Related: WATCH: Alexander Volkanovski shakes legs with tribes in Australia before the biggest fight of his career at UFC 284
Fans react to Dana White's reply to Islam Makhachev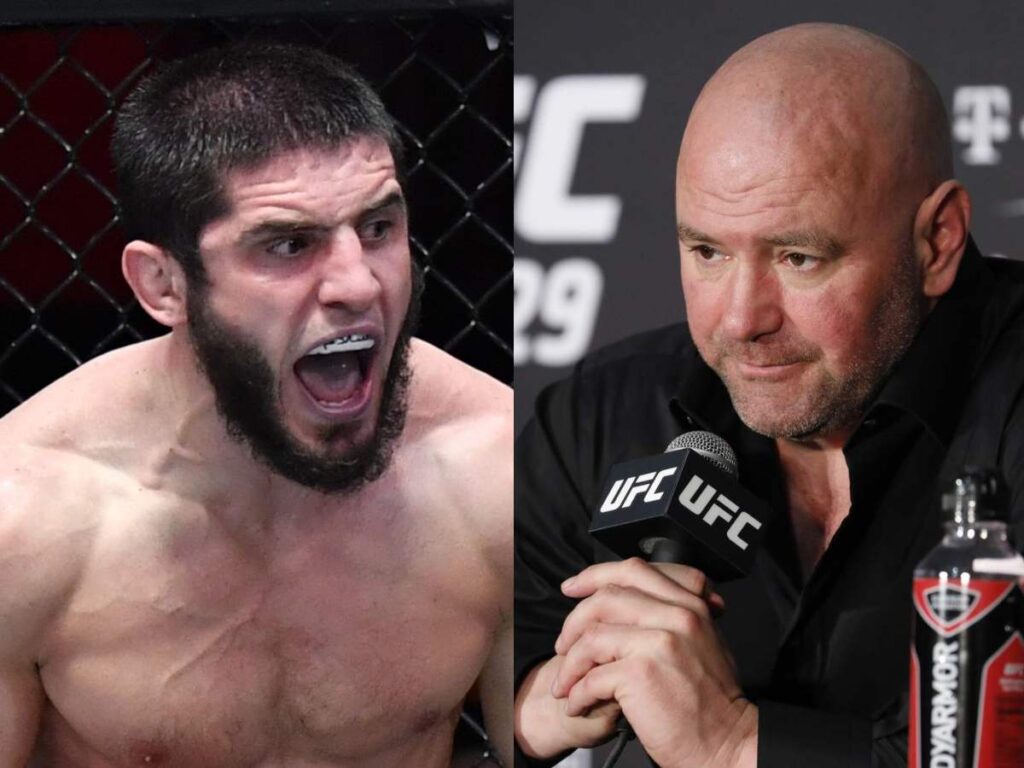 With fans adding to the claims of not promoting the fight with Islam Makhachev on Dana White – Dana seems to have had enough. He instantly clapped back by saying that Islam knows nothing about promoting while living in Dagestan.
Fans have claimed that Dana White has spent more time promoting the Power Slap league that the biggest PPV that is happening in the year. They have also said that if the fighters aren't McGregor or Jon Jones then Dana doesn't care about them.
😅

— Ariel Helwani (@arielhelwani) February 8, 2023
Wait which one is first of all I've got three points here

— Andy (@AndyHHSports) February 8, 2023
It's quite possible that personal events surrounding Dana caused him to miss the ball on this. We know Dana is a good promoter simply by so many past results, but this clearly looks like one he wasn't 110% into. He can't say that obviously, but seems very possible.

— Lex Jurgen (@Lex_Jurgen) February 8, 2023
Blaming the translator sheesh

— Julian Jaramillo (@xxdamilkmanxx) February 8, 2023
I'm waiting for the 'second of all' points to come out.

— Todd Glasman (@ToddGlasman) February 8, 2023
If the number really turns out to be poor when UFC 284 is held, then Dana White would be roasted alive. But if the numbers happen to be what Dana has said would be – then it will be Dana White having the last laugh.
In case you missed it: