Back in 2018 after Conor McGregor's devastating loss to Khabib Nurmagomedov via rear naked choke, UFC boss, Dana White was interviewed on CNN. White was asked about the post-fight brawl at UFC 229. In the post-fight brawl, two members of Khabib's corner attacked Conor McGregor after the fighter was recovering into consciousness from the submission.
An exhausted Conor McGregor was seen getting punched twice by Abubakr Nurmagomedov after Khabib jumped out of the octagon to attack Dillon Danis. Khabib's bitter rivalry with the former two-division champion and the brawl started out by his cornermen post-fight cost the undefeated fighter a fine of $1 million from his fight purse.
"I think we did a good job containing the incident, and we'll make sure it never happens again," Dana White said. "When you are fighters and these things get out of hand like this, you gotta realize that it's gonna be serious. They (Nevada State Athletic Commission) took the $2 million purse from Khabib," the UFC boss added.
Dana White further went on to debunk the possibility of a rematch between McGregor and Khabib. On being asked about a possible match-up between Khabib and Floyd Mayweather Jr, White replied, " Well Conor vs Floyd was not a realistic fight but it happened, right?… The only way this plays out is if Floyd comes to the UFC." The UFC president openly called out the undefeated boxer saying, "Call me, Floyd. You know how this works. Floyd gets smashed."
Related: "Educate yourself" – Furious Dana White attacks fan in response to outrageous Power Slap fighter pay criticism
UFC Lightweight champion, Islam Makhachev reveals the absence of Khabib Nurmagomedov in corner ahead of UFC 284 fight with Volkanovski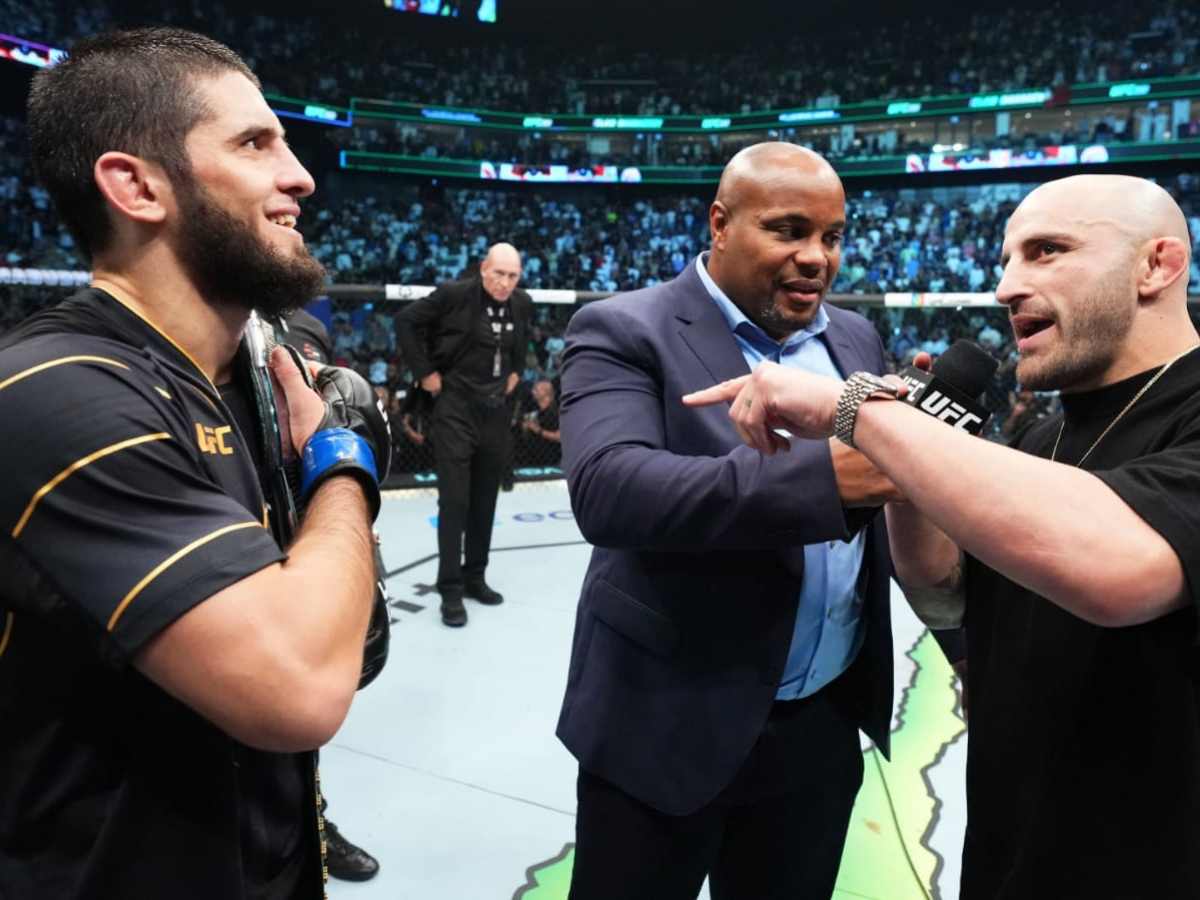 Lightweight champion, Islam Makhachev in his recent touchdown to Perth, Australia, revealed that Khabib Nurmagomedov will not be there to support him in his corner in the upcoming bout. The Dagestani champion is scheduled to fight featherweight Champion, Alexander Volkanovski at UFC 284 in February.
The fight is for Volkanovski's move up to the lightweight division and to solidify double champion status in UFC. However, Makhachev is not worried about Khabib's absence. "I understand him because he was retired, but he still traveled a lot with the whole team. And when you retire, you want to spend time with your family.  For example, in 2022 he spent just two months at home with his family, but all the other time he traveled a lot," the Lightweight champion stated.
Makhachev has recently achieved his champion status after defeating former lightweight champion, Charles Oliveira at UFC 280 via submission. The Dagestani fighter has had an incredible run in the UFC and is currently on an 11 fight win-streak with notable victories over Dan Hooker, Thiago Moises, Drew Dober, and Charles Oliveira among others. Makhachev is also became a World Sambo wrestling champion in 2016.
On the other hand, his opponent at UFC 284 is the current featherweight champion and former Australian rugby player, Alexander Volkanovski. The Australian champ is on a 12-fight win streak with successful championship defenses over Brian Ortega, Max Holloway (x2), and Chan Sung Jung.
Although an interesting match-up, the odds have been placed in favor of Makhachev due to the kind of success Sambo wrestlers have had in the UFC.
In case you missed it:
I could give a f**k less, Jorge Masvidal squashes Gilbert Burns' dream to fight for BMF Title at UFC 287
WATCH: Khabib Nurmagomedov's gangster cousin scares Hasbulla and NELK boys speeding in front of Russian cops