Dana White is undoubtedly one of the greatest sports promoters, the world has ever seen. The UFC President has helped build a sport and several other fighters into global superstars. However, there are very few athletes in the world that bring the "Fanboy" out of White and legendary boxer Mike Tyson definitely tops the list.
UFC is the biggest MMA promotion in the world and one of the most successful business models of all time. This couldn't be possible without the president of the company, Dana White. White has been on the top for a long time it is very rare that he becomes a fan boy after spending so much time being one of the top celebrities in the world.
However, there are a few names that get the UFC President nervous and excited. In a recent interview with FULL SEND MMA, Dana talks to reporter Shawny Mack about how Mike Tyson was his childhood hero and how despite all these years of knowing the boxer, he still gets nervous around him.
Related "You must've done something" – Dana White talks to FULL SEND reporter after infamous Nate Diaz slap at UFC 276
"It was Jordan and Tyson" – Dana White reveals his childhood heroes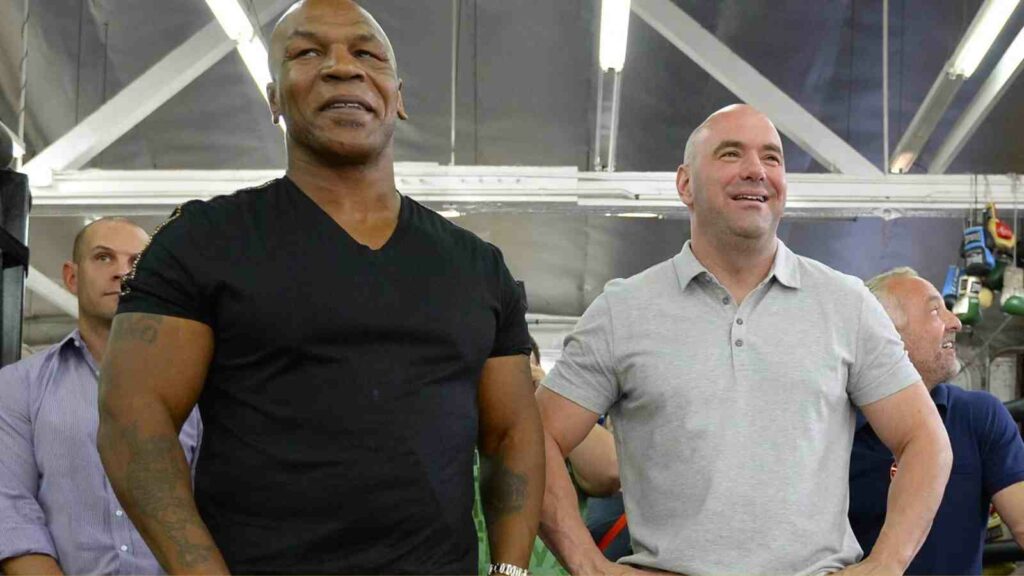 "I've known Tyson for many many years and I still get blown away when I'm around Tyson. He is one of my all-time favorites growing up," said White. "When Mike and I first became friends, the first thirty times I saw him I'd be like, 'Holy Sh*t that's Mike Tyson.' When I was growing up, it was Jordan and Tyson, man. I have been a Tyson fan since day one."
Dana and Mike have met several times over the years. Tyson has been to UFC events a couple of times and even had the pleasure of being on stage during the ceremonial weigh-ins of UFC 160. White has also given the boxer special seats for UFC PPV events and the boxer has been very kind to the UFC President over the years.
Mike also has a podcast of his own called, "Hotboxin" and White has been a guest on the podcast. It is one of the most-watched podcast episodes.
Also read "I'll f**k you up" – Jake Paul sends threat to Nate Diaz for slapping FULL SEND reporter Shawny Mack
"Told me to put my head down" – Kamaru Usman reveals funny incident of Khabib Nurmagomedov becoming UFC Hall of Famer