Champion Leon Edwards and Kamaru Usman fought a closely contested fight at UFC 286. The fight appeared close, with Edwards retaining the Welterweight title with a majority decision. The judges scored the contest 48-46, 48-46 and 47-47. With the victory, Leon Edwards defends his title for the first time.
Leon Edwards was on an 11-fight unbeaten streak before entering the trilogy fight with Kamaru Usman at UFC 286. Edwards utilised body and leg kicks to keep the former Champion at bay. However, there were controversies in the fight. Edwards grabbed Usman's gloves in the first round and the cage in the third round.
Kamaru Usman tried to implement his game plan but could not maintain momentum. Usman's chin was one of the biggest questions heading into the fight. It held up very well. Usman's future is unknown, whether he will retire or continue fighting. However, he commented after the fight that he was not done.
Leon Edwards is still undefeated as a fighter when fighting in England. The hometown hero was welcomed with much love and chants. According to official records, Edwards outstruck Usman 120-87 in significant strikes. He also stuffed 11 takedown attempts from Usman. These factors may have shifted the judge's decision on the fight.
Related: WATCH: UFC 286 fighter tries to grapple referee after being brutally knocked out in first round
Fans are not happy with the result and cheating involved in Leon Edwards vs Kamaru Usman 3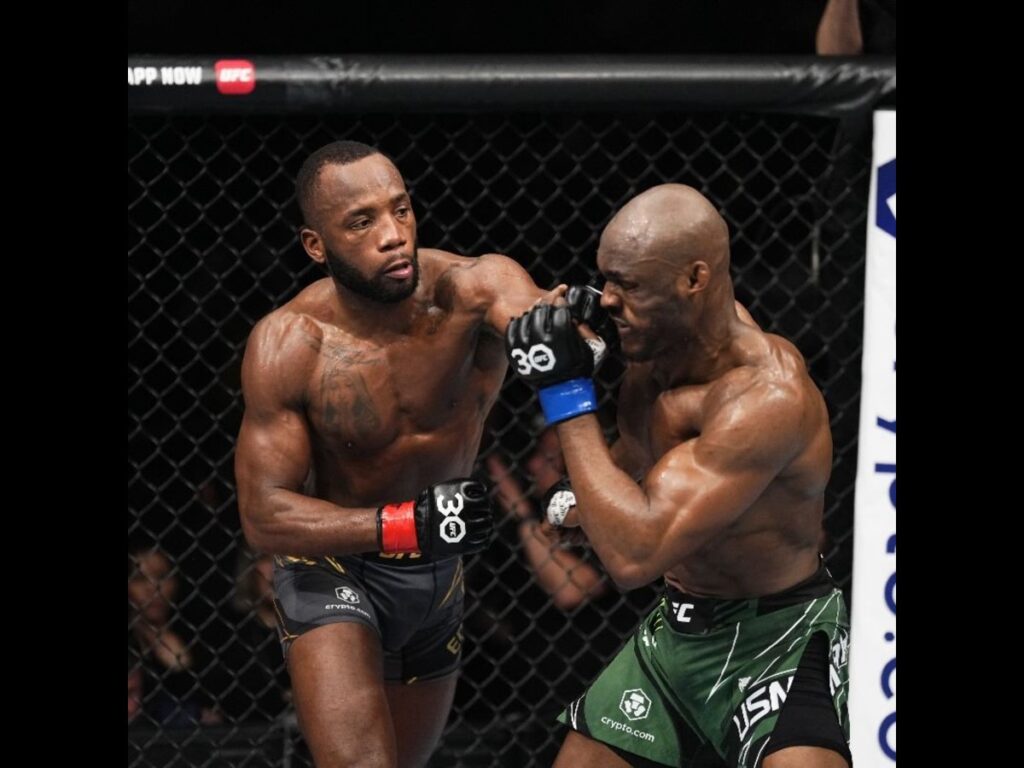 Fans are putting on a mixed reaction following Edwards vs Usman 3. Leon Edwards won the trilogy on the scorecard at UFC 286. The judges scored the contest 48-46, 48-46 and 47-47 to give the decision to Leon Edwards. Fight fans were unhappy with Edwards grabbing the cage, the low blow, and the gloves. Check out some of the reactions:
Leon "dick shot. Dead" Edwards

— Julio 🥔 Jurosaki (@Jur0saki) March 18, 2023
I gave it usman especially with the point

— Belal Muhammad (@bullyb170) March 19, 2023
GET OFF THE FENCE LEON MAN

— 🌴ᴛʜᴇᴀʀᴛᴏꜰᴡᴀʀ🌴 (@TheArtOfWar6) March 19, 2023
Leon is a dirty fighter

— Dev (@Lionelesque) March 19, 2023
The fence grab may end up paying off for Edwards.

In a five round fight, being deducted a point and it ultimately being 9-9 is much better than losing the round 10-9 and getting smothered by an elite grappler.

That was another very close round, but I scored it for Edwards.

— Aaron Bronsteter (@aaronbronsteter) March 18, 2023
Usman has an absolute right to be upset imagine your opponent cheating four fucking times in a title fight lets get serious right now

— not sh*na (@ufcshosh) March 18, 2023
Right call to take a point. Blatant fence grab and in a close championship fight that could mean the world. Had to take one.

— Brett Okamoto (@bokamotoESPN) March 18, 2023
Herb was put in a really tough spot to take a point away from the champ in his home country but I think that was probably the right call. Pretty egregious fence grab. #UFC286

— Robbie Fox (@RobbieBarstool) March 18, 2023
Does this count as some sort of dirty fighting hat trick?#UFC286 https://t.co/hFu8mA6Lkc pic.twitter.com/WGq2McWp16

— The People's MMA 🦈 (@ThePeoplesMMA) March 18, 2023
Fouleon Edwards pic.twitter.com/dtQIlzpmpH

— MMA Mania (@mmamania) March 18, 2023
Edwards can't stop fouling Usman. He's hitting all the boxes on the bingo cheat card. #UFC286

— Brian Campbell (@BCampbell) March 18, 2023
Dirty fighter

— Belal Muhammad (@bullyb170) March 18, 2023
Leon Edwards when Kamaru has his legs wrapped up against the cage: #UFC286 pic.twitter.com/d3FHD8AJEM

— MacMally 🍀 (@MacMallyMMA) March 18, 2023
Leon stop cheating you're winning the fight 🤬

— Zesri (@Zesrii) March 18, 2023
It was not the ending everyone was expecting. Certainly, Leon Edwards had moments in the fight which can label him a "cheater". However, the fans in London are happy that their hero retained the Welterweight title. Colby Covington, Jorge Masvidal and Gilbert Burns can all have a shot to challenge the Champion Leon Edwards in the future.
In Case You Missed It
Chaos in London! Fans shocked as UFC 286 backup fighter reveals himself during weigh-ins
The reality behind Kamaru Usman's controversial STEROID USE accusations