Dustin Poirier ranks top among the best-ever fighters to grace the UFC octagon as a lightweight fighter. Apart from the obvious Khabib Nurmagomedov, "The Diamond" is shocked that UFC veteran, Yves Edwards does not get a mention in the GOAT conversation.
At UFC 281 media day, Dustin Poirier was asked who the lightweight GOAT is according to him and the Louisiana fighter dropped a surprising name in the conversation. A seasoned veteran and one of the most exciting fighters to grace the UFC octagon, Yves Edwards was Poirier's pick while talking to the media yesterday.
Dustin is not here to argue the number one spot, who is widely regarded as the greatest lightweight of all time, Khabib Nurmagomedov. However, he believes Yves Edwards is massively underrated. "Most dominating has to be Khabib, right? What gets me mad is we don't even bring up Yves Edwards' name when we talk about the best lightweights of all time," said Poirier.
"He was uncrowned lightweight champion of the world when he beat Josh Thompson…I think his name should be brought up in these conversations," said Poirier talking to the media. Poirier himself is also one of the best fighters to never get their hands on the undisputed belt.
Read more: "Don't plan on starting" – Dustin Poirier intends to keep THIS RECORD intact against Michael Chandler at UFC 281
Who is Yves Edwards, Dustin Poirier's favorite lightweight fighter?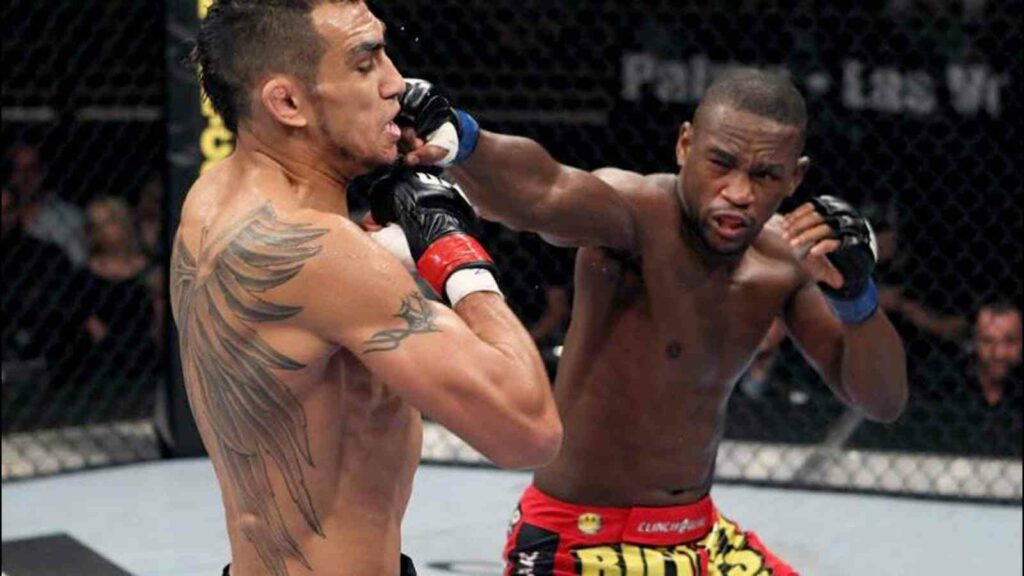 Yves Edwards was part of the UFC from 2001 to 2014. Fighting for more than a decade in the world's biggest MMA promotion, his name has often gone under the radar. Dustin Poirier's anger is justifiable given the resume that Edwards had in his fighting career. Yves had a record of 42-22-1 in his professional fighting career.
Yves was a long-time member of the American Top Team gym, which also happens to be home to Dustin "The Diamond" Poirier. He retired in the year 2014 and went on to become an analyst for the sport. Edwards had a total of 14 wins under the UFC banner and had wins over some of the best in the division.
Also read: "It's a crazy game"- Dustin Poirier expresses desperation to return to the octagon
Jeremy Stephens, Cody McKenzie, and Josh Thompson are some of the few names from his resume. He also fought against Matt Sera and Tony Ferguson against whom he went the distance to lose only by decision.
Also read: "Athletes tell the craziest lies to her" – Israel Adesanya hysterically reveals to Taylor Rooks he once "busted a nut" to make weight