Alex Pereira and Israel Adesanya are well-vetted rivals. To add the cherry to this rivalry, Adesanya recently shared a video on Twitter as both fighters coincidentally cross paths at the airport.
Since their days of kickboxing, UFC stars Israel Adesanya and Alex Pereira have been in constant competition. "Poatan" Alex Pereira has always had the upper hand over Adesanya. He has defeated Adesanya three times, twice in kickboxing and once in the MMA octagon. Israel Adesanya transitioned to the UFC in 2018. He secured a second-round win in his debut fight against Rob Wilkinson at UFC 221. Adesanya went on to become the UFC Middleweight Champion and one of the biggest names in the division and the promotion.
Alex Pereira followed suit and made his debut fight in 2021. However, he quickly rose the ranks and is now #1 in the UFC division rankings. It is remarkable and must be noted that just in a span of one year and with just three fights under his belt, Pereira became the new UFC Middleweight Champion. He also secured his third win over Adesanya in that title fight.
However, Adesanya came back strong. Just recently at UFC 287, Adesanya defeated Pereira via second-round knockout. Adesanya claimed back his UFC title and became a two-time Middleweight Champion.
But now they broke the internet with their chance crossover at the Los Angeles airport. The two fighters took to social media to outline the coincidental encounter. "My life is a video game," Adesanya wrote on Twitter as he shared a video of Alex Pereira back in line, flexing his arms at him. Pereira himself shared a video of him and Adesanya exchanging pleasantries and wrote, "Guess who I met at the airport?" UFC Featherweight Champion Alexander Volkanovski was also present in the background.
Related: Cheeky Alex Pereira fuels Melbourne Storm rivalry by joining camp after Israel Adesanya trains with New Zealand Warriors
Fans demand a trilogy fight as Israel Adesanya and Alex Pereira meet at the airport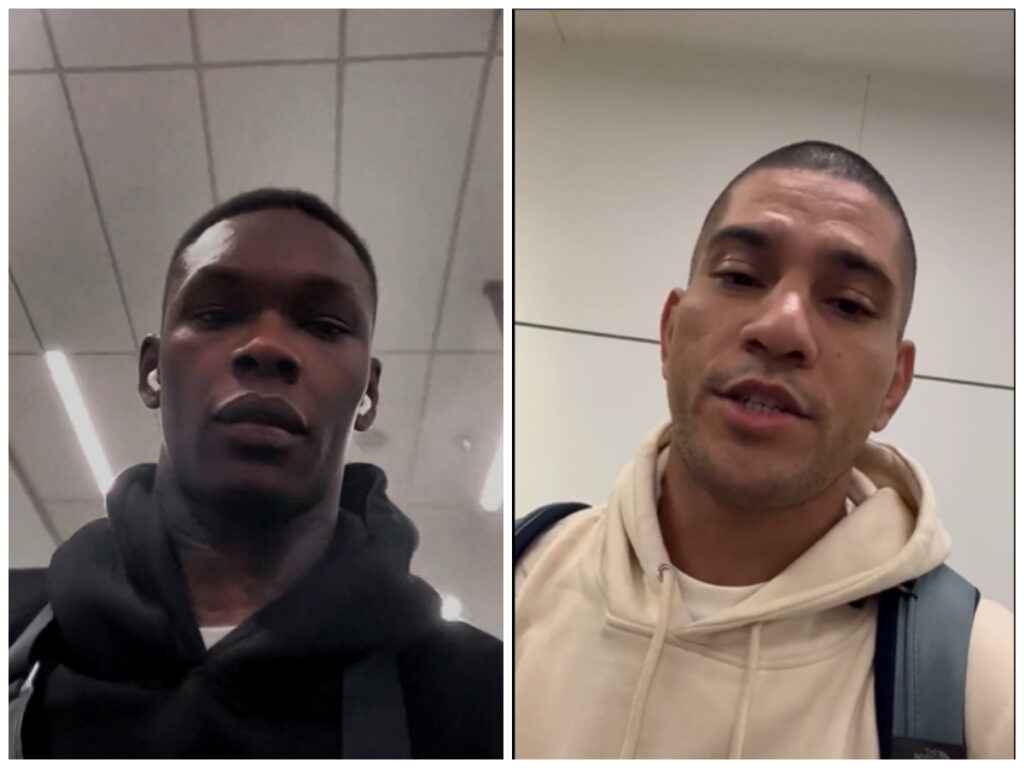 Netizens are extremely excited to see the union of the fighters as they coincidentally meet at the airport. Adesanya and Pereira had engaged in a verbal war over Twitter in the UFC 287 aftermath. Now fans demand a trilogy fight to put an end to the discussion as both fighters hold a win over each other in the UFC. Here are some of the fan reactions to Israel Adesanya's Twitter video:
However, the trilogy fight fans demand is not a possibility anytime soon. Alex Pereira has moved to the Light-Heavyweight division. 'Poatan' is scheduled to face the former UFC Light Heavyweight Champion Jan Blachowicz.
In case you missed it!