Khamzat Chimaev seems to have fully embraced being the "heel" in UFC. The Chechen fighter has been in the headlines recent times and not for good things. To add fuel to the fire, Chimaev posts a picture of him with the BMF belt.
The Chechen UFC superstar recently went berserk at UFC 280 and got into a fight with one of the members of the Khabib Nurmagomedov team. Some would say Khamzat Chimaev took the spotlight off Islam Makhachev's winning moments because of the chaos outside the octagon. Where ever Chimaev goes, a brawl seems to happen around him.
Following his altercation at UFC 280, Chimaev without context, posted a picture of him with the BMF belt on his Instagram account. The fighter has forever been calling out the top superstars of the welterweight division and has claimed to "kill them all". The BMF belt once belonged to superstar Jorge Masvidal after his victory against Nate Diaz.
The Chechen welterweight is now close to fighting Colby Covington as per the UFC President Dana White. The fighter has always said he's ready to fight the top flight of the division. Fans go crazy on Twitter as the superstar poses with a BMF belt in his Instagram post.
Chimaev has also been in hot waters for a lot of things recently. From his weigh-in mishap at UFC 279, his relationship with Ramzan Kadyrov, and now his brawl with Khabib's teammate. The fans don't hold back with their comments on Twitter. Check out some of the reactions.
Read more: "Khamzat owns Dagestan" – Fans' reaction to Khabib's noninterference between his cousin Abubakar Nurmagomedov and Khamzat Chimaev's scuffle will have you cracking up
Fans react to Khamzat Chimaev posing with BMF belt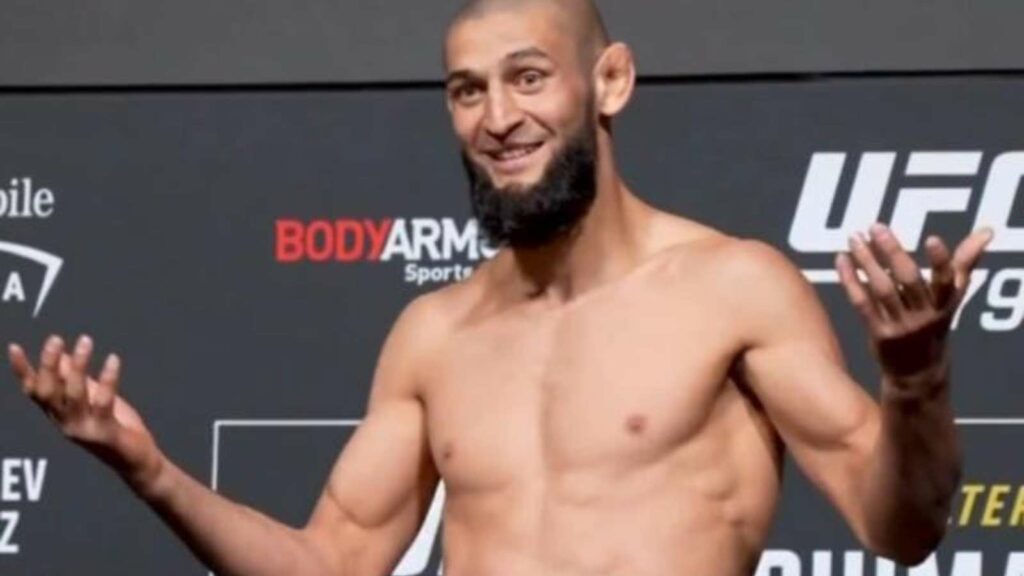 Let's be honest, the BMF title is honestly dumb as fuck! However, if Jorge Masvidal was to put it on the line, especially against Khamzat Chimaev, he would get raw dogged is the first round. https://t.co/EZwVpChGE5

— ♕LひIS♕ 🇧🇴 (@_CallMeSteveO_) October 24, 2022
khamzat trolling pic.twitter.com/sMxgbTaUGA

— Dovy🔌 (@DovySimuMMA) October 24, 2022
Also read: Ramzan Kadyrov settles the dispute between Khabib Nurmagomedov and Khamzat Chimaev after a menacing UFC 280 brawl
Biggest Missed-weight Fighter pic.twitter.com/v5iMJ8gBPr

— MMA Complete Podcast (@complete_mma) October 24, 2022
Khazmat loves going after easy fights with smaller old guys.

— Block Odrama (@314buckeyeSTL) October 24, 2022
Jorge can do nothing bout this

— island boi Ariel (@NWOHelwani) October 24, 2022
Where did he find that belt lol looks legit 😂

— Ahmed Hussein (@AhmedHu03683819) October 24, 2022
Khamzat eat masvidal for breakfast. Proof me wrong.

— Nobody (@KhamzatZain) October 24, 2022
He might be the actaul bmf 🤷🏽‍♀️

— Lille (@MMA_Babee) October 24, 2022
But khamzat seems like he ducking from costa.

— LookatMeNow (@bringmedejuice) October 25, 2022
Masvidal sleeps him

— Bran Bran (@Brandanawhitz) October 24, 2022
Kadyrov lil bich

— enigmatic edd93 (@Edd93Enigmatic) October 24, 2022
Also read: "Control time merchant" – Fans troll Khabib Nurmagomedov for showing disgust towards Sean O'Malley's win against Petr Yan at UFC 280