Conor McGregor seemed more than just impressed by what Jon Jones displayed for his return fight. According to him, Jones should've been presented with his light heavyweight and heavyweight belts during his post-fight press conference.
Jones just about made his dream return to the octagon when he beat Ciryl Gane in the first round itself via submission. The man, already touted as the GOAT, seemed to silence his haters, if any, with his performance.
McGregor, who claimed to be a neutral for their fight, has asked why wasn't he presented with both his belts during his press conference. According to him, Jones was so good he should've been flaunting both his belts that he'd won – both sparkling.
That was incredible by Jon last night! Even better to see it live! The man should've had two belts presented to him. And both sparkling. He did it. Fucking brilliant, @JonnyBones! Congrats!

— Conor McGregor (@TheNotoriousMMA) March 5, 2023
With Jones making his successful return to the octagon, the fans are just about getting impatient to see McGregor get back in the octagon as well. With all this commotion, the return of the Triple C is much closer than Conor's return. Let's see if Cejudo can make the same kind of impact as Jones on his return.
Related: "Mystic Triple C" –  Henry Cejudo shares training footage with Jon Jones predicting Ciryl Gane's submission at UFC 285
When Conor McGregor didn't almost showoff his double champ status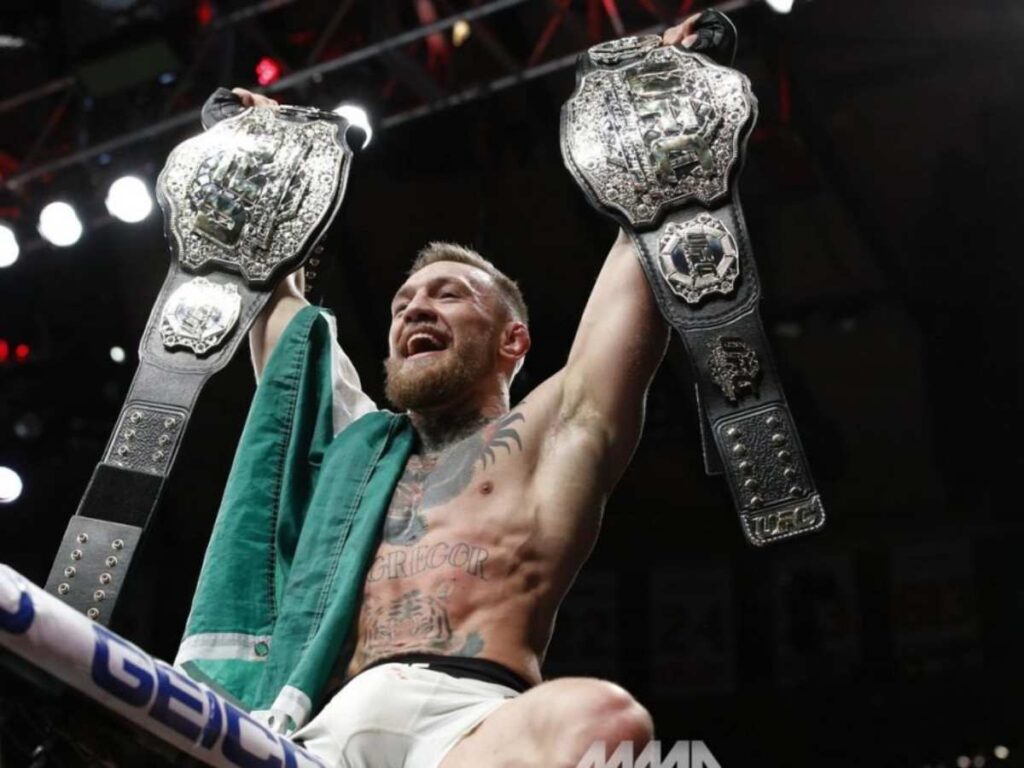 At UFC 205, when Conor McGregor became the first UFC fighter to hold two belts simultaneously in two divisions – he almost didn't get to show it off. Due to some miscommunication backstage, Conor wasn't presented with his second belt immediately.
When McGregor became the Lightweight champion after beating Eddie Alvarez, he wasn't presented with his second belt immediately. But if he had been, the fans wouldn't have had the iconic "I'd like to apologize to ABSOLUTELY F**KING NOBODY. THE DOUBLE CHAMP DOES WHAT THE F**K HE WANTS".
So that moment may have annoyed McGregor a bit, but the fans were served with one of the most iconic moments of UFC. Ever since then, the road has been a bit bumpy for the Notorious. Here's to hoping he makes the return he hopes for when he returns to the octagon.
In case you missed it: