Khabib Nurmagomedov was not to be played with during his prime. UFC superstar Conor McGregor found out the hard way during his rivalry. Khabib's warning to the Irish superstar is proof he was one of the scariest fighters to grace the octagon.
Conor McGregor managed to bring out a side of Khabib Nurmagomedov that the world had never seen. Up until the beef with the Irish superstar, "The Eagle" was a very calm and collected fighter who wanted to be great in the UFC. However, leading up to his fight against The Notorious One, things were personal for the Dagestani.
In an interview with Brett Okamoto for ESPN, Nurmagomedov was bruised up from his intense training at the American Kickboxing Academy in preparation for UFC 229. During the interview, Okamoto dared to ask Khabib how he sees the fight going and his answer was nothing short of chilling.
"It is going to be a long night for him. A long night. I'm going to make him tired. I'm going to maul him, inside the cage. I'm going to ask him, 'Hey, where is your bus? Where are your other guys? Where's everything? Bring everybody here,'" Nurmagomedov said on his plans to humble McGregor.
Read more: Khabib Nurmagomedov fans have field day on internet as they celebrate iconic victory over Conor McGregor
When Khabib Nurmagomedov wanted "change" Conor McGregor's face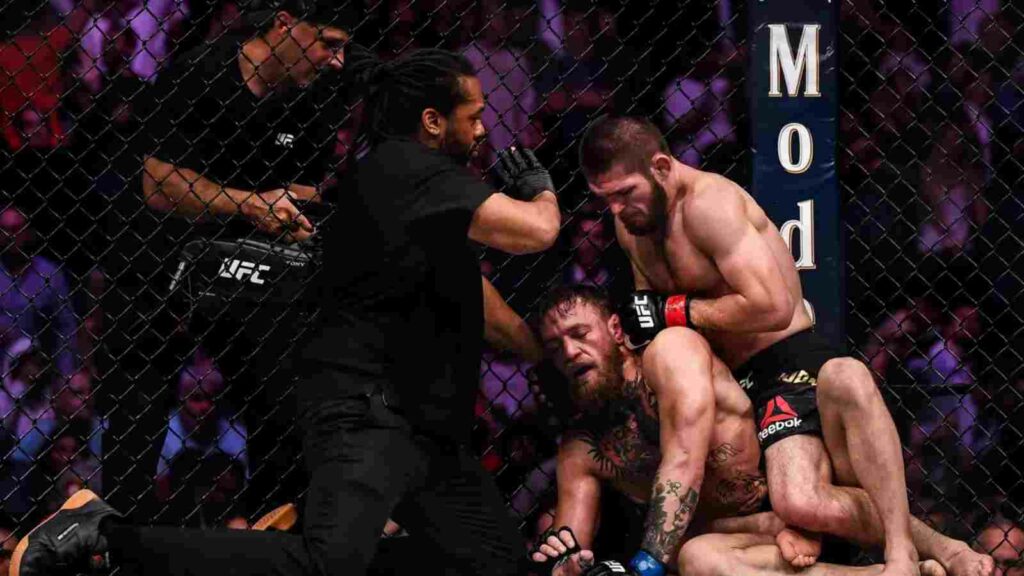 Khabib Nurmagomedov was straight ruthless with his words in the lead-up to UFC 229. There was never a time in Nurmagomedov's career when he was so violently motivated to do bad things to his opponent in the UFC octagon. There is no doubt "The Notorious One" rubbed Nurmagomedov the wrong way with all the disrespectful trash talk and his infamous "dolly" incident.
"Make him humble. Little bit teach him. Not only smash but also change his face. Of course, with his face, I can change his mind too," said Nurmagomedov talking to the media. There is no question that the delivery of Khabib's "Change his face" line will go down as one of the scariest one-liners in UFC history.
Also read: "Not gonna say everything" – Khabib Nurmagomedov recounts the WILD STORY of Russian PM Vladimir Putin calling him after Conor McGregor fight
Khabib Nurmagomedov went on to finish Conor McGregor exactly as he predicted in the pre-fight pressers. UFC 229 ended up being the biggest defeat in McGregor's career as he tapped out to Nurmagomedov's fulcrum choke in the fourth round of the fight.
Also read: Why Conor McGregor lost to Khabib Nurmagomedov at UFC 229?