Michael Chandler failed to beat Dustin Poirier at UFC 281. This marks his third defeat in 5 fights in UFC. However, despite his UFC track record, he considers himself a good match-up against the biggest star Conor McGregor if he makes a comeback.
Speaking at the post-event press conference, he said that he and Conor can create a staggering PPV. He also expressed his respect towards the Notorious One and said he is waiting for McGregor to make his return soon.
Further speaking about McGregor he said, "He's a legend in the sport, he's the biggest name in the sport and it was bad enough that we had to compete with Bentleys, Bugattis, boats, and $100million whiskey companies. Now we've got to compete with the silver screens and bright lights of Hollywood. Come back to your first love Conor, come back and fight against me."

Due to his lack of USADA testing over the past year, McGregor is reportedly six months away from making a comeback. When he returns eventually nobody knows which fighter he may choose to fight. However, considering the history between him and Michael Chandler there is a possibility of this fight happened. Michael Chandler needs a big fight now more than ever to put his career back on track after his defeat at UFC 281.
Related: "Woke up 20 min before my alarm" – Michael Chandler seeks to channel his most 'dangerous' self against Dustin Poirier at UFC 281:
Dustin Poirier criticized Michael Chandler for using blamed moves on him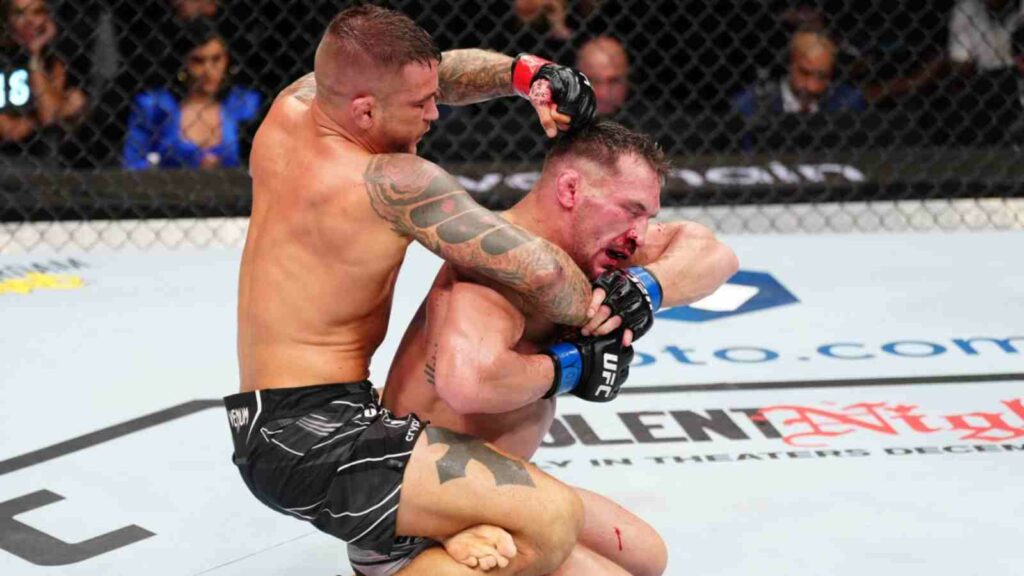 Michael Chandler has received criticism from Dustin Poirier for repeatedly breaking the rules in the octagon during their UFC 281. Dustin appeared to protest about something to the referee during their fight. However, It was challenging to see what transpired because the two were so tightly engrossed.
However, it was clear from the replay that Michael Chandler fish-hooked Dustin Poirier in an effort to slip his arm around his neck and choke him. Poirier objected to Chandler's move in front of the referee because he did not like it. The Diamond disclosed what he said to his opponent during the press conference following the fight.
Also Read: Michael Chandler boldly claims his "passionate American" wrestling can "shut down" Russian UFC champ Islam Makhachev
Dustin said, "I told him this is my house, that's what I told him. And I told him he's a dirty m*er too, for putting his fingers in my mouth and blowing his nose and it's all good."
In another instance, Dustin Poirier appeared to break Michael Chandler's nose when he struck him. Despite the controversies surrounding this match, there is no doubt that this was one of the best fights in UFC in a while and rightfully earned the tag of the fight of the night at UFC 281.
Also Read: "My prediction for the people's main event " – Michael Bisping boldly predicts winner for the Dustin Poirier vs Michael Chandler fight at UFC 281