UFC 275 co-main event took place between Valentina Shevchenko and Taila Santos which was for the women's flyweight championship. Shevchenko is currently the best UFC female fighter alive being ranked #1 in the UFC pound-for-pound female fighter in the world.
The Peruvian has held her position as a dominant champion for the last four years. She made all her opponents look easy, and her last two wins over Jessica Andrade and Lauren Murphy were a thing to behold. She was looking for another dominant performance at UFC 275, but Santos gave her a run for her money.
Santos came into the fight with an amazing momentum of a four-fight win streak. She looked confident and fought well but it wasn't enough to dethrone the champ. After five rounds of back and forth, Shevchenko has announced the winner via split decision. Although the decision attracted huge controversies as many thought the Brazilian was robbed.
Related – "Valentina was lucky"- Fans expressed their disbelief as Shevchenko got the better end of a split decision against Santos
"I think the first 3 rounds were mine"- Taila Santos believes she should've gotten the decision over Valentina Shevchenko at UFC 275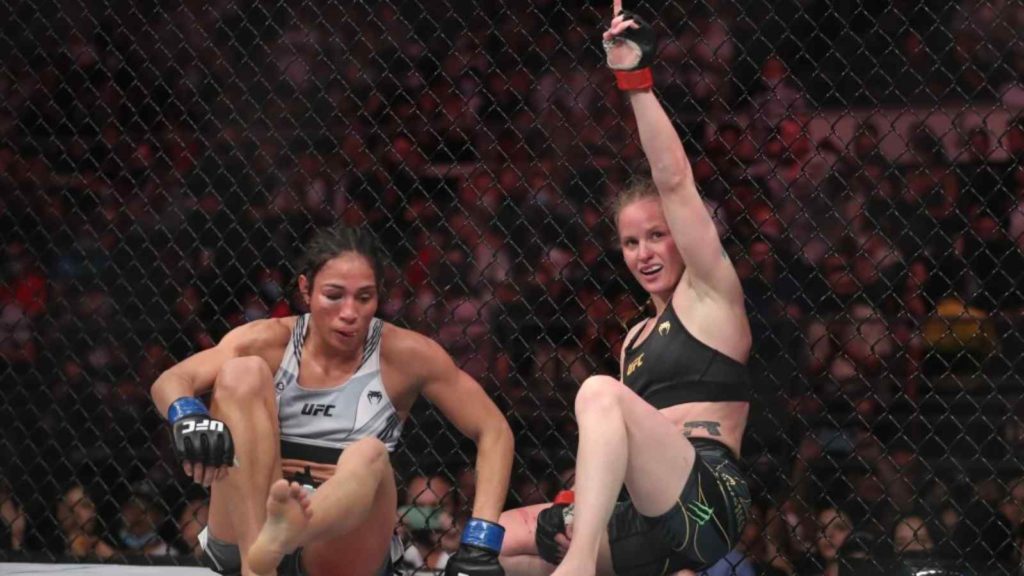 Santos had to undergo surgery, following an injury she sustained because of an accidental clash of heads. She is doing much better now, and talking to MMA Fighting, she talked about her fight, and she believes she did more than enough to dethrone the champ. "I think that (I was winning) up until the third round, when my eye was still OK, but I still managed to get her down in the fourth."
Santos added, "I ended up getting taken down in the last round, but took her down in four rounds. I think the first (3 rounds) were mine. I haven't sat down to analyze the fight yet; I have to re-watch it. But I was able to take her down in the fourth as well and control for a bit, but she got back up quickly."
Talking about Shevchenko's invincibility aura, Santos said, "Everybody sees her as this monster, the boogeyman. After I fought her, I could see she's not all that, you know? She's very tough but nothing abnormal. I didn't feel any supernatural power. The way people talked about this woman, I thought to myself, 'Wow, I won't be able to take her down.' I imposed my takedowns and managed to do everything I wanted. I expected (more). It was easy to (secure a takedown) and get her back. I expected it to be tougher."
Also read – "Had it 3-2 for Santos," Cris Cyborg, Aljamain Sterling, and more react to Shevchenko's razor-close victory against Taila Santos
Also read – Shevchenko's striking gets the job done to outclass Santos' grappling in a split decision at UFC 275