Tyson Fury is the British heavyweight boxer and WBC champion, while Jon Jones is the dominating UFC heavyweight champion. At one particular point, there were verbal confirmations and discussions regarding a potential fight between Fury and Jones. Tyson Fury claimed to have received a contract offer to fight Jon Jones, suggesting that negotiations were underway. However, the matchup eventually fizzled out. Most recently, Tyson Fury named Tom Aspinall as the most probable contender to beat Jon Jones.
Tyson Fury firmly believed that Aspinall possessed the skills to beat the UFC heavyweight champion, Jon Jones. During a recent interview with TNT Sports, Fury shed light on Aspinall's integral role as a sparring partner and emphasized his impressive fighting prowess. Fury did not shy away from acknowledging Aspinall's previous potential as a professional boxer. He showed optimism about Aspinall's comeback, emphasizing his imposing physicality, striking power, and the valuable asset of being a black belt in jiu-jitsu.

Fury reflected on his own triumph over Wladimir Klitschko, a fighter once deemed invincible. With conviction, Fury asserted that if anyone can conquer Jon Jones, it's none other than Tom Aspinall.
"He's a good fighter. Tom's a good boxer. He probably could have made it as a pro boxer, too," Fury said. "I was quite sure he would have went on to win the world championship, then he had the derailment with his knee… Now he's on his comeback trail."
"I think he can do it. He's big enough, he's got the power, he's a black belt in jiu-jitsu." Fury continued. "It's a tough one. Jon Jones is the Tyson Fury of (MMA). People are unable to beat him… (He's) probably considered the greatest of all time in MMA… Just like can anybody beat (Wladimir) Klitschko before Tyson Fury beat him, probably not. Then Tyson Fury beat him. So, if anybody can beat Jon Jones, it'll be Tom Aspinall, for sure. Nobody else."

In the past, both Jon Jones and Tyson Fury had tantalizingly hinted at the possibility of a clash, even mentioning the idea of a "hybrid fight." However, this dream now appears distant and improbable. As Tyson Fury's date with Ngannou fast approaches, the spotlight shifts to the tantalizing crossover clash between the two heavyweights in the boxing ring.
Related: "Heard lot of complaints…" Francis Ngannou makes a HUGE accusation to Joe Rogan of Tyson Fury cheating with gloves
Francis Ngannou spoke on fighting Jon Jones
Francis Ngannou recently spoke about the potential clash with Jon Jones. Earlier this year, Ngannou parted ways with the UFC and inked a deal with the Professional Fighters League (PFL). While the UFC has historically been reluctant to engage in co-promotion, Ngannou expressed confidence that PFL would be open to the idea of him taking on Jon Jones inside the octagon.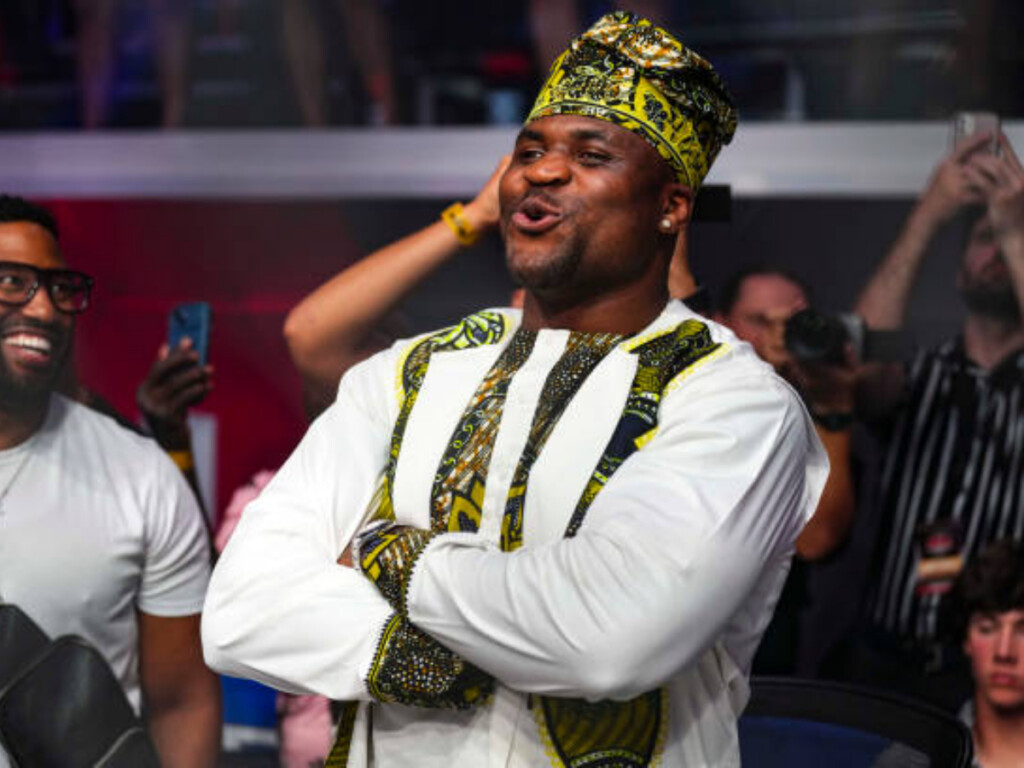 During a recent appearance on The Joe Rogan Experience, Ngannou said, "I don't know, maybe it'll be a special fight – a special belt or something, maybe not like a UFC belt." For him, the championship belt isn't the primary concern. He is more focused on the fight itself and the challenge it would present.
Ngannou is gearing up for his boxing debut in Riyadh, Saudi Arabia, this October. He will face Tyson Fury in a 10-round heavyweight match. Meanwhile, Jon Jones is preparing for his first title defense, scheduled for November at the Madison Square Garden in New York. He will take on Stipe Miocic, headlining the main event at UFC 295. Thus as for now, the dream fight between Tyson Fury and Jon Jones remained shrouded in mystery.
In case you missed it!
Do follow us on: Facebook | Instagram | Twitter
Follow FirstSportz on WhatsApp Channel