Amanda Nunes called out Kim Kardashian to fight in the octagon when an account tweeted the possibility of the amount of money they could generate if these two fought. Nunes was quick to take up the offer and immediately called Kardashian out.
Dana White jokingly said in a press conference," Imagine if Kim Kardashian wanted to fight Amanda Nunes. How big do you think that fight could be?" This idea seemed to excite Nunes and she immediately called Kim Kardashian out for a fight.
The likeliness of this fight to happen was obviously low, like very very low. But the idea of Nunes shutting Kim Kardashian up was well-received by the MMA community. Instead of being all "call out a real fighter", and "find someone your own size" – fans enjoyed the idea of Nunes beating her up.
Obviously, the call-out was meant to be a joke – which some fans understood when they took to Twitter to react to it. Nunes wouldn't want to fight an amateur and waste time on it when she got bigger fish to fry.
Hey @KimKardashian let's do this? lol pic.twitter.com/wJwTjof307

— Amanda Nunes (@Amanda_Leoa) June 8, 2021
Related: WATCH: Car Jiu-Jitsu! Fans go crazy as MMA promoters present yet another bizarre format of fighting
Fans react to Amanda Nunes calling out Kim Kardashian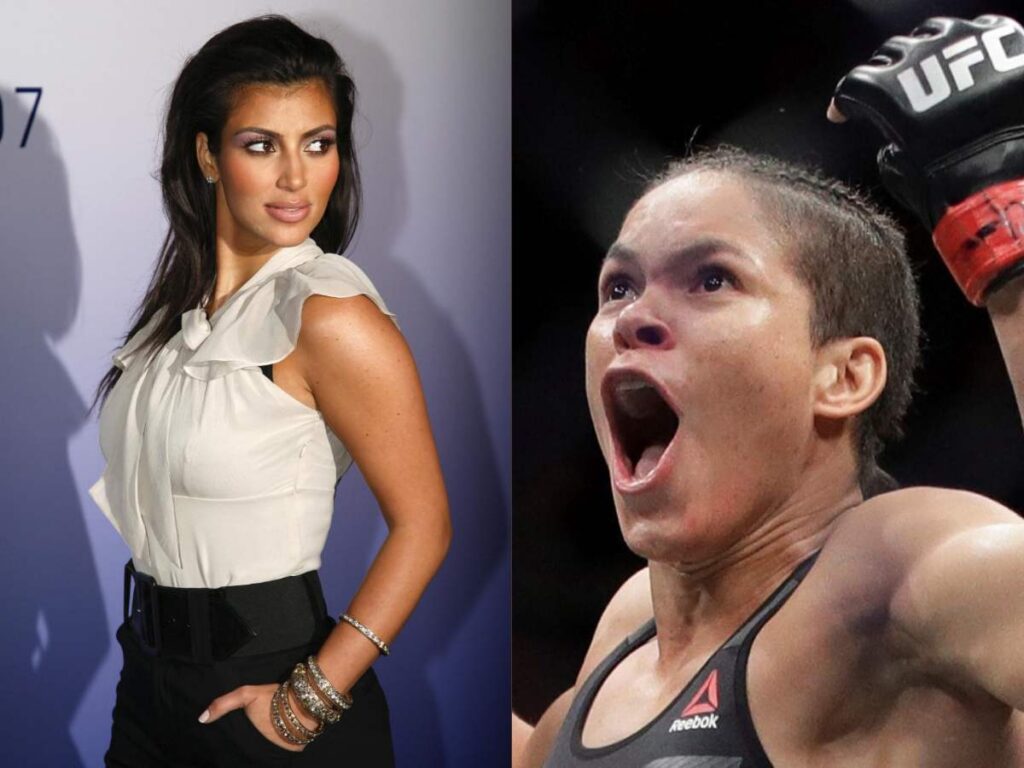 Fans, knowing it was a joke, reacted by going completely south – tweeting the usual inappropriate stuff. But some fans surprisingly thought that she was serious.
Some fans even told Nunes to not duck the real champ – Hasbulla. Few fans, even though they knew it was a joke, actually legitimately wanted Nunes to smash Kim Kardashian.
😂🤣😂🤣 she doesn't have a deathwish

— Muhammed DeReese (@Momuscle) June 9, 2021
Amanda are you sure you want to risk this ?

— Ryan🇮🇪🥃 (@smoothdougiee) June 8, 2021
Snuff films are not allowed

— Vegas is Hockey (@Vegas_ProSports) June 8, 2021
I would pay a ton of money to see Nunes put that horrible thing in the hospital permanently!!

— Tha Notorious Kekoa (@kekoa2347) June 8, 2021
Quit ducking the real champ pic.twitter.com/pFpcaeCiHS

— cole 🐬🥋🏎 (@ThaTurnerIV) June 8, 2021
Beware of the boobs choke 😁

— Siavash (@ObjetPetit_) June 8, 2021
You'd pop that plastic ho

— Austin Shnibleone🇨🇦 (@MrShnibleone) June 8, 2021
It is all fun and games until Nunes goes from joking mode to serious mode, that's for sure. No woman in her right mind would want to challenge a fighter as terrifying as Amanda Nunes. But it is nice to see when fans can see a side of the fighters that are not only violence.
In case you missed it: