UFC is one of the most popular sports organizations in the world. It has a huge fan following all over the globe who love to see action-packed MMA fights. UFC has delivered the last entire year with a good number of PPVs and fight nights with match-ups that lead to brutal knockouts, submissions, and a lot of violent fights. However, it's 2023 and fans want to see something exciting happen — and we've put together a list of our top five blockbusters UFC fights that we can expect in 2023.
Get ready for an action-packed year in the world of UFC as we take a look at the top 5 blockbuster fights that are sure to leave fans on the edge of their seats in 2023. From long-awaited rematches to rising stars taking on the biggest names in the game, these fights promise to deliver non-stop action and drama. This is shaping up to be a big year for the UFC, with several highly-anticipated fights already in the works. Whether you're a die-hard MMA fan or just a casual spectator, these bouts are sure to be must-see events. Let's dive into them, for some of the most exciting and action-packed fights we expect this year!
Related: Alex Pereira calls out Khamzat Chimaev to an indigenous wrestling bout after incessant trolling
Alex Pereira vs Khamzat Chimaev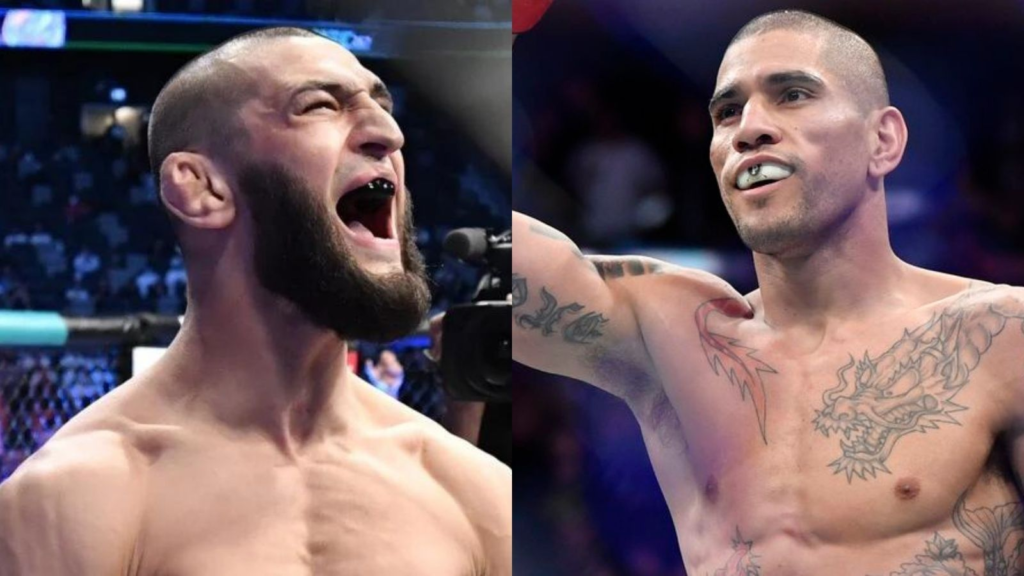 Alex 'Poatan' Pereira displayed some brutal striking in his transition from kickboxing to MMA and quickly became the newly crowned middleweight champion. The Brazilian is riding high on his remarkable knockout victory over former champ Israel Adesanya at UFC 281 where both fighters gave the fans a bang for their buck. The two had fought before on two separate occasions, in kickboxing (Pereira winning both matches). Adesanya was ahead 3-1 on judges' scorecards at 281 before Pereira's improbable fifth-round comeback. And who'd be a better fight for the newly crowned champ than the guy who's here too, in his own words, "KILL EVERYBODY!".
The Chechen sensation, Khamzat Chimaev is one of the hottest prospects that mixed martial arts has seen in years and a potential matchup between Pereira and Chimaev could be an extremely exciting one. 'Borz' has been backed by Belal Muhammed to be a "terrible matchup " for Pereira. Poatan has an incredible standup game and a vicious left hand, while Khamzat's aggression and grappling pressure are a nightmare for his opponents. If the fight between them does happen, it will likely be a great matchup between two of the top middleweight fighters in the UFC. The fight could be a great showcase of skill, power, and technique as both fighters have the potential to go down as two of the most dangerous fighters in the ring.
Conor McGregor vs Michael Chandler
The potential fight between Conor McGregor and Michael Chandler is one of UFC'. Both fighters are extremely accomplished and have a lot of hype surrounding them. McGregor, the former featherweight and lightweight champion, is the most popular fighter in the UFC, potentially in the whole world of MMA. He has had several successful title defenses and has become a household name. Chandler, meanwhile, is relatively new to the UFC but has made a huge impact at Bellator, and is a grand name in MMA. Michael hasn't had a boring fight in UFC to date, and is the most entertaining lightweight on the planet according to him, and for good reason!
After knocking out the legend Tony 'El Cucuy' Ferguson in a spectacular fashion with his front kick, Chandler delivered a post-fight interview that would make Vince McMahon want to sign him to deliver promos, getting a loud pop from the fans all over the arena calling out McGregor.
'The notorious' has tweeted in the past, saying "I'm definitely game to fight this guy at some stage in my career." This fight, whenever it happens, is sure to be a blast and it'll be one for the ages.
Jon Jones vs Ciryl Gane
The long-awaited heavyweight debut of UFC star Jon Jones is just around the corner, as he is set to take on Ciryl Gane in a title fight at UFC 285 on March 4. The matchup has been hotly anticipated since Jones announced his intentions to move up to the heavyweight division in 2020, and it will be the first time he has ever fought for a UFC title in the division. The fight between Jones and Gane has been a long time in the making, with both UFC President Dana White and Jon Jones himself trying to make a deal. However, Jones' recent legal issues have complicated matters, and he was arrested and charged with battery and domestic violence shortly before the fight was officially announced.
Despite this, both fighters are fired up and ready to go, and the excitement surrounding this fight is palpable. Gane is an aggressive fighter who loves to move forward and take the fight to his opponents, while Jones is a more technical fighter who relies on his speed, agility, and striking ability. The fight could go either way, and it promises to be exciting. Whatever the result, Jones and Gane's fight at UFC 285 will be one for the ages. Fans are eagerly awaiting what promises to be an epic clash of styles, and March 4 can't come soon enough for fight fans around the world.
Jiří Procházka vs Jamal Hill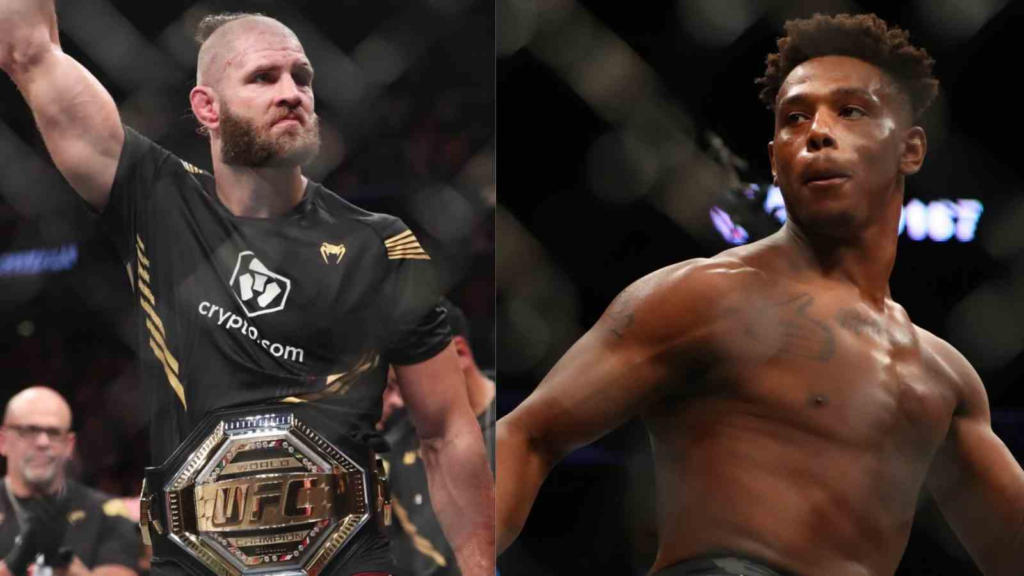 The future fight between the newly crowned light-heavyweight champ Jamal Hill and Jiří Procházka is set to be one of the most anticipated matchups in UFC history. After Hill's shock victory over Glover Teixeira at UFC 283, he is now the undisputed UFC Light Heavyweight Champion and has set his sights on a showdown with the former divisional champion, Prochazka. Prochazka has made it clear that he wants to get back in the Octagon, and is eager to take on Hill and reclaim the title. His reaction to Hill's victory over Teixeira was full of admiration and respect, but also a warning that he was coming for the title.
Hill is no stranger to a challenge and has been calling out Prochazka for a while now. The matchup would be a battle of two influential knockout artists, with both fighters having a strong history of ending fights with their fists. Hill is known for his fast, precise strikes, while Prochazka has a reputation for sending opponents to the mat with his strikes. Fans will be eagerly awaiting the announcement of the fight and anticipating a fight that could potentially be the Fight of the Year.
Ilia Topuria vs Paddy Pimblett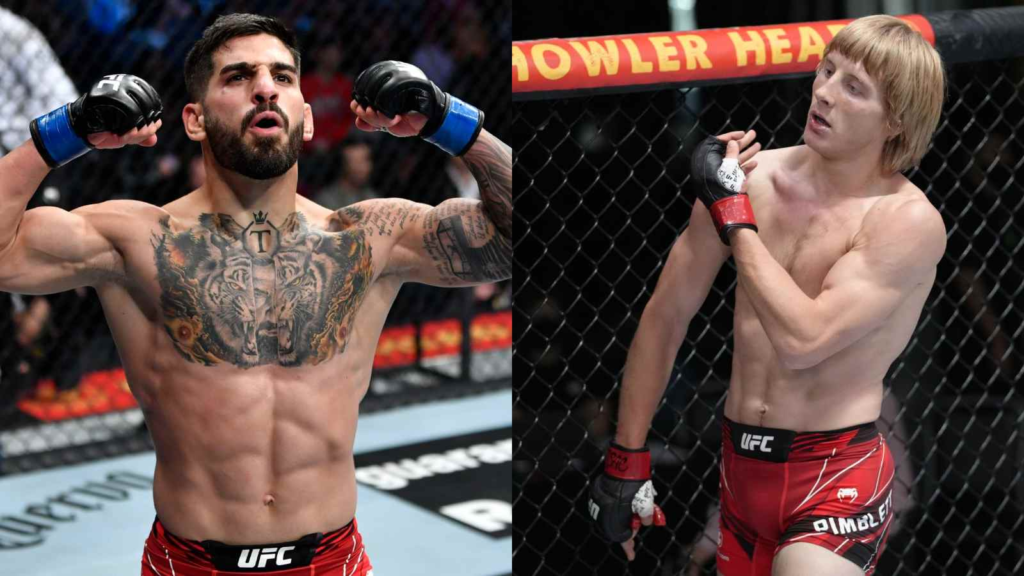 The fight between Ilia Topuria and Paddy Pimblett has been the talk of the town in the UFC world. The hotel at UFC London witnessed the two agitated fighters as they got into a heated argument. The altercation, though quickly broken up, has only added fuel to the fire and Topuria is now looking for a chance to prove himself in the octagon. He has made it clear that he would love to fight Pimblett and do so with pride and honor for his people. With the recent horrible decisions at UFC 282, a majority of MMA fans are outrageously confused with the decision for Paddy's win against Gordon, who completely outclassed him. Topuria has got bombs in his punches and it would be a terrifying matchup to derail the hype train behind 'The Baddy.'
Whether or not they will ever get in the octagon together remains to be seen, but one thing is for sure; everyone wants to see this matchup happen.
There are many more exciting match-ups that we might get to experience this year, and certainly, one article won't be enough to cover all the action that UFC is guaranteed to provide. What are the odds all of these fights turn into bangers? We shall see, as the fights get sanctioned and legends are made. What is one fight that you'd like to add to the list?
Continue Reading:
Khamzat Chimaev's gym: Where does the Chechen UFC superstar train?
"I have just been offered" – Fans go crazy after Conor McGregor teases return to The Ultimate Fighter as coach