Tony Ferguson vs Khabib Nurmagomedov had to be one of the most anticipated fights among fanatics. For better or worse the fight never managed to reach a conclusion and is highly unlikely to reach one. Although the actual fight would have been more fun to watch, the lead-up to the fight and press conferences were really entertaining as well. The trash-talking between these two fighters became absolutely heated when Khabib called Tony "a fake Mexican" and roasted him during the UFC 249 press conference.

The whole of the press conference for the most part was tony being himself and trash-talking his way. Whereas Khabib being his usual self answered the questions in a polite manner. 'El Cucuy' had the upper hand during the whole press conference and was successfully belittling Khabib for the whole of the first half. However, during the latter half of the conference, the scenario was different. The former lightweight champion insulted Ferguson by calling him a fake Mexican and a liar. Khabib called Tony a "California guy " and said, "You a Tony, you a Ferguson not Mendez".
Tony Ferguson addressed the fake Mexican allegation by saying his "grandparents were from Mexico "and that he has Mexican roots. However, all of this was met with deaf ears on Khabibs end. Khabib also addressed the street fight taunt by Ferguson and said " I am from real mountain I can eat you in a street fight ". This reply led to fans switching sides and cheering for Khabib. The shift in tide made Tony visibly upset as he called out to the crowd for being Americans and still supporting Khabib.

Tony Ferguson was on a twelve-fight win streak and was the interim UFC lightweight champion. Khabib Nurmagodev had a clean 28-0 record, coming off a dominant win against Dustin Poirier at UFC 242. The fight between these two would have been a treat to watch for so many had it been not canceled for the fifth time letting down many fight fans again.
Related : With great vengeance and furious anger! Joe Rogan hilariously compares Khabib Nurmagomedov to Samuel L Jackson from Pulp fiction.
How many times did Khabib Nurmagomedov vs Tony Ferguson get canceled?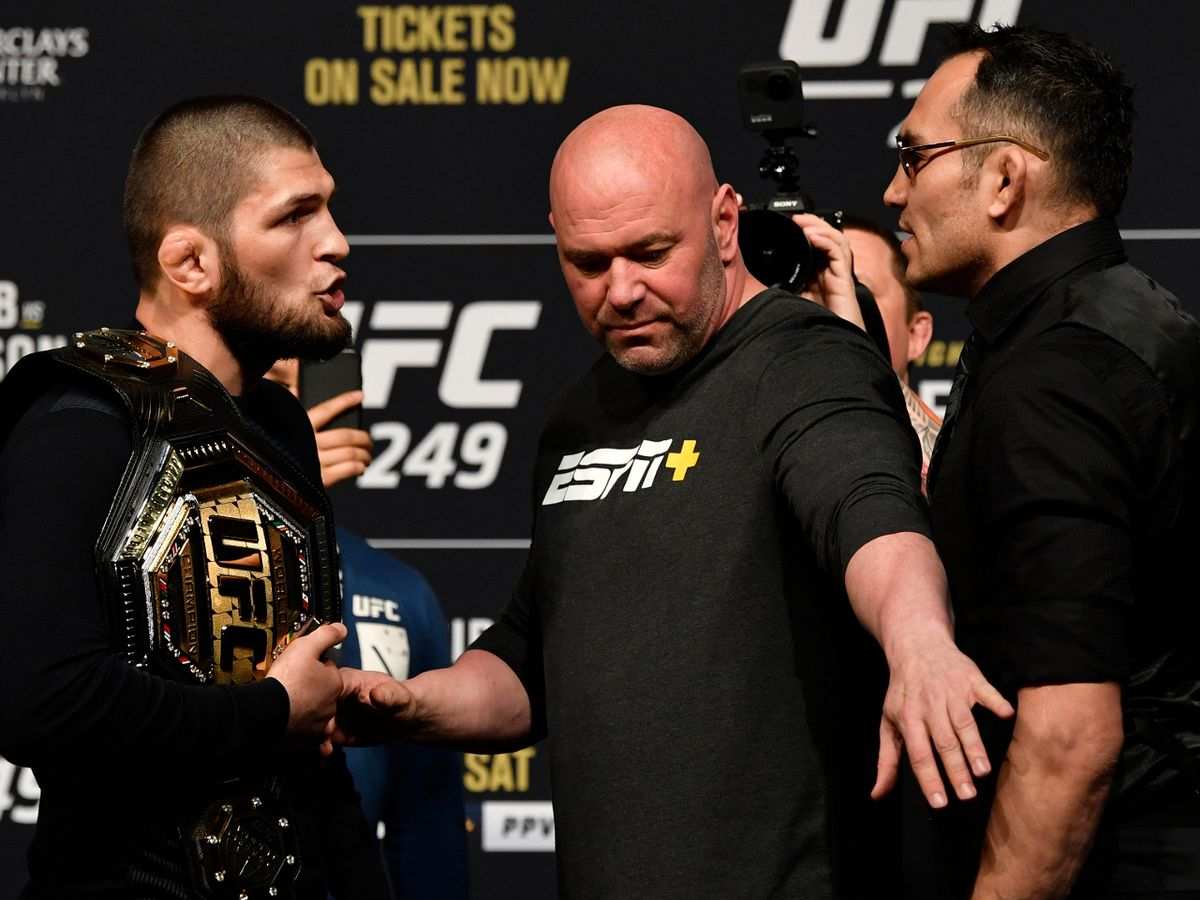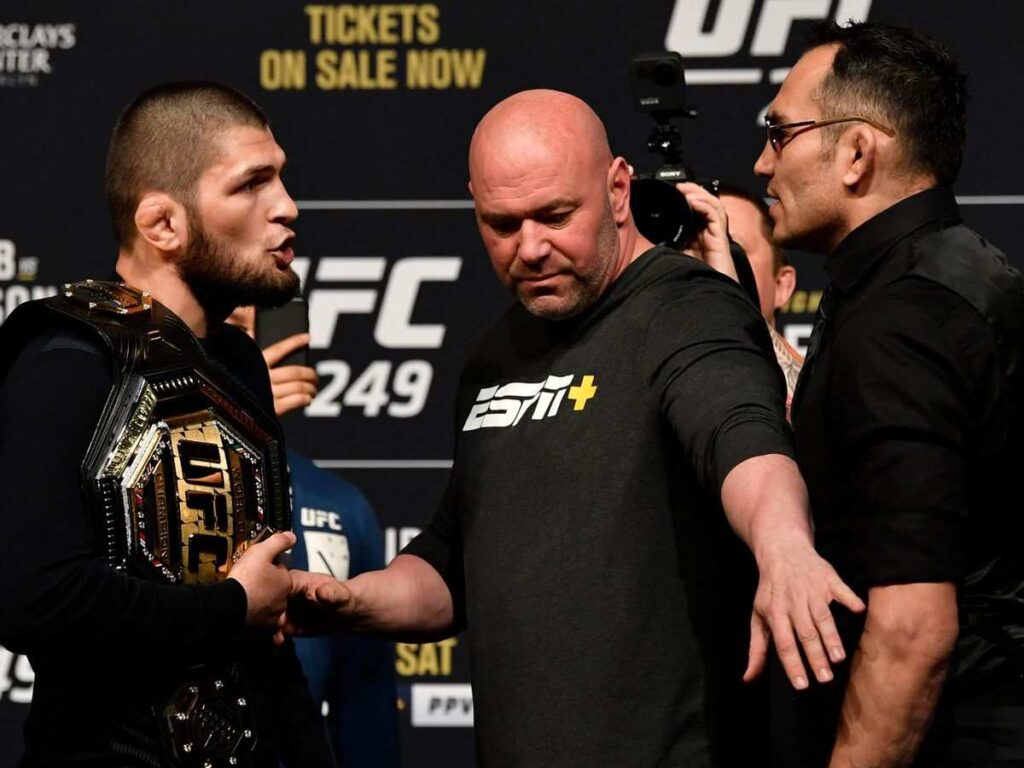 The highly anticipated fight between Khabib Nurmagomedov and Tony Ferguson has been canceled a total of five times. The UFC had been trying to set up this fight from as back as 2015. Since then it has been canceled due to various reasons which include injuries, failed weight cuts, and the pandemic.
After every cancellation, the fans remained hopeful that the two fighters would eventually face off in the octagon. UFC 249 was the last hope for the fans to witness this fight. The fans were even more excited after the heated press conference between the two. However, due to Covid -19 pandemic, 'The Eagle' was unable to leave Russia and the event went on with Justin Gaethje fighting Ferguson. The war between these two led to tony losing his title and his 12-fight win streak.
The chances of this matchup happening in today's world is virtually zero. Khabib Nurmagomedov is happily retired and pretty set never to return the octagon for a fight. On the other hand, things didn't work out so well for Tony Ferguson as he is on a 4 fight-losing streak in the UFC and according to many in his twilight years. So could this matchup really have been cursed?
In case you missed:
"Made his name off Conor" – Fans blast "loser" Khabib Nurmagomedov for sarcastically quoting Conor McGregor's iconic line
Who was the culprit at the Stool Gate Controversy at UFC 178: Yoel Romero vs Tim Kennedy?