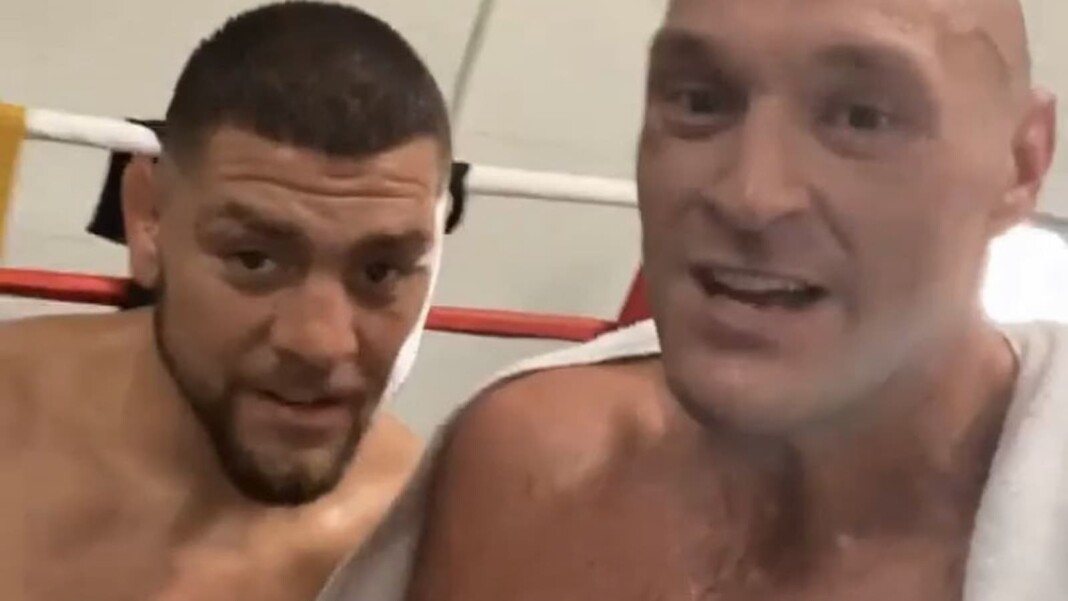 Nick Diaz has been actively training for his possible UFC return. The 'OG' Diaz hasn't fought in more than 6 years, having last fought at UFC 183. Diaz took on Anderson Silva at UFC 183, and the match was deemed a no-contest, after Silva initially won by unanimous decision.
Both the fighters tested positive for banned substances, and Diaz who was handed a suspension for a year, later banned for several, slowly faded away from the MMA scene. It wasn't until 2020 that the older Diaz decided to return. Now he has been breaking the sweat in a bid to come back.
'He's absolutely smashing it, in tremendous shape' – Tyson Fury on Nick Diaz
Diaz who is currently in Vegas caught up with heavyweight boxing champion Tyson Fury, who has been training for his upcoming fight against Anthony Joshua. The two were seen training together in a few videos, and Fury had a message for UFC President Dana White. 'The Gypsy King' asked White to set up a fight for Diaz, saying that he was in brilliant shape.
Fury said on an Instagram story, "[Diaz] is in the gym with the Gypsy King. He's absolutely smashing it, in tremendous shape. He's ready. Make the fight, Dana. Make the fight."
White recently claimed that he wasn't convinced if Nick Diaz still had the fire in, after meeting up with the Stockton man at UFC 261. However, Diaz's fans want to see their hero return to the octagon and have been eagerly waiting for further developments.
Fury's recommendation might go a long way in convincing the UFC President, at least it would give some push in a bid to allow Diaz to return to the UFC.
What are your thoughts on this recent meeting between the two combat sports greats?
Also Read : Beneil Dariush initially misses weight by 0.5 lbs at UFC 262 weigh-ins; weighs in successfully in the third attempt
Also Read : Tyron Woodley lashes out at 'Culture Vulture' Jake Paul; Says he is ready to fight the 'Problem Child' "right now"!