UFC heavyweight fighter Mark Hunt is one of the most popular names in the UFC. The retired fighter has brought a lot of memorable moments for fans throughout his career. Fans cherish the relationship he shares with fellow heavyweight fighter Tai Tuivasa. Both fighters hailing from Australia, Tuivasa was said to have trained with Hunt in his earlier days.
Mark Hunt and Derrick Lewis were set to go head-to-head at UFC Fight Night 110. Both heavyweight titans were said to be in warfare, considering their fighting prospects. The New Zealand native took home the victory via a TKO in the fourth round. However, fans look back at the fight and notice a wholesome moment backstage between Tai Tuivasa and 'Super Samoan.'
Prior to his entrance, Mark Hunt and his team were tensed up. However, Tai Tuivasa was witnessed hyping up Hunt. Nicknamed 'Bam Bam,' Tai gave his words of encouragement by saying things like, "This is your city. F*** this c***. Don't let him come here and do this. They can f***** feel it too. Give them what they're here to f***** see. Still the f***** best, you're the lead horse. Let's go."
Tai Tuivasa was witnessed encouraging Mark Hunt by yelling. 'Bam Bam' being a novice at the time, gave his output for a clean victory for the New Zealand native. Seemingly, the tactics worked as Hunt emerged victorious at UFC Fight Night 110
Related: "He terrorised us" – Mark Hunt once shared the horrific details of abuse he faced as a child
Fans amused at Tai Tuivasa's ability to take brutal headshot from Mark Hunt in sparring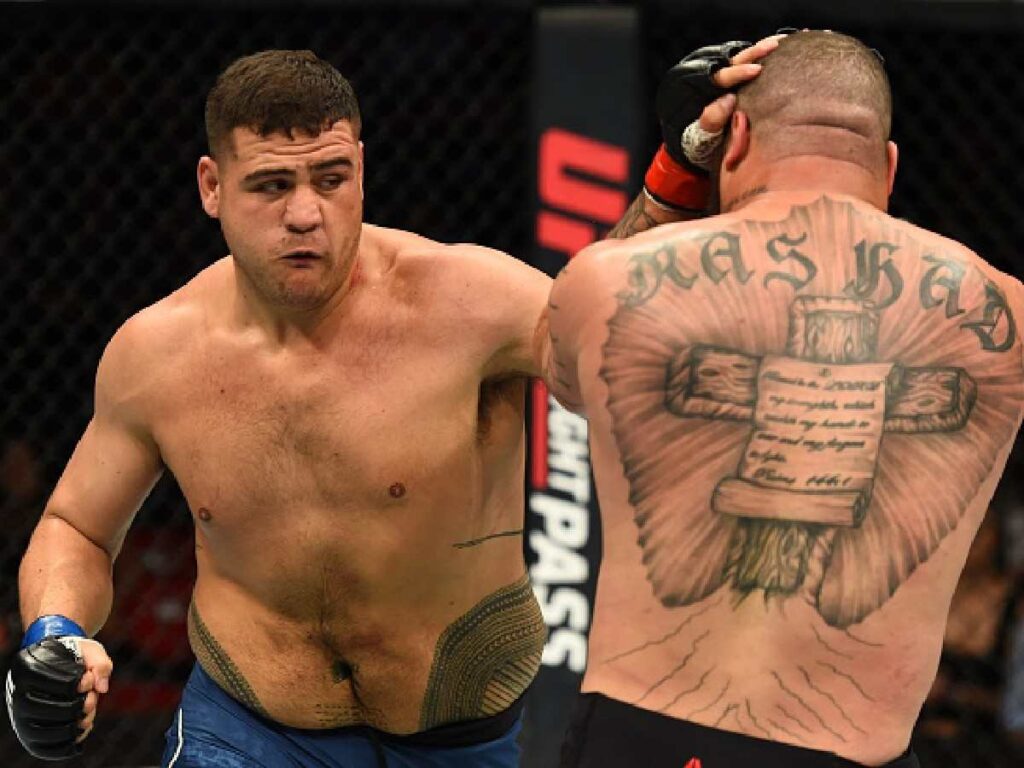 UFC heavyweight fighter Tai Tuivasa was known to train alongside veteran Mark Hunt. During the peak of his career, the 49-year-old fighter was known to deliver brutal knockout power shots to his opponents that put them to sleep. However, the power did not seem to faze Tuivasa. In a resurfaced sparring footage, fans were amused to witness 'Bam Bam's ability to withstand a vicious power shot from 'Super Samoan.'
In the sparring video, Mark Hunt delivers a brutal left hook to Tai Tuivasa's chin. On regular circumstances, a fighter would get dropped. 'Bam Bam' being the strong contender he is, took that shot to his chin and failed to drop. The video quickly went viral on Twitter and fans freaked out over the abnormality of the Australian native. One fan went on to tweet, "Good Lord did Hunt send him into the Multiverse?"
Tai Tuivasa is one of the strongest contenders in the heavyweight division. Despite his display of skills in the octagon, fans were still surprised to witness the strong chin. In addition to that, Mark Hunt was known to be one of the hardest punchers in the division during his prime.
In case you missed it: