Cody Garrett Runnels Rhodes, popularly known as Cody Rhodes, is one of the most renowned names in pro wrestling. He is the son of the legend, the late Dusty Rhodes. However, Cody Rhodes began his wrestling career in the WWE, where he achieved much popularity and stood as a distinguished figure. He was with the company for 10 years before leaving it in 2016. After his departure from WWE, Cody Rhodes worked for various wrestling promotions.
With the passage of time, Cody Rhodes emerged as one of the biggest stars and cemented his legacy in pro wrestling. He established his character as The American Nightmare and dominated the wrestling world. Moreover, Rhodes has been carrying his late father's legacy forward. However, one of the significant aspects that adds glamour to his character is Cody Rhodes' tattoo. The American Nightmare's tattoos hold paramount significance and have a deep meaning behind them.
Cody Rhodes got inked in the early days of his career. The American Nightmare has three tattoos engraved on his chest, finger, and neck. However, he has inked all three tattoos at different stages of his career. They carry different meanings and have significance on their own. Take a look at Cody Rhodes' tattoos and the hidden meaning behind them.
Related: What is WWE Superstar Cody Rhodes' Net Worth?
"Dream" Tattoo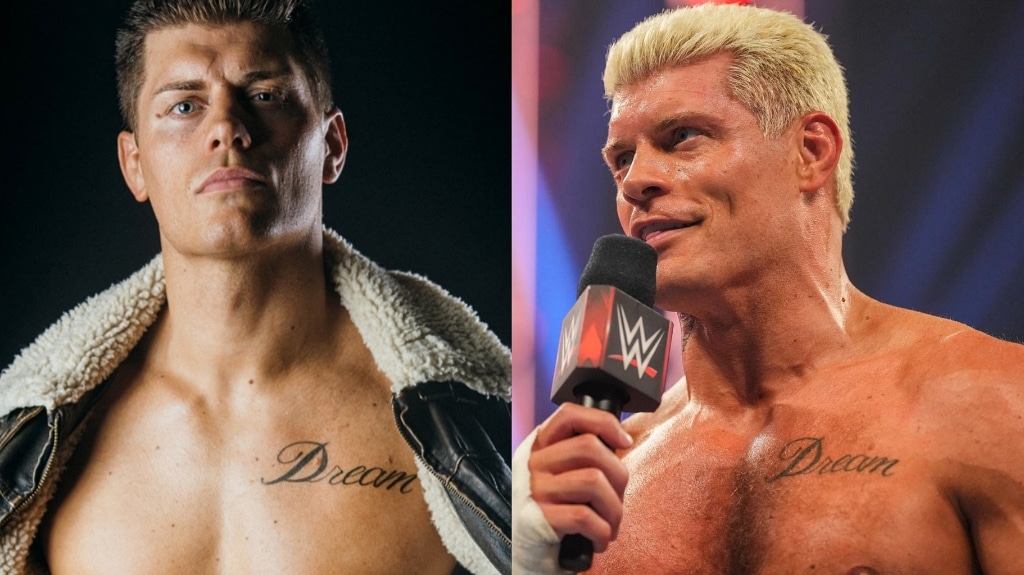 The right side of Cody Rhodes' chest has the word "Dream" engraved on it. It's a tattoo that has been inked to honor his legendary father, Dusty Rhodes. He put it on his chest after the demise of his father, in memory of him. Moreover, Dusty Rhodes was known as The American Dream. Despite having an illustrious career, the WWE legend never captured the WWE Championship.
Therefore, the Dream tattoo on Cody Rhodes' right chest is an embodiment of his love for his father. It symbolizes the unfulfilled dream of Dusty Rhodes that his son Cody Rhodes has been carrying forward. Moreover, The American Nightmare has been proudly wearing it, representing the illustrious life of his father and carrying his impregnable legacy.
"Geometric" Tattoo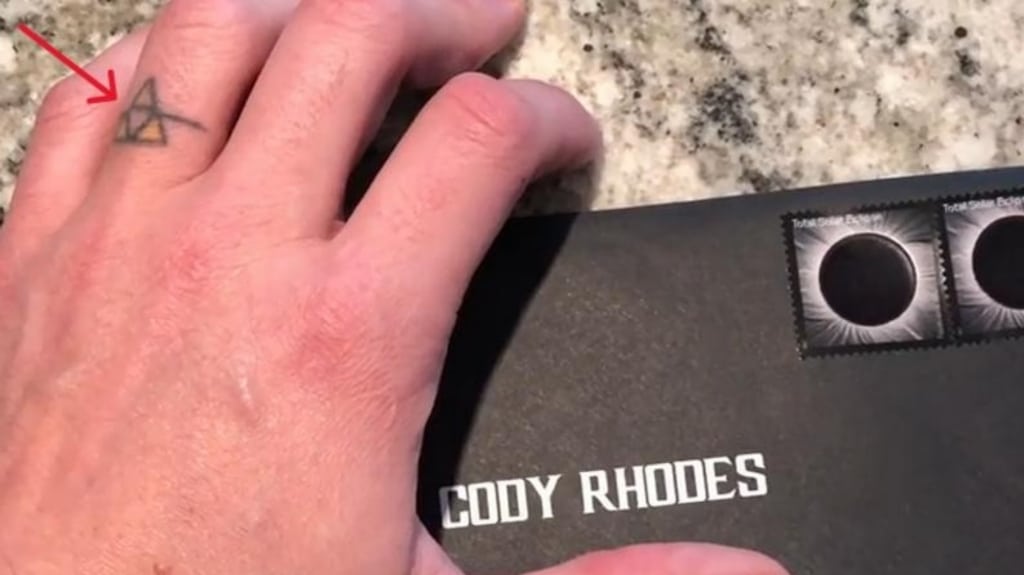 Cody Rhodes has a small geometrical tattoo on the ring finger of his left hand. It is an inverted triangle carved inside another triangle with a line separating them. However, the tattoo has its own significance for Rhodes and has a deep-rooted meaning behind it. It personifies his family, including his wife and children.
The geometrical tattoo encapsulates the union between a male and a female to give birth to a third person. While the two vertical triangles represent his wife and himself, the line between the triangles personifies his child. Therefore, the tattoo on his ring finger is a symbolic representation of Cody Rhodes' family.
"Skull" Tattoo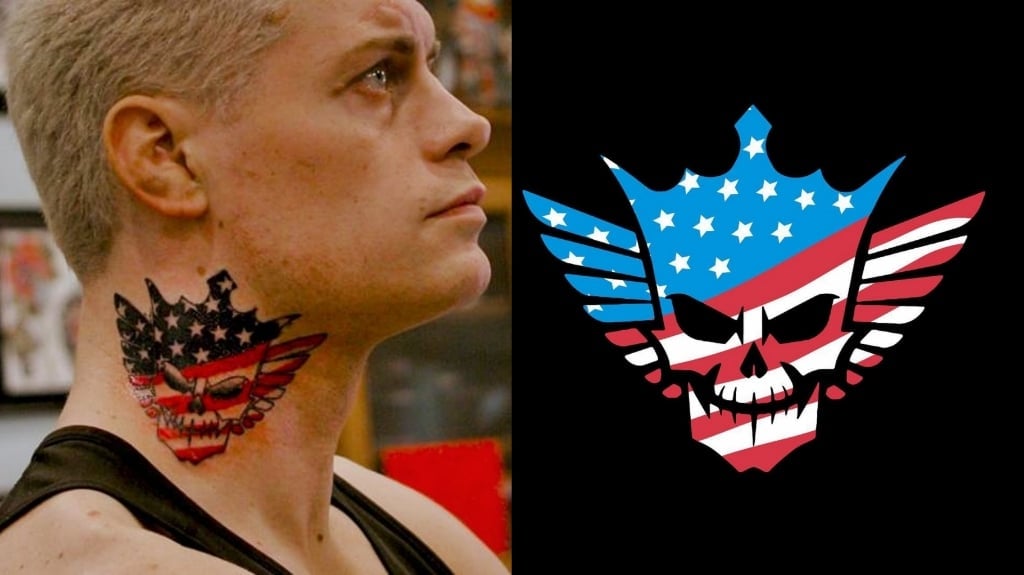 The tattoo that Cody Rhodes has on his neck is a very recent one. He inked the skull tattoo on his neck back in 2020, when he was in All Elite Wrestling. The tattoo shows a skull with a crown on its head and wings behind its back. Moreover, it has vividly designed bright colors of the American flag on it.
The skull tattoo adds elegance to The American Nightmare and his character, giving him a majestic presence. However, it represents Cody Rhodes' personality and his deeply rooted American culture. The vibrant tattoo that rests on his neck has attracted eyeballs and become the center of attention ever since he engraved it.
In case you missed it :