Cody Rhodes is now a spectacular WWE superstar. His comeback from AEW is regarded as one of the most significant in the history of the wrestling industry since it was completely unexpected, and it also did not occur on a typical platform, as it was made his return at WrestleMania 38.
Everyone is familiar with Cody Rhodes' professional career as he has managed to defeat huge superstars like Seth Rollins and The Miz, but what about his personal life? His admirers are constantly interested in learning about his personal life and other details. So let's have a look at Cody's details today and see who he is currently married to.
Cody Rhodes is presently married to another wrestler, Brandi Rhodes. They first met in 2011 when they both were in the WWE, and after a few dates, Brandi knew the American Nightmare was the one for her. They dated for some time before getting married in September 2013.
They have both been happily married since then and have one child together, named Iris. Not only in real life, but they have also competed as a team in the ring together on a few occassions.
Also Read: Roman Reigns Net Worth, WWE Career, Salary, Wife, Kids, and More
Cody Rhodes and Brandi Rhodes' work together in the ring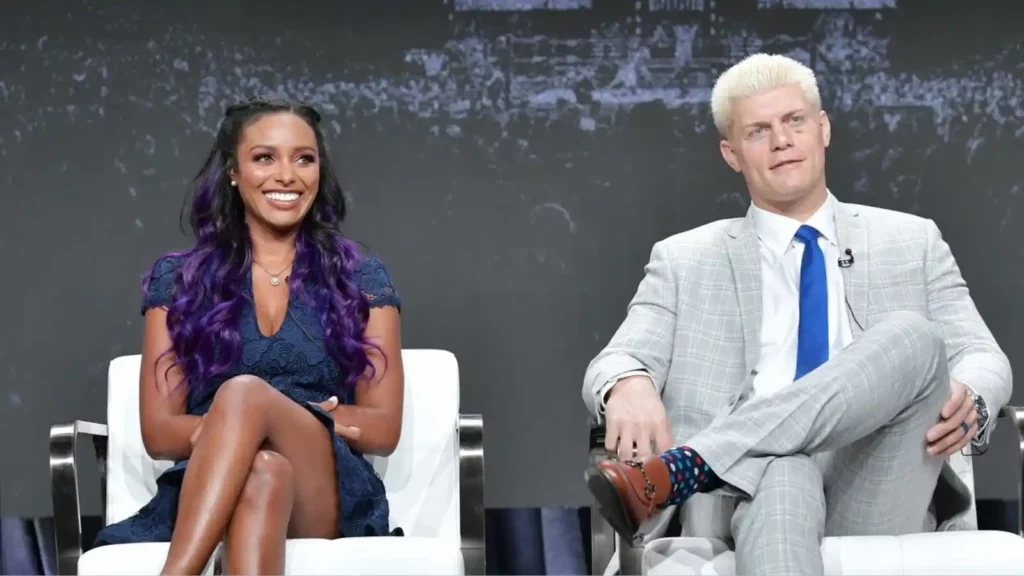 Cody and Brandi did make a good looking couple on screen, but this did not materialize in WWE. Brandi's WWE tenure was not particularly successful, and when Cody assisted Tony Khan in launching AEW, he elected to bring her along with him in AEW.
They both created an on-screen team, and they received a lot of affection from fans because of how much amusement they both provided. Everything was fantastic until they both chose to depart AEW in 2021, and Cody later joined WWE.
Also Read: Brock Lesnar Net Worth, Income, WWE Career, Personal Life, and more
The pair may reconnect in the future as a team, but for the time being, they are both content with their daughter, who is still very little. Brandi is now caring for her kid at home, but she may be returning to the ring soon. Cody and Brandi are a stunning power couple, and we wish them continued happiness.
Also Read: Why is Montreal Screwjob considered the most controversial moment in WWE history?