Austin Theory shook the world with his aggressive character after a failed MITB cash-in. The young star has now called himself better than WWE legend John Cena. Theory recently appeared on WWE The Bump ahead of Survivor Series 2022 in Boston, Massachusetts.
When John Cena's name came out during the show, Theory said that he didn't care if Cena was from Boston. He said: "You are gonna go home here in Boston, and you are gonna watch me become a two-time United States Champion, because I'm that good. You think I give a damn if John Cena's from here? Cause I don't. I'm better than him! I'm gonna show each one of you, Seth Rollins, Bobby Lashley, you're all the same. And me? I'm going straight to the damn top."
This was not the first time Theory commented on Cena. The 25-year-old has earlier expressed his desire to face the 16-time World Champion in the WWE ring someday. When the two men came face to face on Cena's 25-year celebration, Theory confronted the legend and had some harsh words for him. 
Austin Theory is set to challenge Seth Rollins and Bobby Lashley in a triple-threat match for the United States Championship. The match will probably be the semi-main event of Survivor Series 2022 and fans expect a banger out of it. 
ALSO READ: MLW World Champion revealed him getting considered for a role in Dwayne Johnson's show
Austin Theory v/s John Cena could be in the cards for WrestleMania 39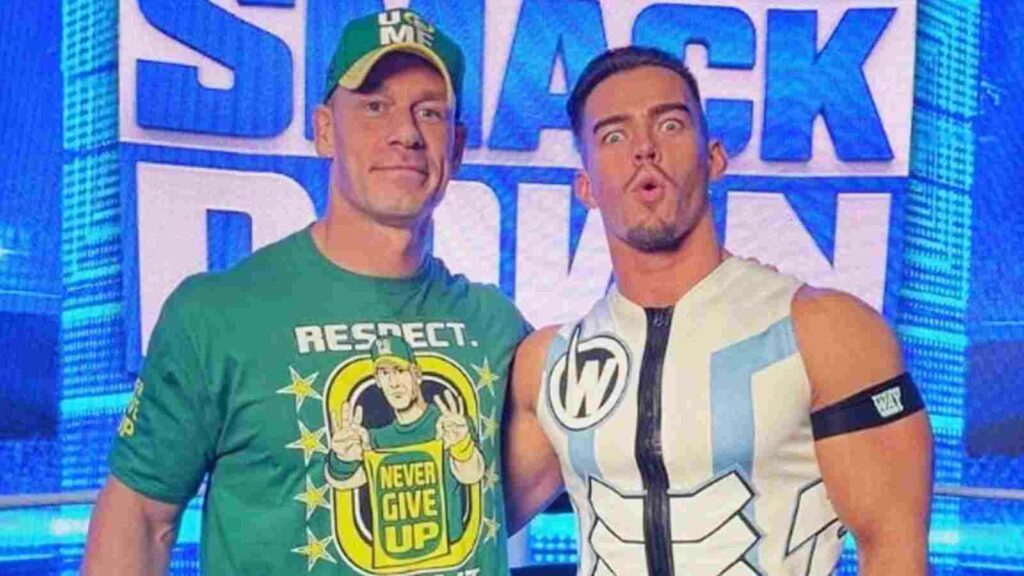 John Cena will reportedly be present at WrestleMania 39. Though there's no confirmation, the legend may face Austin Theory at the event. With numerous teasers of a match by the young star, it becomes obvious that the two will go down to the ring very soon. 
Cena v/s Theory is something WWE had planned earlier as well. SummerSlam 2022 match card could have included this match if it wasn't for the Hollywood star's busy schedule. But things may go wild if the two men finally settle their feud inside the squared circle at the 39th edition of the 'Grandest Stage of them All.' 
ALSO READ: "Nobody Give A Sh**" Roman Reigns Opens Up on His Rivalry With Brock Lesnar
John Cena has another opponent ready to face him at WrestleMania 39. YouTube sensation Logan Paul has also teased a match with the 16-time world champion at WrestleMania 39. It will be interesting to see if someone among these two ends up getting a lifetime opportunity or if someone else battles Cena and flies away. 
ALSO READ: WWE Survivor Series 2022 Match Card, Prediction, Date, Start Time, and more