WWE wrestlers have bonded with Indian fans as well as their icons ever since they came for WWE Superstar Spectacle back in September 2023. Drew McIntyre is one of them, recently seen praising the Indian star player, Virat Kohli. The Aussie Superstar, Grayson Waller decided to troll him after the Indian team's loss.
Waller decided to troll the post of the Scottish Warrior where he praised Virat Kohli for his historic 50th ODI Century and the Indian team for making it to the finals. Waller, in sync with his heel gimmick, became a menace for Indian fans when he posted the Australian team's photo holding the ICC Cricket World Cup 2023 trophy.
The Cricket Fans witnessed the final of ICC Cricket World Cup Final (ODI) on Sunday, 19th November 2023. The Men in Blue were up against the calculating Aussies in a nail-biting contest. The 5-time winners were once again able to come to the top as they captured their 6th Cup after defeating India by Six Wickets.
Now it seems that the Moment Maker has a formidable opponent in the form of Kevin Owens. Fans should keep a close eye to see how the rivalry is eventually going to unfold.
The Grayson Waller Effect with Kevin Owens announced for this week's SmackDown
WWE Universe is experiencing a hilarious storyline on SmackDown. The dynamic duo of Grayson Waller and Austin Theory have been in a feud with Kevin Owens ever since they had an altercation. After that, they received the viral One Fist, One Punch, Two Faces from Kevin Owens. It seems the same rivalry is going through a metamorphosis as the Prize Fighter is invited to the Grayson Waller Effect on this week's SmackDown.
For those who don't know, their rivalry took a new turn when Kevin Owens replaced Corey Graves on the Commentary team. After LA Knight picked up the win, Owens started roasting Waller for his shortcomings and compared his reaction with the viral moment. Both Waller and Theory returned for revenge and Waller poured water on Owen's head. In retaliation, Owens confronted them, which eventually resulted in his suspension by Nick Aldis.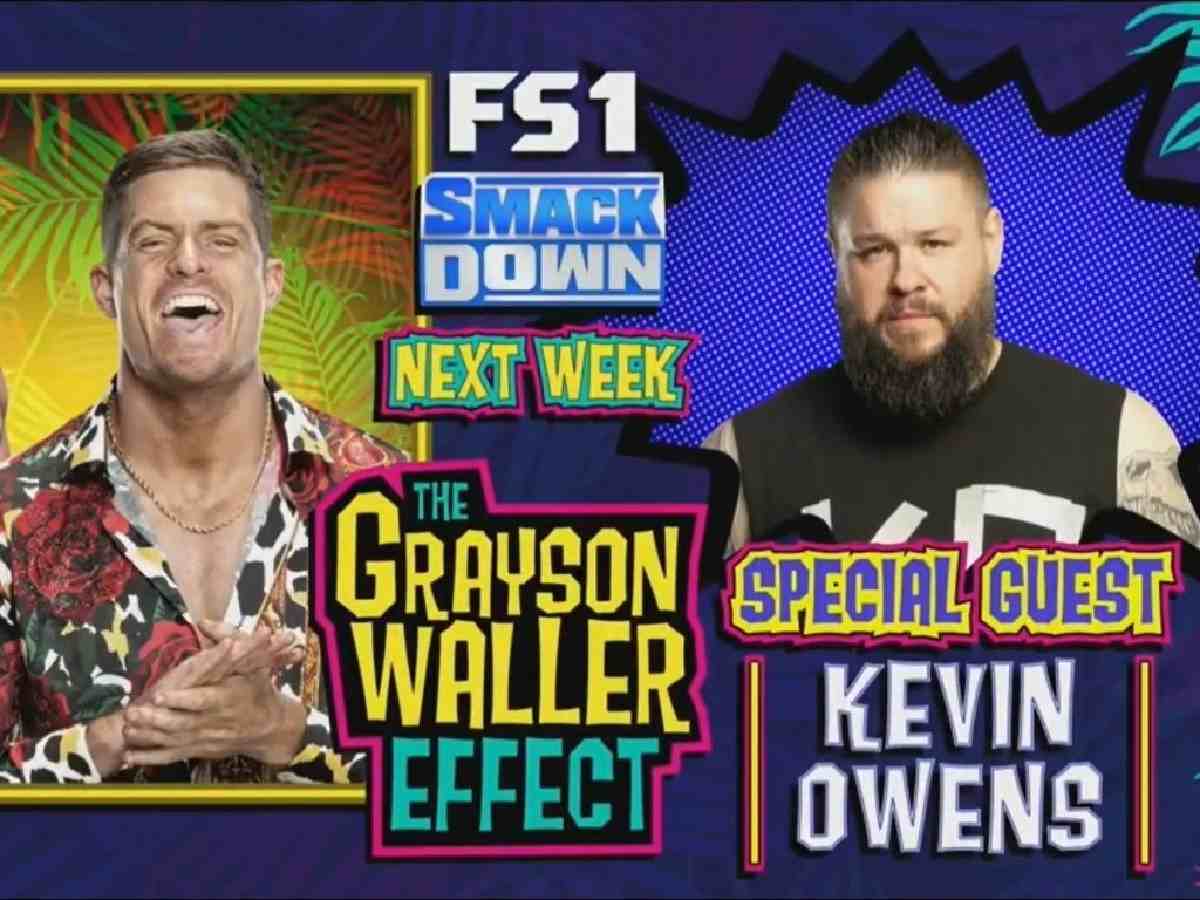 Since then, it would be Owen's big return to the Blue Brand. It will be interesting to see how Owens will react to the taunts that Waller likes to throw at his opponents. With Theory in the background, fans can even expect a brawl to take place. It would be exciting to see how chaotic the Grayson Waller Effect is going to be.
In case you missed: