Bayley and Sasha Banks have been very close friends. They have spent a lot of their time in the company together. They have also performed together in the ring as a tag team as well as competitors. The two are also often found chilling together outside the ring.
Sasha Banks and Naomi have made it to multiple headlines after the two were suspended from the company. It's been a long time since the two weren't allowed to enter the ring for their exit. They also had to vacate the Tag Team titles that they possessed last.
It wasn't long before when Bayley posted multiple pictures of her with Sasha Banks on her official Instagram handle. The fans took it as a symbol for Sasha's return to the ring. Sasha Banks also did not leave any stone unturned to hint at her possible return to the ring.
RELATED – "She just has so much potential"; Bayley reveals her special bond with former NXT Tag-Team Champion heaping massive praise
Bayley is ready to face Sasha Banks and Naomi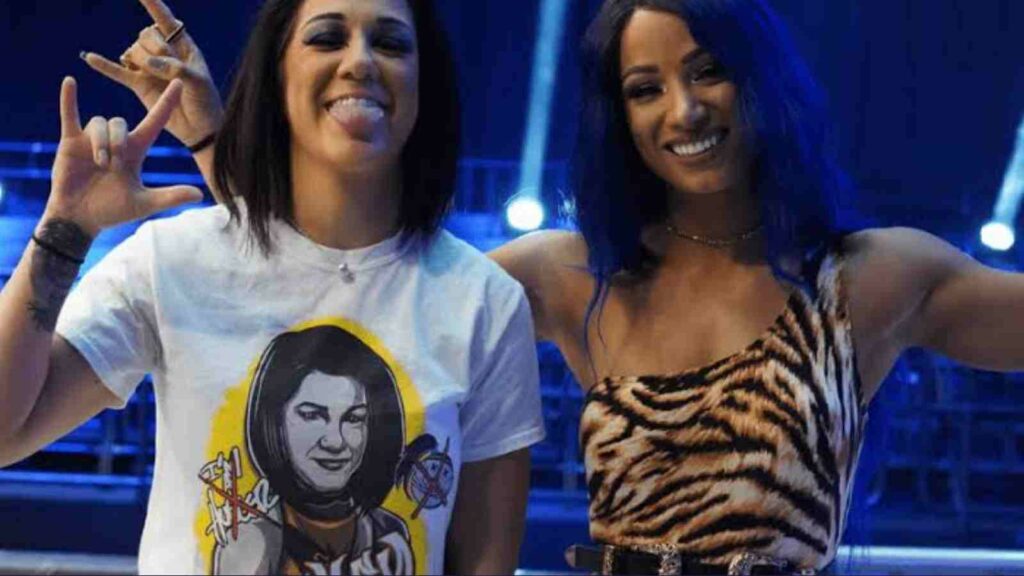 Bayley was on the 'In The Kliq' where she was asked about the return of Sasha Banks and Naomi. She did not disclose any confirmed plans about the same. However, she seemed very confident of the fact that if they do, she is ready to face them.
She said that she is not the appropriate person to talk of the return since she wasn't present when the two women walked out of the show. She added that even if she was there, she wouldn't understand the situation like everyone else. Only Sasha and Naomi know what happened back on that day.
"All I know is, what they're doing now is killing it. I've been able to spend some time with them, they're models, they're actresses, they're singers, they're amazing. They're going to take over everywhere, take over the world," Bayley said. She is great friends with Banks and Naomi and said that she'll always support them in whatever they do.
They might be good friends outside the ring. But when it comes to the in-ring action, she doesn't fall short to express her determination to win.She said, "If they ever do return, I'm just gonna kick their ass. They might be scared to come back for me, they might want to stay on the runway".
Bayley had been out of the ring for a long time before she made it back to the company at SummerSlam along with Dakota Kai and Iyo Sky. The three women have now created a faction called the 'Damage Control'. The faction is on its way to establish complete dominance in WWE.
ALSO READ – "We're always BANGED up" Sasha Banks opens about the incident that changed her life