Bayley and Becky Lynch have been part of the women's evolution in the WWE and have known each other since NXT. Both Bayley and Becky were members of the Four Horsewomen back in NXT almost 10 years ago. Following their success in NXT, they made their main roster debut in a promising way. Both also won the women's championship multiple times in their main roster careers. Becky and Bayley are involved in a current rivalry that started last year before Lynch got injured by Damage CTRL.
On the recent episode of Raw, Bayley and Becky Lynch came face to face again to continue their ongoing feud. On one of the segments, Bayley said that she is done with Becky and had moved on. However, Becky came out to say it's not yet over and she is not done with Bayley. things became personal when Bayley called Lynch overrated and said she isn't good for anything involving her husband. The self-proclaimed 'Role Model' dragged Seth Rollins, saying, "The only reason he married you is because he knocked you up." She clearly referred to Becky getting pregnant before marriage.
After their match was called off last week due to Becky Lynch getting attacked by Damage CTRL, Bayley was challenged by Becky for a rematch. However, she constantly refused the idea, forcing Becky to use other methods. Becky dragged Dakota Kai to the stage with a steel chair and asked Bayley again for the rematch. In order to save her faction member from getting hit by a chair, Bayley accepted the challenge. Becky and Bayley are set to square off inside a steel cage next week on Raw.
Related: "It wasn't needed," Charlotte Flair recalls a recent segment which she disliked involving her father
Steel cage match between Bayley and Becky Lynch was reportedly scrapped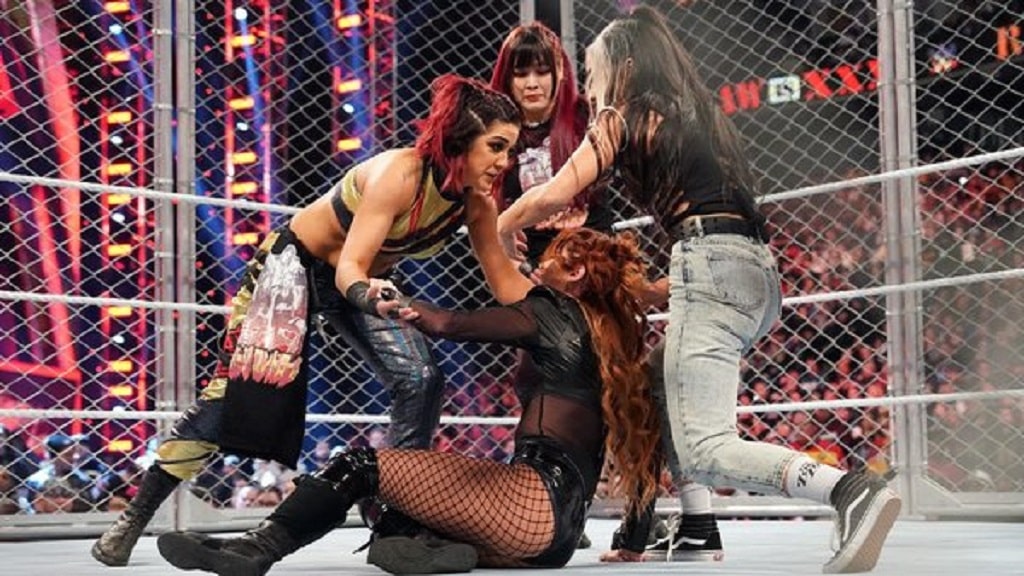 Last Monday on Raw Is XXX, Bayley, and Becky Lynch were scheduled to wrestle in a match inside the steel cage. The match was set to take place after Bayley entered the steel cage and Becky made her way to the ring. However, before entering the cage, Lynch got attacked by the members of Damage CTRL outside the ring. The beating continued after Becky was locked up inside the cage with the Damage CTRL and the match didn't even start.
According to recent reports, WWE canceled the steel cage match between the two women for some reason. Reportedly, the steel cage match between Bayley and Becky got scrapped due to the opening segment of Raw Is XXX. The opening segment involving Sami Zayn and The Bloodline in the tribal court went longer than expected. And for time management reasons on the show, a few segments, including the steel cage match, reportedly got scrapped. Fans were not happy with this, as they didn't get to experience the brutal steel cage match.
In case you missed it: