Becky Lynch has been out of action since her last outing at SummerSlam. Lynch has been a major influence to WWE and not seeing her on the main rosters would be hard for some members of the WWE Universe. Becky injured herself at the SummerSlam during her match against Bianca Belair for the RAW Women's Championship. Becky dislocated her shoulder in the midway of the match but managed to fight till the end in excruciating pain. Becky Lynch appeared on the following episode of RAW, where she showed her admiration towards Belair but was attacked backstage by Bayley, Dakota Kai and Iyo Sky.
Becky Lynch was recently spotted at the WrestleMania 39 launch party at the Sofi Stadium in Inglewood, California. Becky Lynch is confirmed to appear at WrestleMania 39 and asserted that she would steal the show at WrestleMania 39, just like she did this year, while also referring herself to Vincent Van Goat of WWE. She along with Bianca Belair shook a leg with Snoop Dogg, who was also present at the event. Big time Becks seems to have returned to being Baby face after being a heel for several months.
RELATED: "Ronnie loves the Man"- Becky Lynch claims Ronda Rousey loves to imitate her
Becky Lynch shares details about her book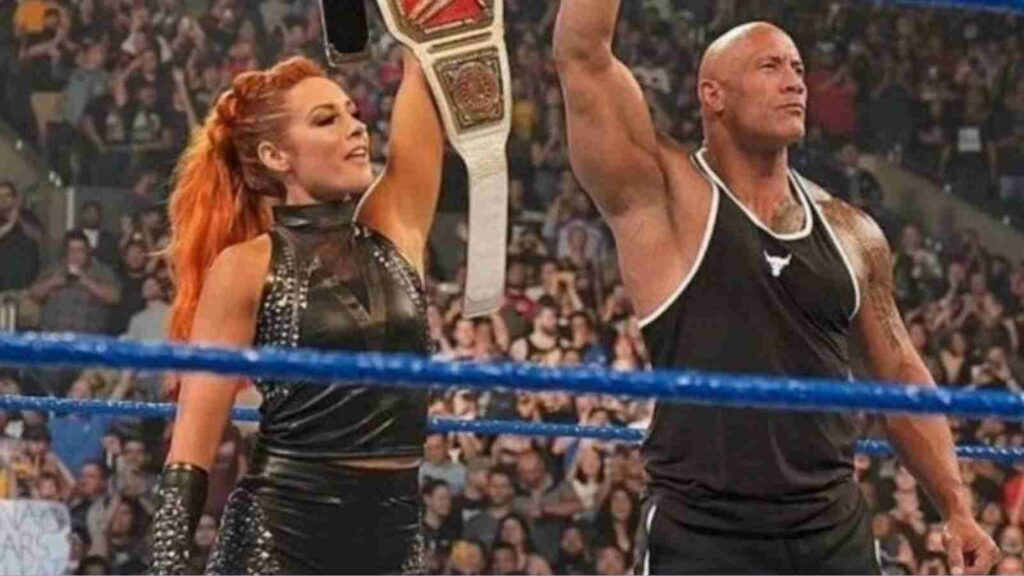 Today, Becky Lynch was accompanied by her husband Seth Rollins to join an Instagram Live session with Former WWE Writer Brian Gewirtz and Dwayne Johnson. The four of them talked on variety of topics and Lynch also happened to be discussing about her book. Becky Lynch said that she is hopeful that her book comes out in the next couple of months and joked that it won't be in direct competition with Brian's book. She said that now that she is injured, she would have more time to dedicate towards her book.
In the same session, Dwayne Johnson enquired about her injury, she said that she has gotten a lot of movement now but when it happened it was very painful and she had thought that she would be away for a long time. Becky Lynch said that the injury is healing up quick and she is feeling strong and good. She is just hoping for the best and wants to be in action soon.
"Oh good, yeah. I feel like I've gotten a bunch more mobility in it. Because when it happened it was so painful that I was like, 'Oh no, I'm gonna be out for a long long time.' But now it's healing up real quick. I'm feeling strong, I'm feeling good. So I'm hoping it won't be much time at all."
If Becky Lynch manages to heal before the survivor series, it would be amazing to see her compete in a 5 on 5 Women's Survivor Series elimination match.
ALSO READ: "You're not SPECIAL" When things got heated between Ronda Rousey and Charlotte Flair