Brock Lesnar is regarded as one of the top stars in WWE today. But Lesnar's legacy goes past WWE as he is the only person to win the prominent titles of leagues like WWE, NCAA, NJPW, and UFC. Lesnar made his WWE debut in 2002 and quickly established his name as he became the WWE Champion just at the age of 25. After a couple of years, Lesnar would depart from the company to play NFL for Minnesota Vikings but didn't last long. Lesnar would then go on to join UFC in 2008.
Lesnar would even achieve the rare feat of becoming the Undisputed UFC Heavyweight Champion. Lesnar was interviewed before his UFC debut and was asked about his thoughts on pro-wrestling, as the former had considerable experience in the same. To which Lesnar replied- "Yeah, there's still human beings in the ring, flying around, risking their lives, is what's going on. I mean, if you can't see that, you're ignorant". Lesnar wanted to convey that there is a fair share of risk involved in pro-wrestling and people become ignorant of this.
RELATED: "I need six weeks or eight weeks"- Bobby Lashley wants to fight Brock Lesnar at a Live Event once again
Brock Lesnar says even though it's scripted it has a fair amount of risk involved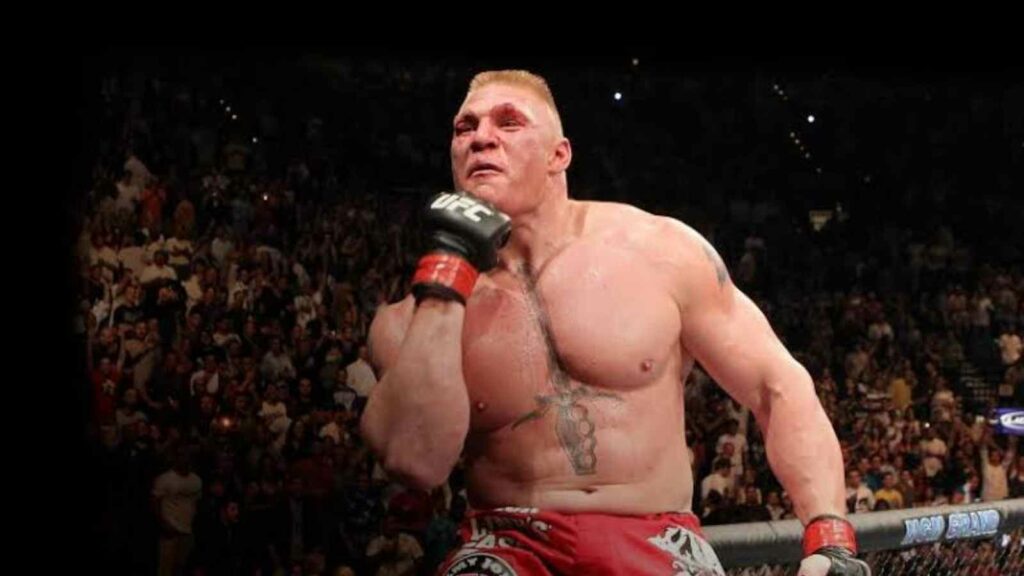 To substantiate Lesnar would continue to say-"There's a high risk in Pro Wrestling, that ring is not just, you know… mom's California king size bed." After, this Lesnar tackled the question of pro wrestling being scripted and how the winner of the match is pre-determined. Speaking about the accusation that pro wrestling is scripted Lesnar asserted that even though the outcomes are pre-determined, the trained athletes put it all to entertain people.
Lesnar said- "Even though the outcomes may be pre-determined, or even though it is "entertainment", these guys are going out and putting up a show, they're getting hurt. Not every night, but it happens." Lesnar was last seen in the Last Man Standing match against Roman Reigns for the Undisputed WWE Universal Championship in a losing effort.
After the match, many fans had speculated that Lesnar would go on to retire from in-ring action but later on, it was revealed that Lesnar was being advertised for the Day 1 PPV which is supposed to happen on January 1, 2023, thus ending his retirement rumors. Though it needs to be seen what the company will present to Lesnar as The Beast is currently out of action.
ALSO READ: "He's the LAST MAN STANDING"- Paul Heyman boasts Roman Reigns' brilliant win over Brock Lesnar in their 'Last Encounter ever'
ALSO READ: "I sacrificed myself for Tribal Chief"- Paul Heyman claims that receiving an F-5 from Brock Lesnar for his Tribal Chief was the biggest honor of his life