People who watched WWE in the early 2000s will be familiar with the name Eric Bischoff. Of course, who can forget Eric Bischoff, as he has been a very prominent figure in the history of the Red Brand? Before joining WWE Raw, Bischoff was the president of WCW. After WWE, he went on to join TNA in 2010.
For those who don't know how Eric Bischoff is related so much to Raw, he was one of the greatest general managers Raw ever had. He was brought to WWE by Mr. Vince McMahon in 2002 as a surprise for everyone and declared the then-new general manager of Raw. He served for three years, until 2005, as the general manager of Raw, and then he resigned from WWE.
Next week, Raw will celebrate its 30th anniversary. In this aspect, a fan tweeted to Bischoff about his status for next week at Raw, which Eric Bischoff completely refused. But as seen on the 25th-anniversary edition of Raw, some of the greatest general managers were invited. Bischoff was one of them. Who can keep him away from Raw? So it's possible that Eric Bischoff's response isn't final, as he may want to keep a secret or something special for the fans. 
Continue Reading: "He has always been my favourite opponent"; When Stone Cold Steve Austin opened up about his relationship with in-ring rival the Rock
Eric Bischoff comments on Vince McMahon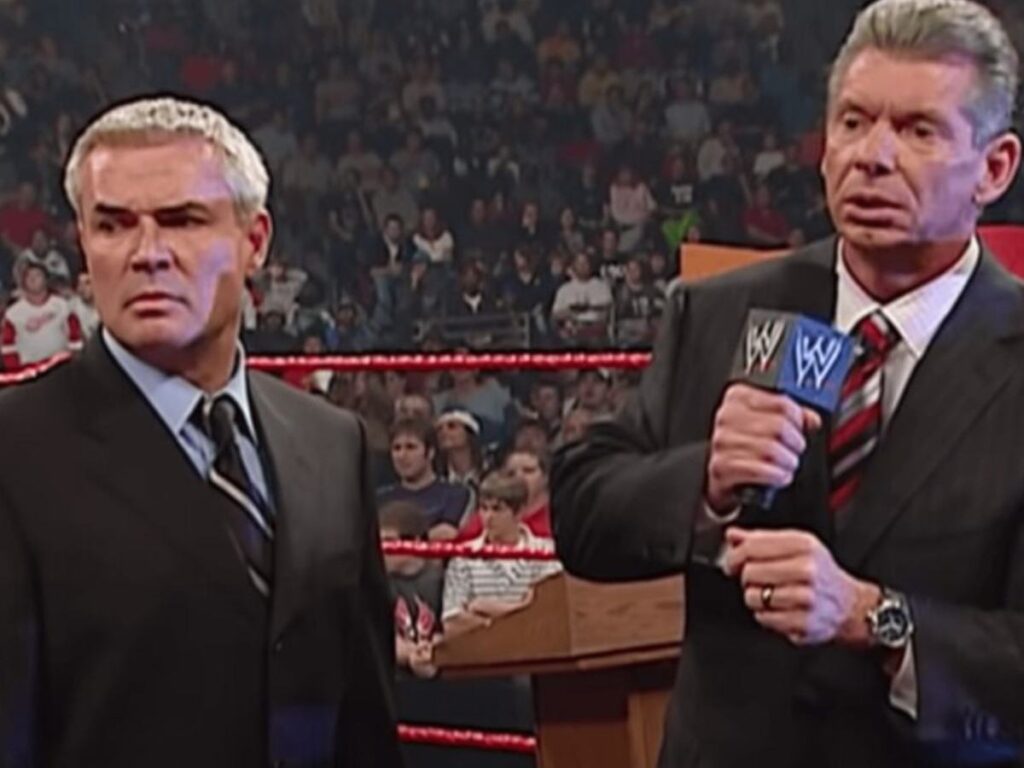 As seen earlier, Vince McMahon has good chemistry with Eric Bischoff. Vince appointed Bischoff as the general manager of Monday Night Raw in 2002. Eric Bischoff also had something to say about Vince McMahon amidst all the rumors going around on his podcast: '83 Weeks.'
Recently, Vince McMahon returned to WWE, and there are many controversies going on about him. Some are saying that the resignation of Stephanie McMahon is related to Vince McMahon's return. Also, there's a rumor going around about the possible sale of WWE to the Saudi Arabian Public Investment Fund by Mr. McMahon. Recent rumors also include Mr. Vince McMahon's desire to take control of the creative and fire many of the superstars re-appointed by Triple H.
In the middle of all these, Eric Bischoff stood alongside Vince McMahon and said that Mr. McMahon will do anything for the betterment of this business. He can also keep his personal relationships aside and only think about the growth of this business. Bischoff also said that he thinks Vince McMahon will make WWE a success even if it is sold, so he told the wrestlers to do their jobs sincerely without thinking about all these things. The confidence of Eric Bischoff in Vince McMahon is surprising every WWE fan at this point in time.
In case you missed it!
"Sh*t got real!" Braun Strowman provides some tempting insights on his match against Brock Lesnar
"Didn't get the call," Michelle McCool expresses her desire to be a part of the Road to WrestleMania</strong>