Seth Rollins is one of the most decorated superstars in WWE. Rollins has been a fan favorite and has always improved himself with his new gimmicks. He made his debut on the main roster with The Shield in 2012 and has been a big name since then. John Cena once confronted Seth Rollins backstage during his initial days and imparted some knowledge.
The Visionary had less knowledge about various aspects when he debuted on the main roster. Seth Rollins was once encountered by John Cena, who advised him not to use ice packs during their initial days. After one of his matches, Seth sat backstage, icing up his neck, and caught the attention of The Cenation Leader.
John Cena asked Seth Rollins about the number of matches he had wrestled on the main roster. Rollins, who was a rookie back then, stated that he had only wrestled three matches. The 16-time World Champion advised him not to use ice packs often after the matches. The Cenation Leader stated that it was unnecessary for the body.
John Cena continued that Rollins hadn't put his body through so much pain to start using ice packs at this moment. A similar kind of thing happened with Summer Rae and Randy Orton when The Viper spotted Rae icing her foot during the first match of her career. Such scenarios imply that the superstars have developed a list of things that they follow backstage for their good health.
Related: 'Murphy must be pissed'- WWE Universe goes comical after Seth Rollins asks if Rhea Ripley and Dominik Mysterio are making out under the ring
Seth Rollins defended his World Heavyweight Title for the first time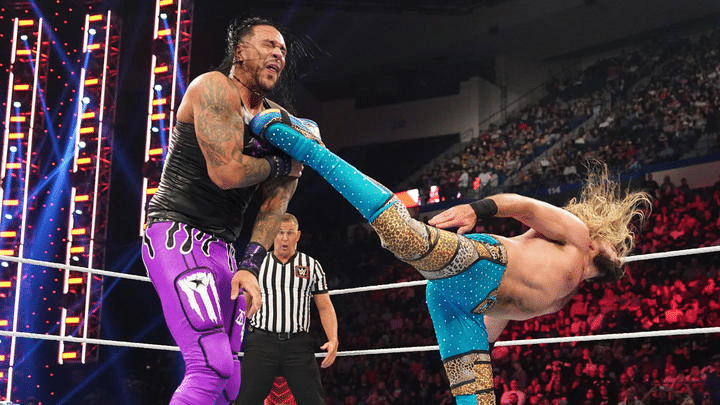 Seth Rollins became the inaugural World Heavyweight Champion upon defeating AJ Styles at Night of Champions. Before winning the title, Seth stated in several interviews that he would be the defending champion. Moreover, he said that he will give title opportunities to everyone who steps up before him. Rollins has assured to be a fighting champion.
Damian Priest and Seth Rollins faced off against each other in the main event this week on Raw. The Judgment Day member lacked the support of his faction as he was all by himself. Priest gave a tough fight to the champion but failed to emerge victorious. As a result, Rollins successfully defended his title on the show.
Following the match, The Visionary and Finn Balor faced off in the ring, and Monday Night Raw went off-air. As a result, there have been speculations that Seth Rollins could face Balor at Money in the Bank in London. Rollins and Balor are two of the top stars in WWE. Therefore, this is a match that many fans have been waiting to witness again.
In case you missed it: