Dominik Mysterio is currently one of the best heel superstars on the main roster. The hate he has been getting from fans lately is just outstanding. There have been very few instances in the past when a wrestler at such a young age has carried the heel persona so well. However, the WWE Universe hates Dominik, and that's what actually makes him quite special.
Dominik Mysterio joined Judgment Day after betraying his father, Rey Mysterio. Since then, he hasn't looked back. His career took a huge turn, and he has been rising as a prominent superstar. The fans fail to believe that this was the same Dominik who made his first appearance in 2005. His chemistry with Rhea Ripley has been incredible and is one of the most exciting things on the roster.
Recently, Dominik Mysterio gave an interview on "Inside the Ropes" to Kenny McIntosh. In the interview, he revealed a lot of interesting things that the fans didn't know. He talked about the reason he never went through the rigorous NXT process before making his main roster debut. The Modern Day Latino Heat revealed that originally it was never planned that he would take on Brock Lesnar at Survivor Series.
Dominik Mysterio interrupted the match between Rey Mysterio and Brock Lesnar at Survivor Series. The 26-year-old stated that even he was surprised that WWE would even allow him to fight just like that. However, after that match, he was actually supposed to go to NXT, but it never happened. Dominik said that WWE gave him the opportunity to fight Seth Rollins and he could not turn it down.
The Judgment Day member said that he knew that it was not a good idea to back down. Afterwards, Dominik intentionally didn't ask or complain about why he had never been sent to NXT. Besides, WWE never had a second thought as he has been doing incredibly well on the main roster. He is currently part of one of the most dominant factions.
Related : WATCH: Dominik Mysterio's first appearance in WWE cheering on his dad Rey Mysterio at the age of 6
Dominik Mysterio likely to feud with Cody Rhodes in upcoming weeks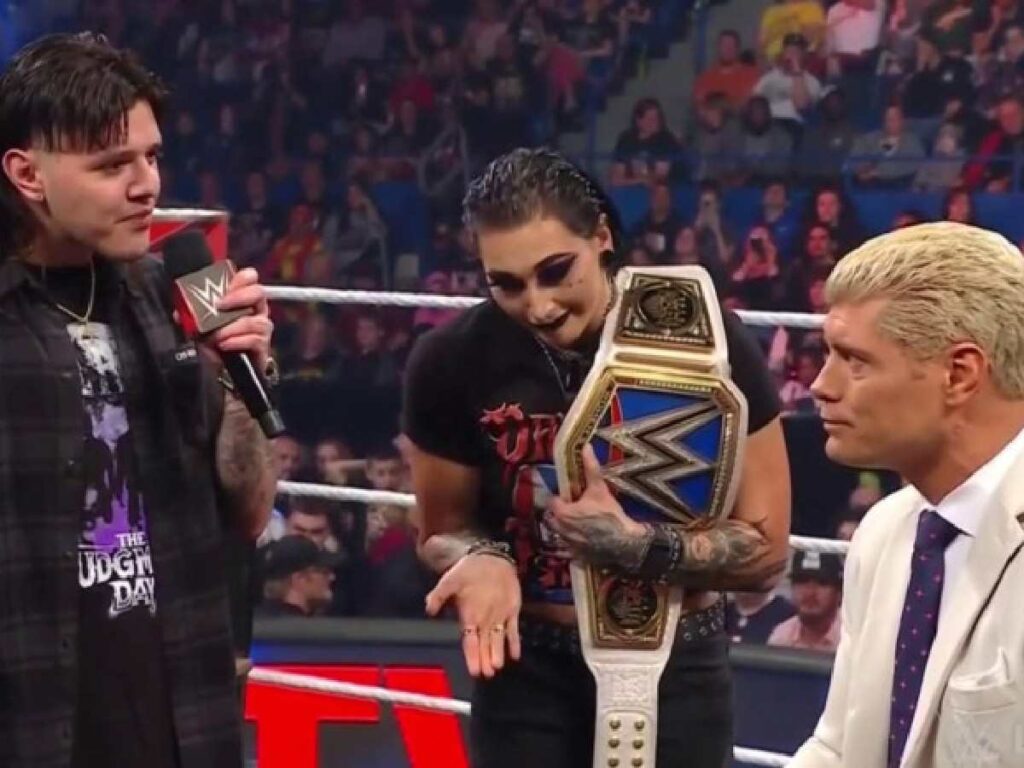 The recent episode of Monday Night Raw was very interesting. The fans watched Cody Rhodes and Dominik Mysterio face off against each other after being invited by The Miz. The two superstars exchanged some bitter words. Cody even called Dominik "Rey Mysterio's biggest mistake". This was a mic-drop moment, as it went too far for Dominik.
Things even got physical after Dominik slapped Cody on the face. However, Cody could not do anything because, as usual, Dominik hid behind Rhea Ripley. The fans really were hyped up during this segment. It looks like WWE is planning a feud between these two in the coming weeks.
In case you missed it :