Kevin Owens is one of the best and entertaining wrestlers of the current generation in the WWE. Kevin Owens manages to captivate the audience through his portrayal of heel as well as Baby face personas, thanks to his incredibly gifted mic skills. Owens has been great performer and has a great sense of storytelling and always makes sure he adds authenticity to the performances. Despite his stature, Kevin Owens has outstanding agility and can put up a terrific bout with practically anyone in the ring, proving that he has been a great performer in the ring.
Kevin Owens began training as a wrestler when he was 14 years old and joined the International Wrestling Syndicate in 2003, where he won the IWS World heavyweight championship 3-times. He wrestled at the promotion until 2009 and during these years he also wrestled at CZW and PWG, wherein he also managed to clinch their world championships. Owens was also a part of ROH and joined it in 2007, he came into prominence when he became the ROH World Champion in May 2012 by defeating Davey Richards. He is the first Canadian to win the ROH World Championship.
Kevin Owens signed with WWE in 2014 and made his in-ring debut on NXT brand. He won the NXT Championship just 2 months after making his debut by defeating Sami Zayn. Kevin made his main roster debut in 2015 and has managed to win the major championship; the Universal Championship 1-time since then.
RELATED: "It rejuvenated everybody"- Kevin Owens reflects on the appointment of Triple H as head of creative
Drew McIntyre wants to face Kevin Owens after defeating Roman Reigns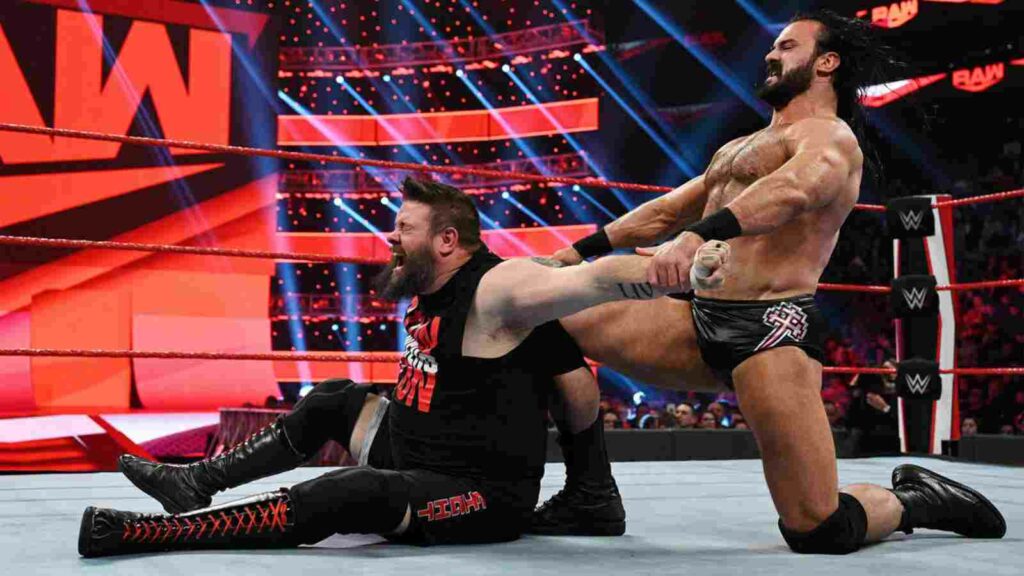 This week on RAW, Kevin Owens faced the Scottish Warrior Drew McIntyre in a singles match. Kevin Owens looked to have control over the match and had figured out how to put McIntyre down. The two hit each other with their powerful shots, just when the Usos interfered and beat Drew McIntyre, thereby Drew winning the match via disqualification.
McIntyre, who appeared on RAW, stated that he wanted to speak great things about Kevin Owens and praised him for his performance. Drew commended Kevin Owens for bringing out the intensity in him and making the fight unique. McIntyre said that he had the impression that a fire was burning under his butt as he ran as hard as he could. Kevin Owens was offered a championship chance by McIntyre if he defeated Roman Reigns, and McIntyre claimed that his match with Owens will undoubtedly help him defeat Reigns.
The WWE tweeted a clip of both Men performing the crotch chop D-Generation X taunt, asking the WWE Universe who did it better. In his response, Owens said that McIntyre had done it better and that his own version of the DX taunt did not come close to matching McIntyre's. Owens called McIntyre as the Unhinged one.
"Come on. It's not even close. He karate chops his quads; the man is completely unhinged!"
Kevin Owens is believed to be getting the push as Triple H is now the Head of Creative. The Clash of Castle Live Event will take place on September 3rd at the Principality Stadium, Cardiff, Wales.
ALSO READ: "I don't have a list for that, but let's say….." : Gunther wants a high-profile program against Roman Reigns in WWE