Kurt Angle was one of the biggest names in wrestling during the Attitude Era. He was well-known as a great technical wrestler in the ring and an equally talented person on the mic. While speaking on his podcast, the gold medalist talked about his merchandise and how much money he made out of it. However, he said that it was nothing compared to another WWE Hall of Famer.
Kurt Angle is considered one of the best technical wrestlers in the world by fans and fellow wrestlers. However, he did not perform well in merchandise sales for multiple reasons. Angle added that Stone Cold Steve Austin was making enormous money from his iconic "3:16" t-shirt. The Texas Rattlesnake made more money than anyone else from merchandise sales during his time at the company.
While taking on his podcast "The Kurt Angle Show", Kurt Angle revealed that he was not much of a merchandise person when it came to making money. Due to various issues, Vince McMahon had to inform the Olympic star, that he might not make money from the t-shirts and other merchandise he made during his time.
However, Steve Austin, on the other hand, made almost $12 million in the first year of introducing his newly designed t-shirt. Kurt Angle said, "In one year, he made $12 million on merchandise, which was the 3:16 shirt. That's when it came out". Stone Cold Steve Austin was one of the most popular WWE superstars ever, and fans loved the merchandise that WWE introduced.
Kurt Angle could only make $900 thousand even in his top-selling years. The Olympic gold medalist justified the problem by saying he played a heel persona for most of his career. Angle believes that it was the reason behind his lower merchandise sales among the fans, as they hated heel superstars.
Related: Kurt Angle nostalgically recalls not walking in the footsteps of Stone Cold Steve Austin
Kurt Angle's most recent appearance on WWE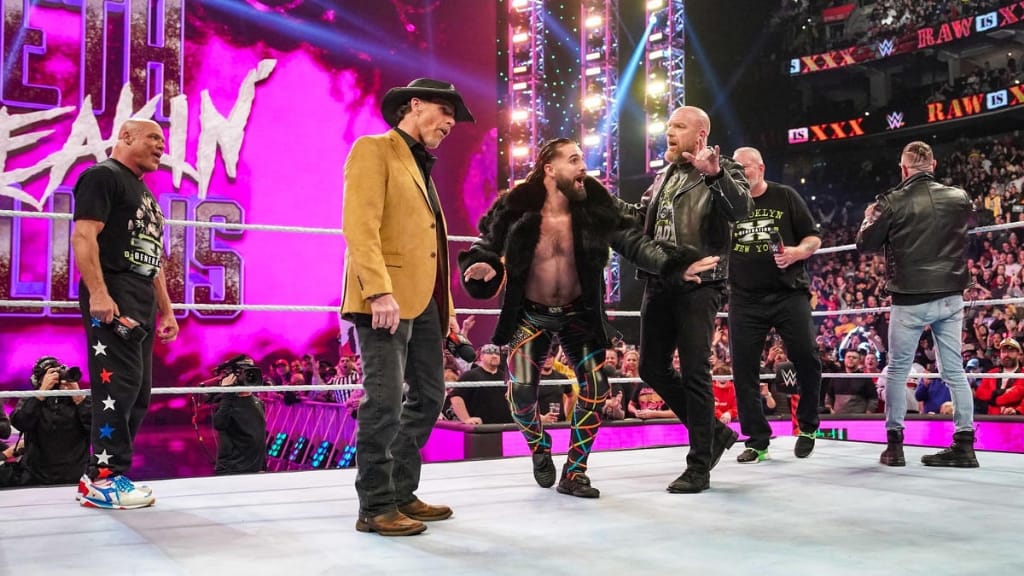 After retiring in 2019, Angle has made very few appearances on television. The 54-year-old has had a lengthy and solid career in WWE as well as TNA. Kurt Angle was an Olympic gold-medalist and amateur wrestler before he started in the professional wrestling industry. Therefore, he is respected by all his fellow wrestlers.
Kurt Angle last appeared on WWE programming in January at Raw XXX. This was the 30th anniversary of WWE's flagship show, where several legends made cameos. The Hall of Famer came to the ring with DX members like Triple H, Shawn Michaels, Road Dogg, and X-Pac to the surprise of fans. The entire segment was comically executed by all the members in the ring, leaving fans satisfied.
Angle became the guest referee in the match between Seth Rollins, Street Profits and The Imperium. Currently, the 54-year-old is busy with multiple engagements apart from his podcast, "Kurt Angle Show." Other than the occasional signing events and fanfare, Kurt Angle has also appeared as a guest on several shows, podcasts, and interviews.
In case you missed it: