Seth Rollins is one of the most talented superstars on the roster right now, and is often praised for commitment towards his character work and his in-ring skills as well. But, The Visionary just like any other superstar has also faced many embarrassing situations in the past and one of them was supposedly due to a prank by his former Tag Team partner.
The United States Champion participated in a recent Reddit AMA where the WWE Universe asked Rollins a wide array of questions which also included a fan asking him about the most embarrassing moment of his career to which The Visionary revealed an incident where his former tag team partner played a prank on him which made him uncomfortable and angry.
Writing his ordeal on Reddit, Rollins told the fan- "One time, my old tag team partner played a prank on me. Our entrance music was a real heavy song by a band called Killswitch Engage, and it had an intro from a Fight Club quote. He subbed out the Killswitch song for "My Humps" by Fergie without telling me."
He further wrote that as soon as the intro played, he got out to enter but got completely shocked the very next moment.
Seth Rollins was quick to realize that this was not his entrance theme and was embarrassed just as he was about to enter. There have been several pranks in pro wrestling, and this one surely was a hilarious and harmless one. He concluded with, "went red in the face real fast."
Also Read: 8 Longest Reigning WWE United States Champion of all time
Seth Rollins' Party Recently Got Crashed by Austin Theory on RAW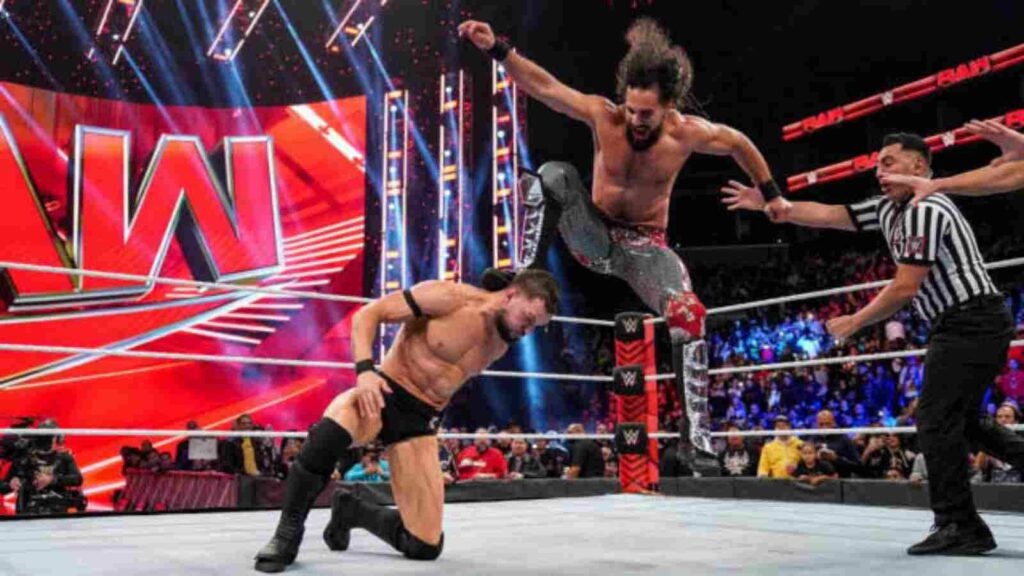 On the latest edition of Monday Night RAW, Seth Rollins defended his United States Championship against The Judgement Day leader Finn Balor. Earlier WWE had announced a non-title match between the two but changed it to a title match just a few hours going into the event. While The Visionary emerged victorious and retained his title, his celebrations were short-lived.
As soon as Rollins won a hard-fought battle against Balor, the former Money In The Bank winner, Austin Theory came out of nowhere and attacked The United States Champion to lay waste to him. After giving a beating to Rollins, Theory stood tall with the US Title in his hands, thus showing that he was coming for it.
Also Read: REPORT: WWE planning a massive event en route to Royal Rumble in 2023
It is worth noting that Austin Theory had challenged Seth Rollins for the United States Championship last week on RAW. He cashed-in his Money In The Bank contract on the United States Champion, but failed miserably after The All-mighty Bobby Lashley attacked him, which ultimately allowed Rollins to pick up the victory.
Also Read: "You're F**king Hulk Hogan": WWE Legend Trashes The Hulkster for Leaving Brock Lesnar High and Dry