Paul Heyman is one of the best talkers on the mic when it comes to delivering a promo. The conviction with which Heyman delivers his promos really attracts fans and observers towards him. Heyman has managed the likes of Brock Lesnar, Kurt Angle, Big Show, Rob Van Dam, CM Punk and he is the current special counsel for the Undisputed WWE Universal Champion Roman Reigns.
Heyman has a great experience of being in managerial roles and adding his own flavour to his storylines which makes his presence special. Acting as The Wise Man for Roman Reigns gives Reigns that status of sitting at the top of the food chain and giving him the feeling that even if he can talk well on the mic he has his own mouthpiece who can express his feelings.
RELATED: "Getting a** kicked"- Logan Paul makes big claims about creating history in WWE after Roman Reigns fight
Paul Heyman lashes out at Logan Paul and says he's there to Save his a**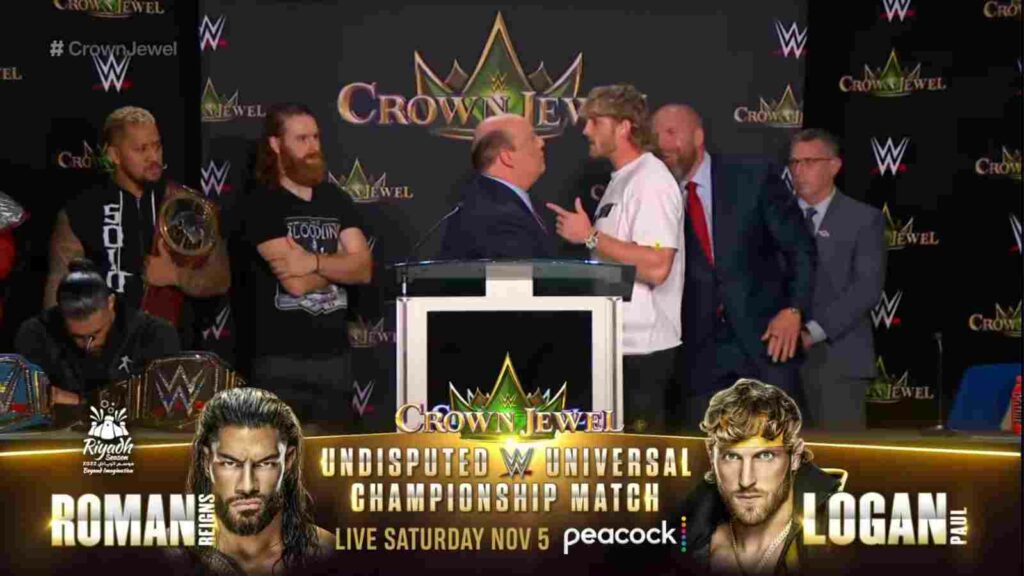 Paul Heyman understands wrestling and holds a different perspective to it and under the leadership of Triple H, he can have more creative freedom towards designing his promos and delivering them in particular. In a shocker WWE has booked Roman Reigns against Logan Paul for a title match at Crown Jewel in Riyadh on November 5.
The seeds of the match were sown when Roman Reigns had appeared Logan Paul's podcast IMPAULSIVE and a Twitter scuffle had erupted after the appearance where Roman had accused that Paul and his friends acknowledged him when he was there but started talking behind his back and also tagged Paul Heyman to take care of the business.
Triple H would then make an announcement that Paul would be returning to SmackDown to address the situation. Paul Heyman confronted Logan Paul on the show and said that he doesn't care about his athletic background or whatever he has done till now, he also mentioned Jake Paul and he didn't even care if Logan's brother was a boxer as well, but he warned him to not to cross paths with The Tribal Chief.
The following night an official press conference for Crown Jewel was organised at Las Vegas in which Triple H officially announced the fight. Both the contenders put forward the thoughts on the match and how they were confident to put up the best show.
After Logan Paul put up his point, Heyman was quick enough to act as the Wise Man and continuously hurled insults at Logan Paul, that he isn't even worthy of a shot. Heyman described Roman as someone who has dedicated his life for the business while he referred to Logan as a stunt fighter.
He further said that he can take his supermodel girlfriend, his tik tok account, his YouTube account and get out of the building as soon as he could. He even compared him to lesser known brother of Jake Paul and said he was there to save his a** from Roman Reigns.
ALSO READ: Jake Paul issues a Stern warning to Roman Reigns ahead of his rumoured match against Logan Paul