Needless to say, John Cena and The Rock have been WWE's biggest stars for more than two decades. Both of these superstars have enjoyed a lustrous career in WWE. Cena and Rock have had numerous championships and memorable moments in the company. The two have locked horns on various occasions throughout their careers.
It has been nearly ten years since fans have seen John Cena and The Rock in a wrestling ring. The last time both superstars faced each other was back in 2013. They faced each other for the WWE Championship in the main event of WrestleMania 29. The Stamford-based promotion recently took to TikTok to post a conversation the two Hollywood sensations had after their match at The Grandest Stage of Them All.
WrestleOps on X posted the video, and it has been making the rounds on the internet. In the clip, John Cena is seen recalling his interactions with The Rock when he was 20. John said, "I'm serious. You have no idea. I asked for a picture with you and me when I was 20 years old, working in a store in Venice, California."
He went on to praise the Jumanji actor and thank him after their iconic match at WrestleMania 29. The Rock replied to the Cenation Leader, saying, "I came back for this very moment right now." Furthermore, he told Cena that he believed in him. Watch the full conversation below.
This conversation takes place while John Cena holds the WWE championship after his win against The Most Electrifying Man in All of Entertainment. At the end of their conversation, both superstars shake hands as a sign of respect for each other. It was truly a wholesome moment for the WWE Universe.
Related: Dwayne The Rock Johnson reacts to his SmackDown return getting 103 million+ social views for WWE
What's next for John Cena and The Rock in WWE?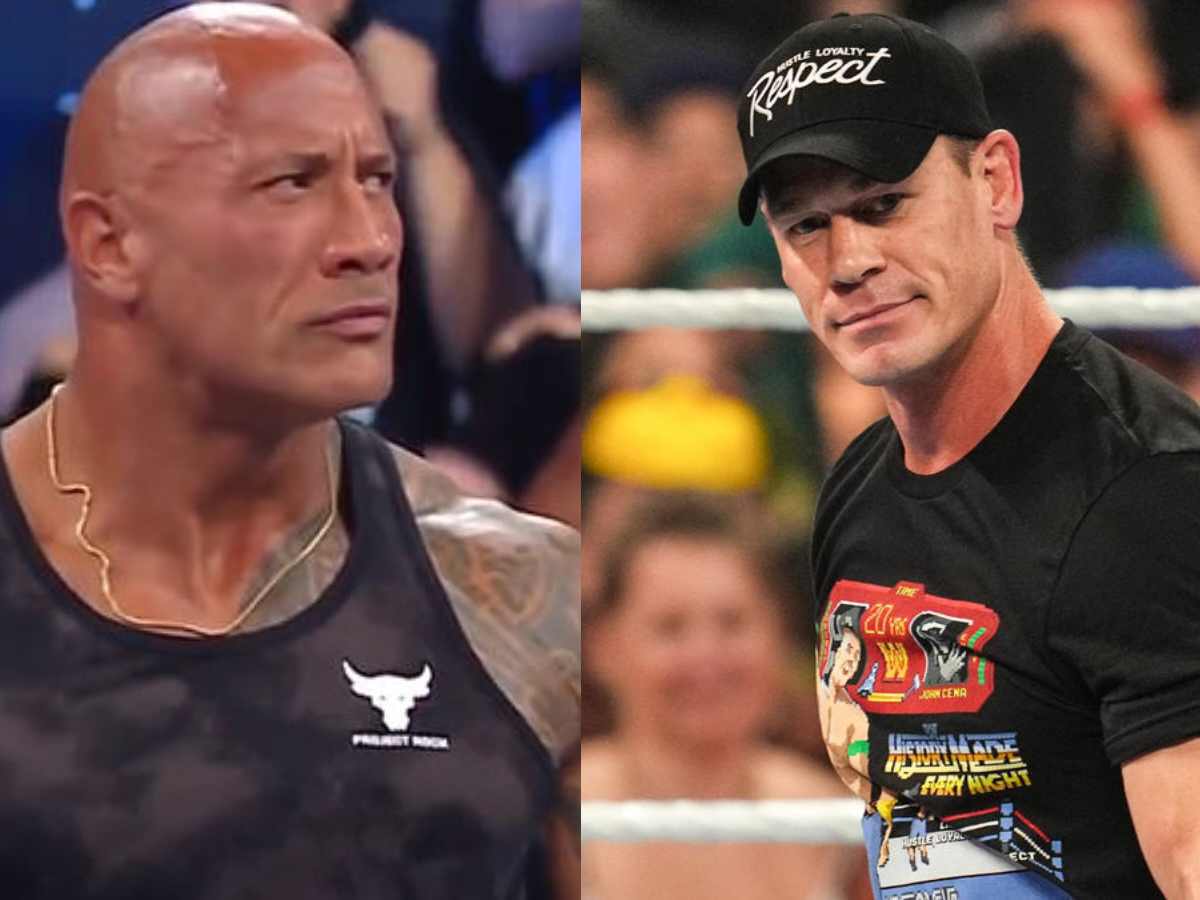 John Cena returned to the squared circle earlier this month amid the ongoing SAG-AFTRA strike in Hollywood. The Peacemaker star also hosted Payback 2023. Moreover, he wrestled his first ever match in India at the Superstar Spectacle event and is now currently involved in a program with Jimmy Uso and The Bloodline.
As for The Rock, he recently made a shocking appearance on Friday Night SmackDown after nearly four years. The Brahma Bull, in his recent appearance on The Pat McAfee Show, revealed that his WrestleMania 39 match against Roman Reigns was almost locked.
According to him, the match did not happen because he could not come up with something that satisfied everyone. The Rock vs. Roman Reigns has been teased for a long time now, and the fans are eager to watch the two superstars face each other in a blockbuster match.
In case you missed it: