One of the greatest factions of all time finally imploded at Night of Champions. The Bloodline, who ruled WWE for nearly two years, finally fell apart. Jimmy Uso shocked the world, hitting Roman Reigns, with a superkick to a thunderous crowd reaction. On the other hand, Jey Uso was standing in the ring and was completely shocked, witnessing it in front of his eyes.
The Bloodline had been experiencing dissension since Sami Zayn turned on Roman Reigns at the Royal Rumble this year. Moreover, it worsened the situation when The Usos lost their Tag Team Championships at WrestleMania 39. Roman Reigns has been feeling insulted due to the performances of his cousins for the last couple of weeks.
The Usos interrupted the main event match at Night of Champions. They came in to rescue The Bloodline, attacking Kevin Owens and Sami Zayn. However, they accidentally superkicked Solo Sikoa. Roman Reigns saw this and concluded that The Usos were standing against their cousins in the ring.
Roman Reigns disregarded the Usos in the middle of the ring. As a result, Jimmy Uso hit The Tribal Chief with a superkick from behind. He has been waiting for this moment for a long time. At Night of Champions, the 37-year-old finally vented his months of anger and frustration.
On the other hand, Jey Uso was shocked as he watched his family fall apart in front of him. Jimmy Uso tried to change his mind as they left the ring with Roman Reigns on the ground. Sami Zayn capitalized on the situation after Kevin Owens hit a stunner on Sikoa. Zayn hit a helluva kick at Solo and emerged victorious in the match.
Related: "More cracks in the Bloodline"- Fans stunned as Jimmy Uso refuses to give the tag team titles to Roman Reigns on SmackDown, hinting at the explosion of The Bloodline on the cards
Fans react to the implosion of The Bloodline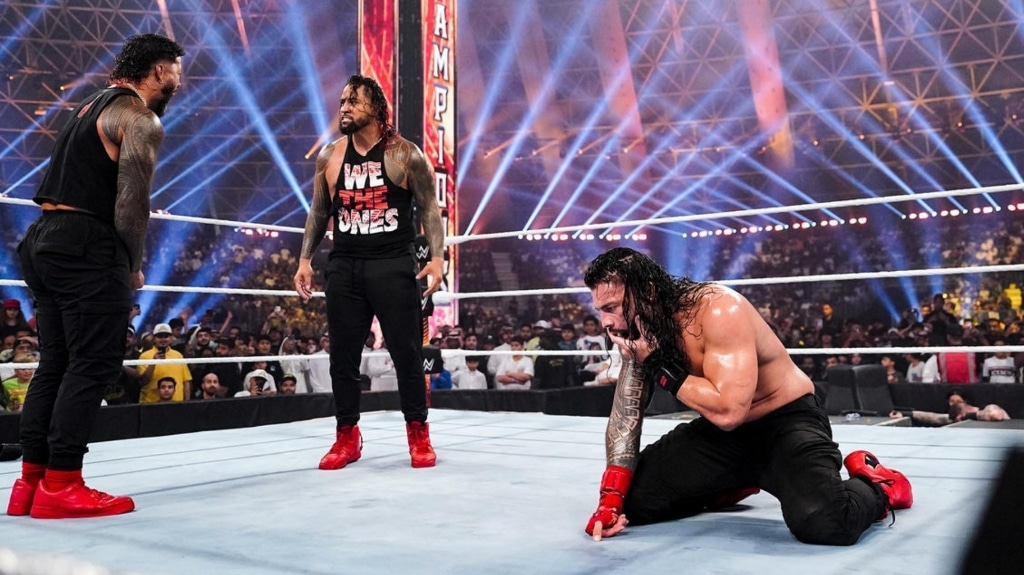 The 37-year-old hit Roman Reigns with a superkick at Night of Champions, leaving fans in a shock. Jimmy Uso went on to shout at his brother, saying he should have done this a long time ago. The entire segment was well planned and executed to perfection, according to the WWE Universe.
WWE announced that Roman Reigns will have a celebration for completing 1000 days as The Universal Champion. It is scheduled for the upcoming episode of SmackDown. After what transpired at Night of Champions, it will be interesting to see what The Tribal Chief has to say about The Usos. Fans are already looking forward to the fallout that will take place next week.
In case you missed it: