Retired fighter Floyd Mayweather is arguably the best boxer of all time. His slick movements and counterattacks have accounted for his undefeated record. Despite the controversies, the fighter is known for his playfulness outside the ring. His mischievous tactics against his opponents have shown the 46-year-old fighter to be a fun-loving person.
However, in an unexpected turn of events, Floyd Mayweather was recently engaged in a thrilling street game. The game in question here is called the 'Shell game.' Often known for its gambling roots, the game involves finding the hidden object within three or more shells that are shuffled to confuse the player. But, 'Money' was a confident player, just like his presence in the ring.
In the video, the trickster tried to confuse Floyd Mayweather with an incredible mind-boggling shuffling of the shells. However, an unfazed Floyd Mayweather laughed it off and pointed to the right shell in which the object was hidden. The trickster's attempt at getting a pay-day from the 46-year-old fighter failed as 'Money' happened to be an unexpectedly good player in the game.
Mayweather has always had an interest in gambling. It was rumored that the retired fighter was in debt due to his vicious gambling addiction. However, with a net worth amassing over a billion dollars, 'Money' is often witnessed displaying his wealth on social media and in interviews.
Related: Floyd Mayweather sneakers: Which is the most expensive shoe in 'Money' Mayweather's sneaker collection?
When Floyd Mayweather trolled Oscar De La Hoya at Gervonta Davis vs Ryan Garcia bout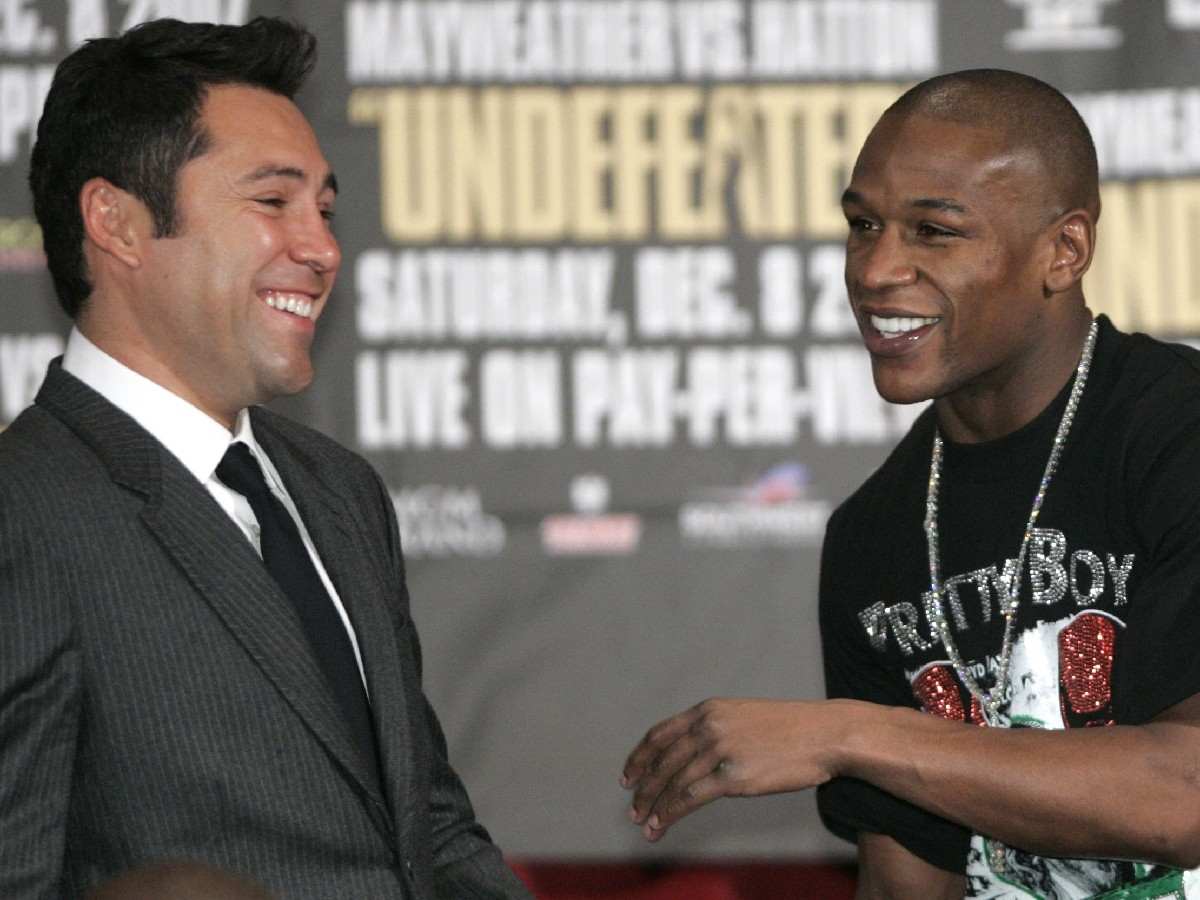 Retired fighters Floyd Mayweather and Oscar De La Hoya have always shared a hostile relationship. Since their bout in 2007, both fighters could be seen jabbing at each other as if a fight between them had not put a full stop to it. It was proven during the recent Gervonta Davis vs Ryan Garcia bout. As De La Hoya was responsible for promoting Garcia, the 50-year-old trash-talked everyone on Davis' team alongside Mayweather.
However, the bout did not go Oscar De La Hoya's way. Gervonta Davis stopped Ryan Garcia in the seventh round with a brutal body shot. Mayweather, who was witnessed cornering 'Tank', was electric. One moment of the fight that fans found hilarious was 'Money' taunting De La Hoya. The 46-year-old boxer alongside Gervonta was seen yelling at 'The Golden Boy'. "Hey Oscar!" screamed Floyd as he pointed and laughed at the promoter.
This was a great moment for Floyd Mayweather and Gervonta Davis. In the eyes of a lot of boxing fans, Floyd had the last laugh against Oscar De La Hoya. Due to his trash talk against 'Tank' and his team, the undefeated fighter did not lose the opportunity to mock him as his prodigy Ryan Garcia lost the fight while taking a knee.
In case you missed it: