After the recent shake up at heavyweight, Tyson Fury and Deontay Wilder both wanna lay claim to Oleksandr Usyk's crown. Both have been former champions and have at some point during the last year expressed an interest in leaving the sport for good.
Wilder, at 36 years of age can only hope that he is gifted a title shot against Usyk. The formerly undefeated boxer had that title taken away from him when he faced Fury for a second time. However, since their trilogy and accompanying beat down by the Brit Wilder was left clueless as to where his career might head.
Fury on the other hand had one more defense of his title against Dilian Whyte at the Wembley Stadium after which Fury announced that he would retire from the sport of boxing. While fans rumbled that Fury probably had nothing more to aim towards, the open but unsaid secret is probably his issues with travel now that a former associate of his, Daniel Kinahan is wanted by the American Authorities over charges of drug trafficking and murder.
Related: WBC SLAPS Tyson Fury with a deadline to relinquish the belt after the retirement announcement
Tyson Fury believes Deontay Wilder should stay away from Boxing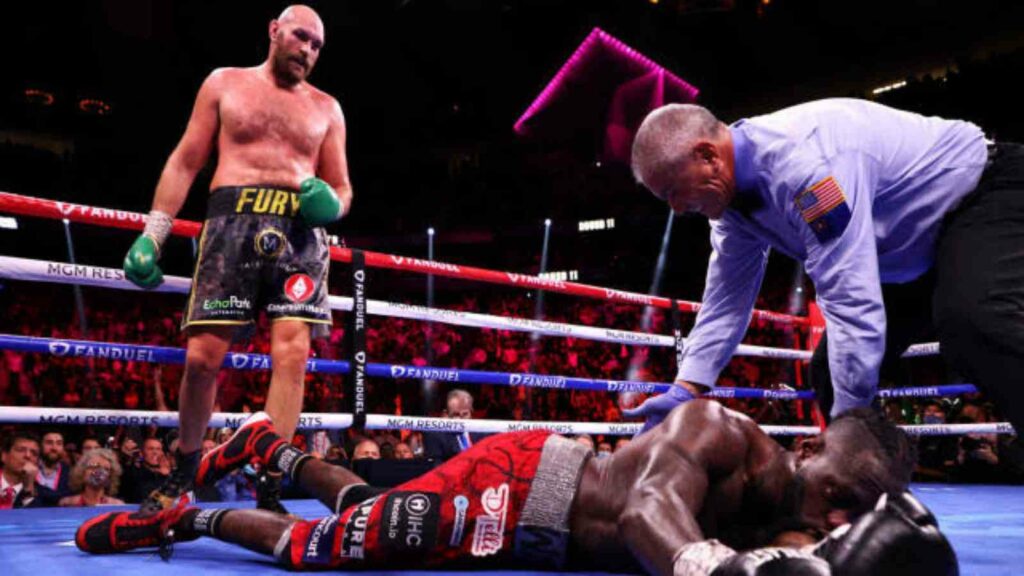 Compared to Fury who was active, Wilder still had a few peaceful months where he could contemplate on what he wanted his career to be like in it's twilight. He even had a bronze statue of him made and displayed in his hometown of Alabama. It was after these events that Wilder finally felt comfortable making his way back to ring.
To make a final run to earn back his title, Wilder announced that he would be facing Robert Helenius in a 12-round fight. During an interaction with the press promoting the same, Wilder was asked about how he would see a fight against Usyk going down. Expressing that he would be interested in that fight, he said, "I'll fight them all. The future is bright. The king is back. Ain't no excitement going through unless I'm here. I'm back by popular demand."
Also Read:Deontay Wilder believes Tyson Fury, "Will Have To Leave" boxing hinting at controversial ties to Mob Boss Daniel Kinahan being the reason
Fury saw this on Instagram and took serious offense at Wilder aiming for what was theoretically Fury's. He replied to the post while completely humiliating Wilder saying, "Tell that dosser to get to back of the queue like the rest of the losers. "
As if that wasn't clear enough, Fury reminded what happen to Wilder the last time he entered the ring, saying, "The last time we saw the bomb needed to get scraped off the canvas in Vegas"
Fury has expressed that he is willing to fight Usyk for a sum of $500 Million. He has also said that the matchmakers have until the 1st of September to come to him with an offer before he completely retires for good.
Also Read: Breaking: Frank Warren reveals details about the high profile match-up between Oleksandr Usyk and Tyson Fury